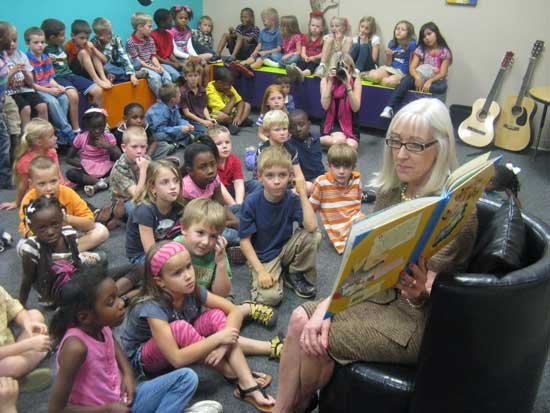 Story and photo courtesy of Blake Welch
Ginger Beebe, Arkansas' First Lady, recently made a special visit to[more] the Boys and Girls Club of Bryant to read one of her favorite childhood stories, Winston the Book Wolf, to a group of younger club members and visited with some members of the club's Torch Club teen student leadership team.
"I was so impressed with the programs and facilities at the Boys and Girls Club of Bryant," Beebe said. "They have produced wonderful opportunities for the children in their community and at a very low cost to families."
As First Lady, Beebe serves on the board of the Women's Foundation of Arkansas and speaks annually at the foundation's Girls of Promise seminars. She is also a board member of the Arkansas Discovery Network, a collaboration of museums that promotes inquiry learning; and the Creative Economy Advisory Panel, a multi-year project funded by the Winthrop Rockefeller Foundation to assess, promote and enhance Arkansas' creative economy.
"We were so grateful to have Mrs. Beebe visit our kids and give them an opportunity to meet one of our state's leaders," Suzanne Passmore, Executive Director, said. "Having prominent members of our society take time to visit the kids encourages them to dream big for their futures."
The Bryant club has served more than 3,000 youth since receiving its charter from the national organization in 2005 and currently serves more than 500 area youth in its after-school program. It is located at the new Bishop Park complex on Boone Road in Bryant.