Editor's note: This is a regular feature profiling senior athletes at Bryant High School.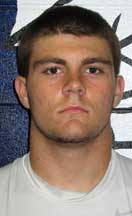 NAME: Marshall Everett
PARENTS: Shelly Hartness
SIBLINGS: Shelby and Seth. My sister is 15, my brother's 10
FAVORITE SUBJECT IN SCHOOL: History
WHAT DO YOU LIKE TO DO IN YOUR SPARE TIME? Play X-Box.
FAVORITE FOOD: Chinese food
FAVORITE MUSIC ARTIST OR GROUP: I like all music.[more]
FAVORITE MOVIE: The Pirates of the Carribean movies
FAVORITE TV SHOW: River Monsters.
WHAT WAS YOUR FAVORITE TOY AS A KID? Probably like a Battle 8 Godzilla toy.
WHAT ARE YOUR PLANS AFTER HIGH SCHOOL? Hopefully play college football. I'd like to go to Ouachita or Henderson. I like Structural Design.
OTHER THAN YOUR PARENTS, WHO HAS HAD THE BIGGEST INFLUENCE ON YOUR LIFE? Probably my uncle. He's the one that really got me into football because my mom and dad, they weren't like big into it. They're big into it now since I play and stuff. My uncle, when he was younger, he really talked to my mom about it, getting me to play.
FAVORITE THING ABOUT FOOTBALL: The brotherhood, like it takes a team, nobody can do it by themselves. All the talent in the world, it doesn't matter if you don't have a brotherhood.
POSITION: Linebacker
WHAT DO YOU FEEL LIKE IS YOUR PRIMARY RESPONSIBILITY ON THE FIELD? Just to make sure the defense gets their calls and to make tackles.
WHAT DO YOU THINK OF THE SEASON SO FAR? I think it's gone well. I think we have a lot of potential. We just need to stay focused and harness it.
WHEN THE TEAM'S DOING WELL, WHAT'S IT DOING? If we practice hard all week then I know we're going to click. That's really all it takes for us to click, if we just practice hard all week, everybody on the same page and we're just focused.
WHAT'S BEEN THE HIGHLIGHT TO THE SEASON SO FAR? Probably the Catholic game.
WHAT'S IT GOING TO TAKE FOR THE TEAM TO BE SUCCESSFUL THE REST OF THE SEASON? Maintain focus and treat every week like it's we're playing the best team in the state.
INDIVIDUALLY, WHAT ABOUT YOUR GAME ARE YOU MOST CONFIDENT ABOUT? Right now I'm understanding our defense a lot better and I'm understanding everybody's responsibilities and understanding where my help is and stuff; knowing that I don't have to make every play and I can rely on my team.
WHAT DO YOU WORK HARDEST TO IMPROVE? Taking on blocks and getting off blockers.
AFTER YOU'RE THROUGH PLAYING FOOTBALL AT BHS, WHAT DO YOU THINK YOU'LL REMEMBER MOST FONDLY ABOUT IT? The brotherhood with my teammates, definitely.