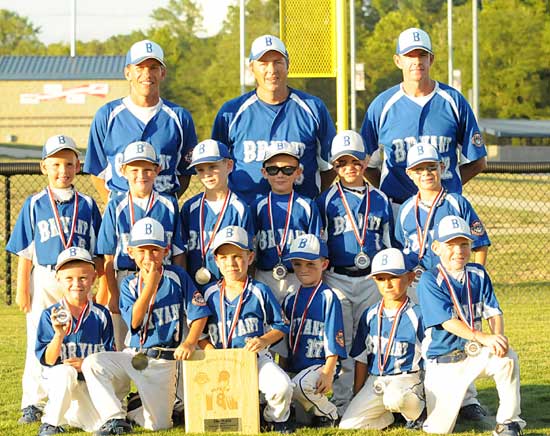 Photos by Kevin Nagle
For the third time in the tournament and the seventh time this season, the Bryant Hornets and the[more] Sylvan Hills Bears tangled on Monday night. This time, it was for the championship of the Cal Ripken 6-year-old Southwest Regional Tournament at Bishop Park.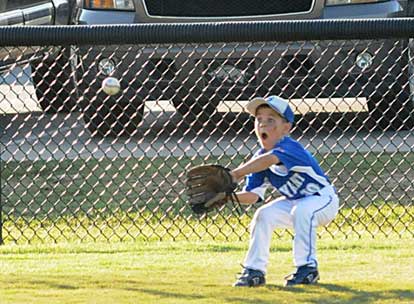 Bryant got out to a fast start then so did Sylvan Hills. But the Bears followed up with a five-run third that the Hornets couldn't match. The result was a 15-8 victory for Sylvan Hills, which captured the Regional championship.
Bryant's 6-year-old team includes Reid Catton, Clay Crawford, Tucker Dunn, Mathew Griffe, Grant Johnson, Logan Hope, Carson Kemp, CJ Nagle, Logan Owen, Chase Small, Dillion Stroud and Daniel Taylor. It's managed by Joey Small with assistance from Jonathan Hope and Michael Stroud.
Bryant's opening salvo was instigated by Dunn who singled. Though he was tagged out trying to go to third on Small's hit, the inning continued with a double from Hope. Taylor singled and, with two out, Griffe and Nagle belted doubles. And when Owen cracked a single, it was 5-0.
Sylvan Hills, however, countered with six runs on six hits including five doubles.
Bryant tied it in the top of the second when Kemp singled, Crawford doubled and Dunn knocked an RBI single. But the Bears got out of the inning with a pair of pop outs.
The Hornets limited the Bears to just one run in the bottom of the inning to keep it close but, in turn, Sylvan Hills held Bryant scoreless for one of the few times in the tournament despite an opening single by Taylor.
The game-breaking home third followed as seven straight Bears batters reached base.
Bryant stayed alive with a rally in the top of the fourth. Owen singled and scored on a double by Johnson. Crawford singled in the second run but that's all the Bears would allow.
With the lead at 12-8, Sylvan Hills put the game out of reach with four in the bottom of the fourth to wrap up the title.