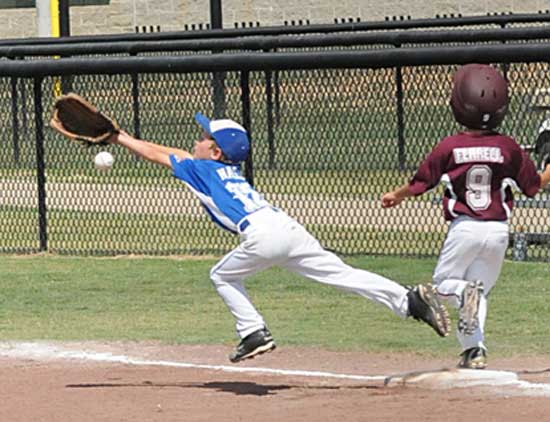 Photos by Kevin Nagle
The Bryant Hornets 6-year-old All-Star team scored six runs in the bottom of the[more] third to break it open on the way to a 15-8 victory over the rival Benton 6's in the semifinals of the Cal Ripken Southwest Regional Tournament at Bishop Park on Monday.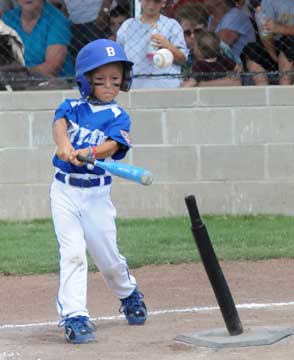 The win set up a rematch, coupled with the Sylvan Hills Bears' 17-16 win over the Mississippi champions from Hurley, Miss., set up a rematch between Bryant and Sylvan Hills in the championship game Monday night.
The Bryant 6-year-old team includes Reid Catton, Clay Crawford, Tucker Dunn, Mathew Griffe, Grant Johnson, Logan Hope, Carson Kemp, CJ Nagle, Logan Owen, Chase Small, Dillion Stroud and Daniel Taylor. It's managed by Joey Small with assistance from Jonathan Hope and Michael Stroud.
The Hornets led Benton just 5-4 going into the bottom of the second. They pushed three runs across to widen the gap. Johnson cracked a lead-off single and Kemp followed with a base hit. With one out, Dunn singled in a run though Kemp was thrown out trying to get to third. Small then delivered the big blow, a double and Hope's single brought him around to make it 8-4.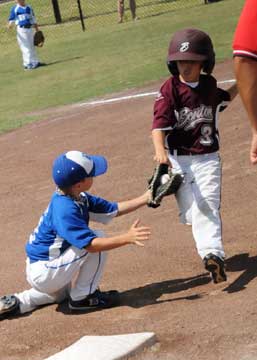 Bryant's defense shut Benton out in the third to set up the game-breaking uprising. Stroud was the catalyst with a double. Griffe traded places by belting another two-bagger. An out later, Owen singled and Catton belted an RBI double. Johnson singled then Kemp cracked a double. Singles by Crawford and Dunn capped off the inning as Bryant reached the maximum of six runs in the inning to make it 14-4.
Benton stayed alive with four runs in the top of the fourth, stringing together five hits only to have Bryant put the game out of reach in the bottom of the inning on consecutive singles by Small, Hope and Taylor.
Benton had opened the game with a three-run burst in the top of the first but the lead didn't last long as Bryant countered with a five-run uprising.
Small singled with one out in the bottom of the first to get the offense revved. Hope hammered a double before Taylor, Stroud, Griffe and Nagle strung together base hits. A run scored when Owen bounced into a force at second.
Three straight two-out singles produced a run for Benton in the second, trimming the lead to one. The Hornets got the third out on a force at third then went back to work at the plate.