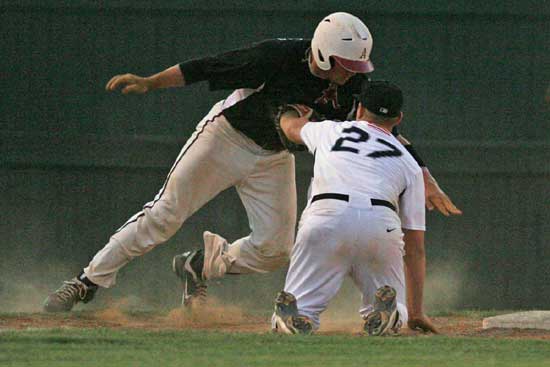 By Rob Patrick
Photos by Rick Nation
With their bid to the American Legion Senior State Tournament secured, even though the[more] Bryant Black Sox would've loved to beat the Texarkana Razorbacks, there just wasn't quite the intensity that might've ordinarily been in the championship round of the Zone 4 Tournament on Monday night.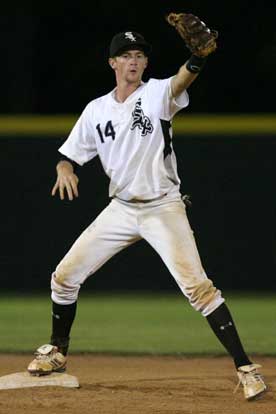 Bryant had earned that bid earlier in the evening (see related post) and was pretty much out of pitching, though they got a pleasant surprise along the way. In addition, Zone commissioner Russell Goodwin made certain to emphasize with both managers the consequences for any further histrionics in the hotly contentious rivalry between the teams and their fans.
The fresh Texarkana team struck for six early runs and, behind the pitching of Alan Copeland, posted an 8-2 win to capture the Zone tourney title after finishing second to Bryant in the regular-season standings. Both teams will advance to State at Jonesboro. The Sox will open against the champion from Zone 2 (northeast Arkansas) at 10:05 a.m. on Friday. Texarkana will open at 1:05 p.m. on Friday against the runner-up from Zone 3 (north-central Arkansas).
"The deal was, we had to win the first game," allowed Sox manager Darren Hurt. "We'd go after the second game but we knew we were going to be short-handed on the mound. So we were just going to go out there and see what happened.
"But the first game was huge," he continued. "That's the one that go us into the State Tournament. The only difference is which side of the (State) bracket you're on and things like that. I don't think we laid down for the second game but the intensity wasn't where it usually is."
The pleasant surprise for Bryant was the pitching of right-hander Landon Pickett. It wasn't that he pitched so well in seven innings of relief, it was the fact that he was pitching at all. Pickett took a hard spill in Sunday's game against the Razorbacks, a tough 10-8 loss for the Sox, and injured his ankle. It kept him out of Monday's first game against Pine Bluff Simmons but with some bracing and a warm-up session that loosened it up, he was able to go to the mound.
"Here's the deal," Hurt stated, "he threw well. He came in and stopped things and started throwing zeroes up on the board. He gave us a chance. I mean anytime if we kind of catch a little fire, get a little intensity and start hitting the baseball and string anything together, this thing would have been a completely different ballgame."
Gamely, Matt Neal, after pitching three strong innings to close out the win against Pine Bluff, started the game against Texarkana. Daniel Thompson blooped his first pitch to right for a single then stole second. He advanced to third when Josey Langston grounded out then scored on Carlton's opposite-field single.
An errant pickoff throw allowed Bailey to reach third and he scored on a base hit by Will Powell to make it 2-0. Levi Saxby singled up the middle and, when Preston Ellis reached on an error, it was 3-0.
In the second, Chase Sealy singled for Texarkana and a base hit by Thompson followed. By that time, Pickett had loosened up and was ready so Hurt made the switch after giving Neal a pat on the back for taking the ball again.
The Sox got a lift when Langston lined into a doubleplay but the speedy Bailey beat out an infield hit to keep the inning going and a single to center by Powell plated a run. Saxby then cleared the bases with a triple to make it 6-0.
After that Pickett found his stride and blanked the Hogs over the next three innings. Texarkana picked up a run in the sixth on three singles and a groundout but the Bryant right-hander worked through the eighth with no further damage.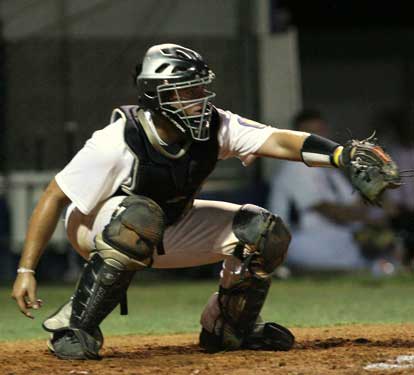 Meanwhile, Copeland, the ace of the Nashville High School staff this spring, worked around a single by Brady Butler and a walk to Josh Pultro in the second. The Sox got on the board in the third when Tyler Brown walked and, after advancing to second on a wild pitch, scored on a single by Jordan Taylor.
Copeland would pitch through seven innings, throwing 128 pitches. He allowed both Bryant runs on five hits, walked five and struck out six. Ethan Hammond relieved in the eighth and closed out the win, allowing one hit, a single by Mayall, the first batter he faced.
Bryant got its lead-off man on in the fifth when Hayden Lessenberry shot a single up the middle but Texarkana turned a doubleplay to defuse the inning.
In the sixth, Taylor drew a lead-off walk and Mayall singled but Copeland retired the next three to keep it 7-1.Ozzie Hurt drew a walk to start the seventh and scored Bryant's second run on a long double by Tyler Nelson.
In the ninth, Bryant catcher B.J. Ellis got a chance to take the mound for the first time this season. Though Texarkana greeted him with three straight singles to plate a final run, he worked through the top of the Razorbacks lineup after that to force them to strand runners at second and third.
But Copeland worked a 1-2-3 home ninth to finish the game.
TEXARKANA 8, BRYANT 2
Senior American Legion
Razorbacks ab r h bi Black Sox ab r h bi
Thompson, rf 6 2 3 0 Nelson, dh 4 0 1 1
Langston, ss 3 0 0 0 Brown, 3b 4 1 0 0
Freeman, ph-ss 3 1 1 0 Taylor, ss 3 0 0 1
Bailey, 2b 6 2 3 1 Mayall, 1b 4 0 2 0
Powell, 3b 4 2 4 2 Butler, rf 4 0 1 0
Saxby, cf 5 0 3 3 Joiner, lf 4 0 0 0
Ellis, 1b 5 0 1 0 Pultro, cf 2 0 0 0
Lorance, dh 2 0 0 0 Lessenberry, c 4 0 1 0
Gilley, dh 2 1 1 0 Hurt, 2b 2 1 0 0
Wilcher, c 5 0 2 0 Castleberry, ph 1 0 0 0
Sealy, lf 2 0 1 0 Neal, p 0 0 0 0
Spears, lf 3 0 1 1 Pickett, p 0 0 0 0
Copeland, p 0 0 0 0 Ellis, p 0 0 0 0
Hammond, p 0 0 0 0
Totals 46 8 20 7 Totals 32 2 6 2
Texarkana 330 001 001 — 8
BRYANT 001 000 100 — 2
E—Neal, Taylor, Hurt. DP—Texarkana 1, Bryant 1. LOB—Texarkana 13, Bryant 9. 2B—Nelson. 3B—Saxby.
Pitching ip r er h bb so
Texarkana
Copeland (W) 7 2 2 5 5 6
Hammond 2 0 0 1 0 3
BRYANT
Neal (L) 1 4 2 6 1 0
Pickett 7 3 3 11 1 5
Ellis 1 1 1 3 0 1
HBP—Pultro (by Hammond). WP—Copeland, Pickett 3.