By Rob Patrick
Photo by Rick Nation
While his Bryant Hornets and their fans were waiting for umpires to arrive for their 7A/6A-South[more] Conference baseball game at Little Rock J.A. Fair — a wait that turned out to be a solid hour — head coach Kirk Bock starting reminiscing about his first coaching job. It was at Northwest Missouri State in Maryville, Mo., coaching for a guy named Jim "J.J." Johnson.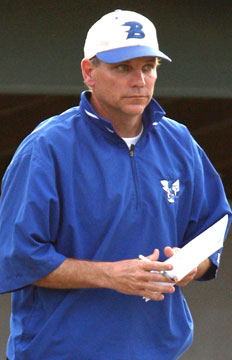 It was a tremendous experience, he said, because right out of college at UCA, Bock was given responsibilities. He was put in charge of the outfielders even though he'd always been a catcher. So he had to study to find out how to coach outfielders. Early every morning, the coaching staff would meet and Johnson would go over what they'd done well and what they needed to do differently and what the day ahead would bring.
Johnson had a system. Everybody had a stopwatch timing almost everything — the usual, home-to-first, first-to-third, catcher's pop times (how quickly they get a throw to second on a steal) but also things like double-play turns.
He already loved the game but, between Johnson and Kirk's legendary father, Billy Bock, a Hall of Fame coach whom he'd played high school ball for, he also developed a love for learning about the game, studying it.
And that hasn't changed. He's got his own system now and he's constantly looking for better ways to do things. The thing is too that people are now looking to him to find ways to do things better. Last summer at the American Baseball Coaches Association convention, Bock and his assistants were asked to teach those coaches from across the nation about his short game or, as many know it, small ball.
That thirst for knowledge, that drive to always improve has been a big reason that Kirk Bock has now achieved more than 500 wins as a high school baseball coach in Arkansas. After his team's 7-2 win over the Sheridan Yellowjackets on Thursday, March 28, Bock's son Garrett (who's in school at UCA and planning to follow in the footsteps of his dad and grandfather) posted on Facebook a congratulations for his dad's 500th win. The team has since won twice more as Kirk starts on his second 500.
"His relentless desire to learn — as long as he's been coaching, he's still learning," acknowledged Derrick Wynn, who played for four years for Bock at Harrison and now is the pitching coach at Arkansas Tech University. "He will never quit learning. He told me this summer when we were talking. He goes, 'You can coach 30, 40 years, never stop learning because the moment you stop learning is the moment you get passed by others.'"
"He's a thirst-for-knowledge guy, knowledge that he can put back into his kids," added Tim Saunders, a longtime coach in Dublin, Ohio, who has become friends with Bock over the years through the ABCA. "You get better by being around better baseball people and he's one of those guys that migrates towards people he can associate with and talk skills and drills and strategies. He's a baseball guy. That's what I like about him. He's got a lot of knowledge to pass on. At the same time, he's accepts a lot of knowledge as well. He's always asking questions about ways he can improve himself."
"He told me to start going to the ABCA clinic," mentioned Matt Coleman, the head baseball coach at Ozark High School, who played for Bock at Mountainburg. "It's the best clinic I've ever been to, football, baseball, ever. Still, when I go, the highlight of going is getting to sit down and talk to him, about whatever. It's always an education. I'm on the all-American committee at the convention and the guys on the all-American committee, they can't wait to talk to him about whatever he's discovered, uncovered or figured out. Those are people from all over the nation.
Allen Gum, the current head coach at UCA, stated it plainly: "Kirk Bock is one of the best coaches I have ever been around. He could coach on any level. He has a passion for his players and is a constant learner in the game of baseball. There are very few people that can keep up with his pace. I have learned a lot from him and consider him a close friend."
Colemen added, "Every time I've got a question, I'm calling him and asking how he handles certain situations, what he's doing fundamentally. He's the first guy I go to.
"He works so hard that everybody around him knows how important it must be so they work hard," he continued. "That's the biggest thing. He knows all the fundamentals. He's got a system there at Bryant, all these things he's researched so hard. All that stuff takes a lot of time and energy. Then, not to mention the amount of energy it takes to implement it all.
"We played Harrison this year and I was talking to Greg Crow (who succeeded Bock at Harrison when he took the Bryant job) and he said the guy gets more out of a practice than any coach in the state," Coleman related. "We both have always said we think he's the best coach in the state of Arkansas."
Three State championships — one at Harrison and two in the last three years at Bryant — give that notion plenty of credence.
"Coach has done it by hard work, whether at Mountainburg, Van Buren, Harrison, and now in Bryant," said Craig Harrison, who coached the Bryant Legion team for many years and who played with Kirk for Billy Bock as seniors at Pine Bluff High School. "Every one of those teams were disciplined, fundamentally sound, and knew the game and how Coach wanted them to play. He has a plan, a system as he calls it, and he has it down to perfection. I say congrats on number 500, but knowing Coach, he has another number in mind — number of state championships."
Chicago Cubs prospect Ben Wells, who pitched a perfect game in the State finals in 2010 when the Hornets won their first title in Bock's second year, said, "His experience with the game, his whole life he's studied the game and he's still learning. His baseball knowledge is so far advanced. The way he pushes all his players, he gets the best out of you that you can be."
"The thing about Coach Bock, just playing for him, every day when you get to the field knowing that you're going to get better not just as a player but as a person," Wynn stated. "He really incorporates those life lessons into baseball. He makes sure you understand what the bigger picture is.
"I've told people this for years, Coach Bock is one of the biggest influences in my life besides my parents," he continued. "You know, you're with your coach sometimes more than you're with your parents because you're at practice four hours a day. If I was looking for another father-figure besides my own, it'd be Coach Bock. Everything he's done in his life, he's done the right way. He treats you with respect and respect, in turn, is given back to him.
"On the field, what makes him such a great coach is his drive and determination and the fire he brings — not just showing emotion but the way he reacts to every situation, the way he talks to you after you might've messed up, the way he explains things, breaks things down to where any kid at any level can understand," Wynn added. "He really gets through to the players because he shows he understands where you're at but he also shows the expectations you need to get to and how you can meet those expectations."
"I admire him for what he's done," Saunders said. "You know, you've got a guy who's a 500 game winner, that kind of pinnacle – there's a few guys with more but after you get to 500 — there's just not many that get to that level nation-wide."
"It's a milestone I think everybody tries to achieve," Coach Bock related, "and I know the head coach gets all the credit. But in the 22 years I've been coaching, I've had 20 assistant coaches that I was able to learn from. They've been just unbelievable. So, in the big scheme of things, I'm one-twentieth of all those wins so that gives me about 20 and those guys got the other 480. It's not me, I promise. It's everybody we've had and the guys here are just tremendous.
"I've been very, very fortunate to be at three schools that take the game of baseball seriously," he added. "And not only the schools but the communities. Their expectations are the same as mine. And I've been extremely fortunate to have assistant coaches with the same expectations. Nothing's ever easy but it makes it a lot easier when everybody's on the same page. And I think here in Bryant, everybody, from the time you're 6 to the time you're 18, they're on the same page with the same expectations."