For more photos of this event by Kevin Nagle, go here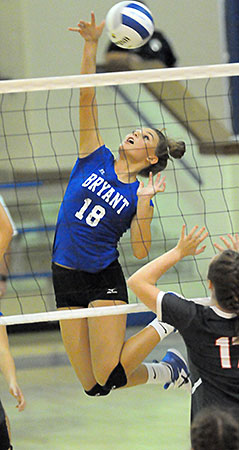 The Bryant Lady Hornets freshman team held on for a 16-14 win in the rubber game of their season-opening match against the Cabot North Lady Panthers on Monday night at the Bryant Middle School gym.
The Lady Hornets won the first game 25-18 only to have Cabot North win the second, 25-22, to force the decisive game of the match.
"It was a hard-fought win against a good Cabot team," said Lady Hornets coach Lawrence Jefferson. "We still have a few things to work out such as communication and movement but, overall, I am proud of the way they played. It was a very good effort and we got enthusiasm from the entire team."
Madelyn Hoskins had nine kills to lead Bryant. Ashton Inman, Shaylee Carver and Ella Reynolds each had a pair of kills.
Abbey Inman finished with 10 assists while Carver and Abigail Weihe contributed two apiece.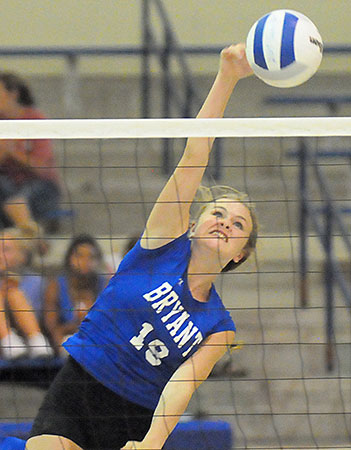 In service, Olivia German produced 15 points in the match. Abbey Inman had 10, Hoskins five, Carver four. Sam Still and Jaiyah Jackson pitched in with three service points.
The Lady Hornets return to action this Thursday when they host Lake Hamilton.