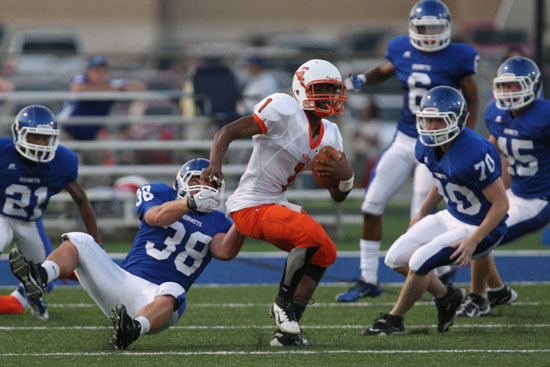 By Rob Patrick
Photos by Rick Nation and Kevin Nagle
The Bryant Hornets kept it pretty simple on offense in their pre-season scrimmage game against the[more] Little Rock Hall Warriors Tuesday night but simple was plenty good enough.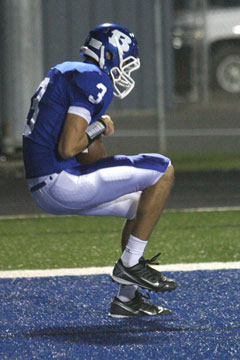 Hayden Lessenberry threw three touchdown passes, Brandan Warner threw another and Jalen Bell rushed for 136 yards and a touchdown on just eight carries in a 45-6 win. The defense accounted for a touchdown as well as Jake Johnson picked off a pass and returned it 70 yards.
The lone Hall score came on an 11-yard drive after a bad snap and a short punt by the Hornets. The Warriors accumulated 152 yards of offense on 60 snaps. The Bryant defense, however, forced them into a whopping 17 lost-yardage plays and four turnovers.
"I told them to go out and have fun," commented Hornets head coach Paul Calley. "I wanted to see them compete and I wanted to see what kind of shape we were in. I think we found out we're not in the shape we need to be in and we have to practice harder. That's one thing I really hoped we would see and we saw it. We've got to practice harder. The jogging in between drills and the loafing here and there is not acceptable if you're going to be a championship caliber team, to get yourself ready to play."
The Hornets open the regular season at home on Friday, Aug. 31, against the rival Conway Wampus Cats.
Bryant finished just short of 400 yards in total offense. Lessenberry, a senior, was 14 of 19 for 135 yards passing while Warner, a sophomore, hit 4 of 7 for 75 stripes.
Senior Austin Powell caught two of Lessenberry's scoring strikes. The first capped Bryant's first possession of the night and covered 12 yards. The second opened the second-half scoring from 9 yards out. Lessenberry's third TD throw went to sophomore K.J. Hill for 31 yards. Warner's touchdown pass was to Devon Sears for 26 yards midway through the fourth quarter.
In addition to the touchdowns, senior Josh Lowery drilled a 26-yard field goal.
"Offensively, we did what we had to do," Calley said. "I thought we could've looked better. In defense of the kids, we didn't work a lot on the 3-5-3 defense (employed by Hall). That kind of slowed us down a little bit. We had some guys (pass rushers) run through that normally we wouldn't have."
Bell had a touchdown run of 2 yards but, along the way, contributed runs of 19, 40, 23, 20 and 41 yards.
Eight receivers caught passes with tight end Nate Rutherford leading the way with four catches for 38 yards. Greyson Giles and Powell each had three receptions.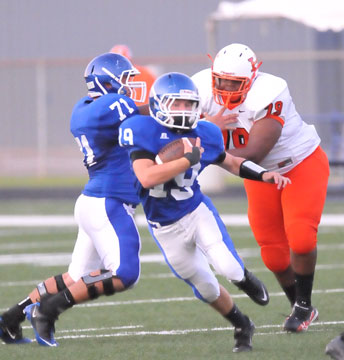 Hall opened the game with one of its best drives of the night from its own 20 to the Bryant 44. A trio of lost-yardage plays including an 8-yard sack of quarterback Malik Shelton forced the Warriors to turn the ball over on downs.
"We weren't as sharp on defense early as I thought we would be," Calley commented. "They've seen our offense a lot more in the spread and they have dominated our scrimmages. But tonight, Hall pulled out a little option with a little deception in the backfield and we couldn't find the ball."
Defensive coordinator Steve Griffith added, "We really came out flat the first couple of series. I felt like we picked our intensity up a little bit after that. We got some of the work that we needed to get in. I think we're going to be able to learn a lot from the film. We'll have a chance to make a lot of improvement between now and when we play Conway.
"One thing is, we've got to play fast," he noted. "We've been playing fast in practice and that was what was disappointing when we came out in the first quarter and didn't play with the speed and intensity we've shown in practice. It picked up some during the ballgame."
Bell's 19-yard run set up the Hornets' first touchdown connection from Lessenberry to Powell. Hall ran three plays on its subsequent possession and fumbled it back to Bryant. Stoney Stevens recovered.
A pair of completions from Lessenberry to Rutherford and a 23-yard jaunt by Bell set up the second score, Bell's two-yard plunge.
Another fumble cost the Warriors after two plays. This time Johnson pounced on the ball to put the Hornets' offense just 26 yards away from another score. With Warner completing a 22-yard pass to running back Jacob Irby, the Hornets reached the 7 but a pair of lost-yardage plays resulted in Lowery's entrance to kick a field goal.
The Warriors drove to the Bryant 6 with the help of a penalty but, on first and goal there, Davis Nossaman intercepted a pass and returned it out to the 27. With a tackling penalty tacked on, the Hornets took over at their own 45.
Lessenberry hit Brushawn Hunter for 8 yards, Rutherford for 22 then found Hill for the score. Lowery, who was perfect on all of his extra points and kicked off three times for touchbacks, made it 24-0 with 5:52 left in the first half.
Bryant's initial second-half score was set up by Bell's 40-yard run. Irby added a 15-yard dash and, on the next play, Lessenberry hit Powell for the score to make it 31-0.
With just under seven minutes left in the third quarter, the Hornets, backed up by a holding penalty, were forced to punt. Ian Shuttleworth had to chase down a bad snap, however, and only got the ball back to the 11. It took a fourth-down run of 8 yards by quarterback Daniel Brown to get the points on the board.
Warner's TD strike was set up by a pair of runs from Hunter Lawhon and a 15-yard pass to Giles.
Hall had a third-and-20 at its own 37 when Brown's long pass was picked by Johnson who wove his way through the scattered Warriors 70 yards for the final score.
The Little Rock team came in with just 24 players and eight times Bryant trainer Christa Finney had to come on the field to attend to a Hall player.