Hungry to hit, Hornets stymie Searcy in scrimmage
EDITOR'S NOTE: Because the look back at each day in Bryant athletic history has been so favorably received during the time when there was no sports during the COVID-19 shutdown, BryantDaily.com will continueposting past stories of Bryant athletics either posted on BryantDaily.com (from 2009 to the present) or published in the Bryant Times (from 1998 to 2008).
By ROB PATRICK
BRYANT TIMES

In hopes of avoiding injury, the Bryant Hornets coaching staff has been limiting all-out, physical practices this fall. Even in their scrimmage to mark the end of two-a-day practices, the Hornets were instructed to not take down their teammates. Head coach Paul Calley called it "a very controlled scrimmage."
Because of that, there was some concern that the team, particularly on defense, might not be as physical as it needed to be, might not tackle well when it came time to take on another opponent.
But those concerns were unfounded. When the Hornets scrimmaged the Searcy Lions on Tuesday, Aug. 22, at Bryant (and briefly in Searcy on Monday, Aug. 21), there were plenty of licks passed.
"They were hungry to hit," Calley observed.
Playing four quarters (plus two series in Searcy on Monday before a thunderstorm suspended the action) with everyone getting into the act down to third- and fourth-teamers, the Hornets defense dominated the Lions. Searcy managed just 31 yards net on 31 rushes, completed 8 of 25 passes for 59 yards and never scored. Bryant picked off three passes including one that defensive end Nathan Probst returned for a touchdown.
"Our defense really impressed me," Calley asserted. "They hustled. They play so hard."
Offensively, the Hornets accumulated 506 yards of offense with four quarterbacks combining to complete 22 of 29 passes for 371 yards and three touchdowns.Nine different receivers caught passes including returning starter Jake Jackson who latched onto six for 122 yards. Late in the scrimmage, sophomore Ryan McKnight hauled in four passes for 81 yards.
On the ground, the Hornets got a pleasant surprise in Ben Smith, a senior who has been plagued by injury during his career playing mostly on defense. Smith, mostly behind the second team line, piled up 70 yards on eight carries including a 40-yard gallop to paydirt. Senior Dustin Seljan bulled for 47 yards on 11 carries and sophomore Aspen Trevino added 27 yards on six tries including a nice cutback-laden 15-yard TD run.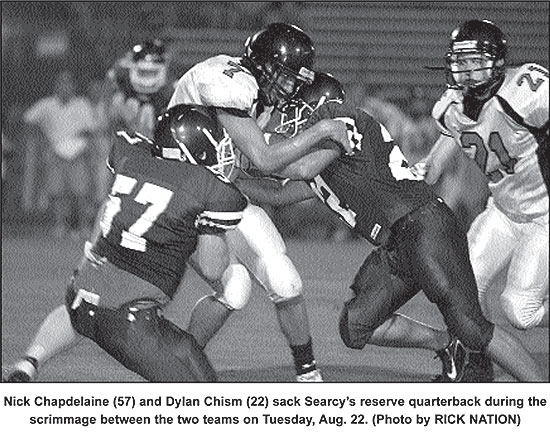 Still, the offense, which turned the ball over three times and allowed four sacks, received mixed reviews from Calley.
"I thought we had some breakdowns, we had some miscommunication as far as our offensive line goes but, overall, I thought we did what we had to do," he said. "We did just enough. There were a couple of times I was disappointed. We got the ball down there and missed a field goal one time and turned it over on downs another. I thought we should've put it in the end zone.
"We had a fourth and long, though, and I was pleased that we drew them offsides and cut it down then converted," he noted.
"At running back, we ran the ball good at times but we made a lot of mistakes there in protection schemes and that's something we've got to correct," continued the coach's assessment. "I don't think it's that hard. Ben Smith stepped up and ran behind that second group and showed me he could play. He's going to push for playing time at running back if we don't get the other stuff ironed out. Seljan had some good tough runs, Trevino had a good run and ran well at times. But you've got to have the total package. That means blocking. I go back to Matt White who weighed 175 pounds, 5-foot-8. He was the best blocker we had, the best runner we had. He did everything.
"I guess that's what I look for in a running back and it's hard to live up to. Luke Brown was another one. You've got to live up to those guys."