For more photos from this event by Kevin Nagle, go here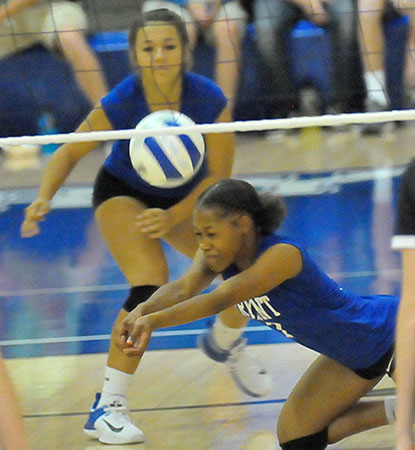 Bryant Lady Hornets freshman volleyball coach Lawrence Jefferson called it a "big win for Bryant," after his team earned a hard-fought 25-23, 25-23 victory over Central Arkansas Junior High Conference rival, Conway Blue on Thursday night.
The win improved the Lady Hornets to 3-1 on the season as they bounced back from their lone loss at North Little Rock on Monday.
"It was a god effort against a good team," Jefferson said of the win.
Ella Reynolds led the Lady Hornets at the net with four kills. Shaylee Carter and Ashton Inman added three apiece and Abbey Inman had two. Carver came up with seven assists with Abbey Inman pitching in with six.
Sam Still served for seven points in the match and Jaiyah Jackson served for six.
Bryant returns to action on Tuesday, Sept. 5, at Mount St. Mary Academy in Little Rock.