Freshman Hornets dominate Hot Springs
EDITOR'S NOTE: Because the look back at each day in Bryant athletic history has been so favorably received during the time when there was no sports during the COVID-19 shutdown, BryantDaily.com will continueposting past stories of Bryant athletics either posted on BryantDaily.com (from 2009 to the present) or published in the Bryant Times (from 1998 to 2008).
By Rob Patrick
Photos by Rick Nation and Kevin Nagle
In the first half against the Bryant Hornets freshman team defense, the Hot Springs Trojans finished with[more] a net of minus-11 yards on 15 plays from scrimmage.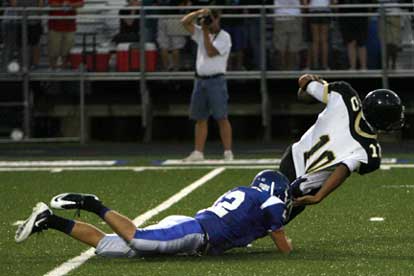 Meanwhile, the Hornets' offense turned four of its five possessions into touchdowns and had amassed 195 yards.
The Hornets led 28-0 and could've named their score, such was the mismatch. But Bryant head coach Kenny Horn did the classy thing. He played everybody but his starters in the second half. The reserves nearly preserved the shutout but the Trojans managed a score midway through the fourth quarter to make the final 28-8.
But then the offense, behind the running of Hunter Lawhon, Ty Harris and Travon Lee, marched down the field and ate up the last 4:43 of the game.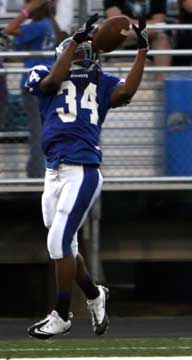 "We played well tonight, probably had them a little overmatched," acknowledged Horn. "And sometimes it's easy to play down to the level of your opponent but we played well."
Eight of Hot Springs' 15 snaps in the first half lost yardage, three more gained no more than a yard.
Meanwhile, the Hornets also had 15 first-half snaps. They scored twice on the ground and twice through the air.
In his only carry of the game, tailback Brushawn Hunter got Bryant on the board from the 4 capping a 41-yard drive that started when defensive end Rashaan Jones covered a Hot Springs fumble on the third play of the game. Quarterback Brandon Warner, who was 7 of 10 for 105 yards in the half, immediately went to the air completing a 27-yard strike to Jason Hastings.
After Hot Springs jumped offsides and K.J. Hill blasted to the 4, Hunter took it in. A low snap sabotaged the extra point so Bryant led 6-0 with the game less than three minutes old.
The Trojans were forced to punt after three plays. On third down, fullback Taylor Jiles was stopped for no gain by Bryant's Matt Shiew and Brendon Young.
After a long punt, Hill set sail on a sweep and dashed 70 yards for another score. And when Warner passed to Hunter on the conversion, Bryant led 14-0 with 3:21 still to play in the opening quarter.
Another three-and-out for Hot Springs was completed after Young, Steven Murdock and Drew Allen led the Bryant defensive stand.
Moments later, it looked like the Trojans were on the board. Trey Lenox stepped in front of a Warner pass at the Bryant 45 and returned it to the end zone but most of the runback wound up being negated by an illegal block in the back.
Given the momentum to start the second quarter, Hot Springs quarterback Anthony Goffigan kept for 5 yards. But Austin Trusty stopped Jiles for a loss then Shiew knocked the ball loose when he sacked Goffigan for a 10-yard loss. Though Goffigan got on the ball, his next attempt to escape the Bryant rush wound up in a 6-yard loss on a sack by Trusty.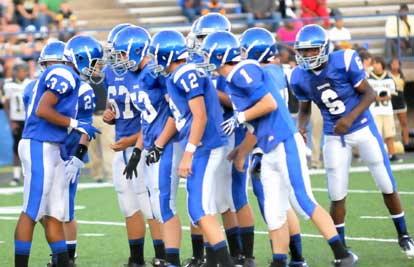 Bryant took over at the Hot Springs 48 and, in five plays, found the end zone again. Warner completed a 13-yard pass to Hastings to convert a third-down. A play and a penalty later, he hooked up with Jacob Gorham for a 16-yard TD toss. Alex Denker added the extra point and it was 21-0.
The Trojans had another shot at scoring on the ensuing kickoff but as Melvin Walker got near midfield, he lost the ball and Lawhon recovered for Bryant at the Hot Springs 47 with 3:20 left in the half.
Two plays later, Warner found Hunter alone down the right sideline for a completion that turned into a 49-yard touchdown pass. Denker booted it to 28-0.
The half ended with Hot Springs' offense going backwards. Ben Bruick hunted down running back Allen Murphy for a loss of 5 and, after Hunter Fugitt and Devin Kelly led a charge to stuff Goffigan at the line of scrimmage, Shiew sacked the Trojans' quarterback to end the half.
To start the third quarter, the Hornets' second team struggled with penalties as it tried to deal with the Hot Springs starting defense. Bryant eventually had to punt.
The Trojans were still unable to pick up a first down as Murdock stopped a run for no gain and Clark Garland sacked Goffigan. A fourth-and-8 run was halted by Jordan McDonald and Skylar Jewwett and the Hornets took over on downs.
Bryant went three-and-out but when Hill's punt was mishandled, Fugitt was there to recover the ball at the Hot Springs 33.
Harris completed a 7-yard pass to Paul Tierney and Mar-Kevius Nelson wove through the Hot Springs defense on a nice 10-yard run as the Hornets drove to midfield but, on a fourth-down play, Harris was dropped for a loss.
Hot Springs took over and drove for its touchdown which came on a fourth-down keeper by Goffigan after the Hornets nearly made a goal-line stand. Kenney Kelly's two-point conversion run set the final score.
The Hornets, now 2-0, play their first road game of the season next Thursday, traveling to Russellville.
BRYANT 28, HOT SPRINGS 8
Score by quarter
Hot Springs 0 0 0 8 — 8
BRYANT 14 14 0 0 — 28
Scoring summary
First quarter
BRYANT — Hunter 4 run (kick failed), 5:48
BRYANT — Hill 70 run (Hunter pass from Warner), 3:21
Second quarter
BRYANT — Gorham 16 pass from Warner (Denker kick), 3:31
BRYANT — Hunter 49 pass from Warner (Denker kick), 2:14
Fourth quarter
HOT SPRINGS — Goffigan 3 run (Kelly run), 4:43
Team stats
Hot Springs Bryant
First downs 3 9
Rushes-yards 25-35 22-104
Passing-yards 0 112
Passing 0-0-0 8-13-1
Punts-avg. 2-40.5 2-9.5
Fumbles-lost 4-3 1-0
Penalties 4-25 5-32
INDIVIDUAL STATS
Rushing: BRYANT, Hill 2-74, Warner 2-13, Lawhon 3-10, Nelson 4-7, Lee 2-7, Hunter 1-4, Schrader 2-(-4), Harris 6-(-7); HOT SPRINGS, Lenox 2-20, Jiles 7-10, Kelly 6-4, Campbell 2-2, Goffigan 8-(-1).
Passing (C-A-I-Y): BRYANT, Warner 7-10-1-105, Harris 1-1-0-7, Schrader 0-2-0-0.
Receiving: BRYANT, Hastings 2-40, Reeves 2-(-1), Hunter 1-49, Gorham 1-16, Tierney 1-7, Hill 1-1.