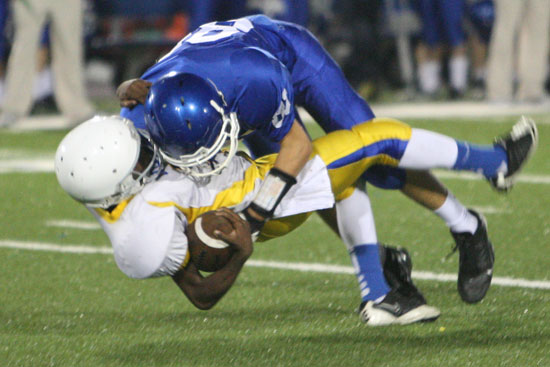 By Rob Patrick
Photos by Rick Nation and Kevin Nagle
Fired up by the fact that they'd finally gotten on the board, the North Little Rock freshman[more] Charging Wildcats made a defensive stand against the Bryant Hornets Thursday night at Bryant Stadium.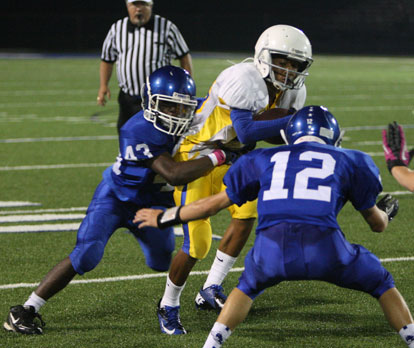 The Cats had just tied the game 8-8 and they'd held the Hornets without a first down — to just three yards on their first offensive series of the second half. Everything seemed to be going their way.
Gunnar Burks got a punt away and it was a short one. Roshod Fudge fielded the kick for North Little Rock but, because Burks had hesitated momentarily before punting the ball, the Hornets had time to get downfield on coverage. Fudge caught the ball and Bryant's Jordan Gentry cleaned his clock with a huge hit. The ball came loose and Nick Hardin claimed it for the Hornets with 1:58 left in the third quarter.
It took eight plays but the Hornets charged 41 yards to paydirt, regaining the lead. And when North Little Rock got two more chances on offense, the Bryant defense stepped up to make the 16-8 lead hold up for a victory.
The go-ahead touchdown was scored by Burks on a quarterback sneak with 7:05 left to play. It came just moments after receiver Evan Lee nearly got in at the corner after hauling in a 10-yard pass from Burks. That duo teamed up on a pass for the 2-point conversion moments later. The drive had been sparked early by a 9-yard keeper by Burks followed by a 10-yard burst by Drew Alpe.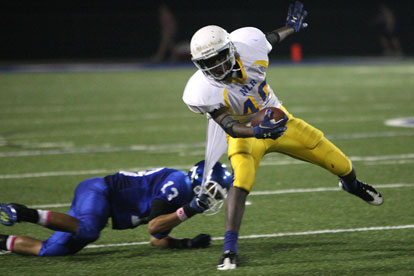 "That was a character drive," acknowledged Hornets coach Kenny Horn, whose team improved to 5-1 on the season and 4-1 in league play going into a trip to Cabot North next week. "That was big for our kids."
Bryant held an 8-0 lead at the half, points that had been put up on the opening drive of the game when Burks broke a 29-yard run to the end zone with 3:46 left in the opening period.
His pass to Demaja Price out of the swinging door formation, produced a successful 2-point conversion and the 8-0 edge.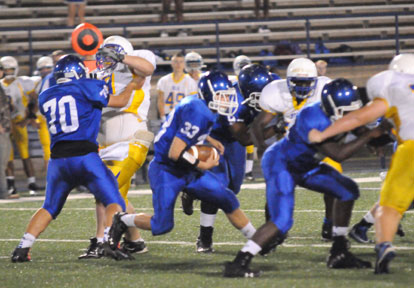 "I told our guys in the second half, I thought if we could stop them right here coming out, get the ball and punch one in, we could win it for sure there," Horn related. "But they scored and our kids responded like they needed to. They showed a lot of guts right there. We pounded it in there like we normally do. We did good right there at the end.
"The defense came up with a big stop," he added. "I thought the defense played well for the most part."
The coach blamed himself for putting the Charging Wildcats in position to tie the game up to start the second half. It came after the Hornets nearly recovered an onside kick to open the half.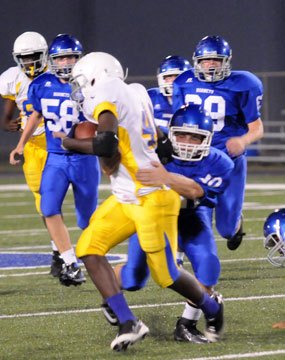 "That onside kick was my bad," Horn emphasized. "It put us in a bad situation. We were there to get it. It just went out of bounds on us. Anyway, that's what happens sometimes when you take a gamble, I guess."
The Hornets made a bid to stop the 49-yard march, which started with a 27-yard scamper by Fudge. The Cats converted a fourth-down at the 13 after Jaelyn Jones had halted a second-and-2 run short then Walker Brown and Jacob Hall stopped quarterback Dontez Batchelor short on a third-and-1.
But Fudge broke the fourth-down run for 7 yards to the 6. A play later, Batchelor was dropped for a loss by Brown and Khaliq Slater to make it a third-and-10 situation.
The Hornets, however, jumped offsides as North Little Rock got that 5 yards back and, on the next play, Fudge beat the defense to the corner for the score. Batchelor passed to Fudge for the tying 2-point conversion. So it was tied with 3:50 left in the third quarter.
North Little Rock would be held to just one first down the rest of the game, however. After Bryant took advantage of the turnover to regain the advantage, the Cats went three-and-out with a third-down double reverse getting snuffed out by Brown, Kameron Guillory and Austin Fason.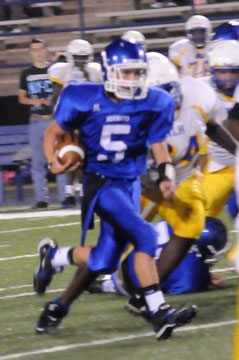 "We really didn't make any adjustments," Horn said of the defense. "We just wanted to make sure we were executing our alignment right there. We kind of got out of alignment a couple of times on that drive when they scored. They just veered a little off path because the game got going a little fast. So we settled them down and we got them lined up right and they executed."
North Little Rock got one last chance after forcing a Bryant punt with just over two minutes to play. From midfield, they picked up a first down. A third-and-6 pass from the 33 was incomplete and, on fourth down, they went for it on another reverse to Kyleal Lewis. But Slater drove Lewis down a yard short of the first down and the Hornets took over on downs with :24 showing on the clock, sealing the win.
Bryant did most of its damage on the ground, though the going was tough at times. Savonte Turner slashed and dashed his way to a team-high 53 yards on eight tries but he was shaken up on Bryant's second snap of the second half. Alpe pitched in with 28 hard yards on nine carries and Burks kept for 35 yards on 12 tries. He also completed 3 of his 4 passes for 19 yards.
"Both backs ran well," Horn said. "We held Savonte out in the second half just to be safe. I don't think it's going to be a big deal. He came out and ran the ball well this game. We're looking to count on him and Alpe."
The Hornets' opening drive started with Burks' 11-yard keeper. An offside penalty converted a third-down situation and, moments later, a 7-yard pass from Burks to Liam Miller converted another third-down pickle.
Alpe followed that play up with a 9-yard blast, setting up Burks' TD jaunt.
North Little Rock's first drive netted a first down but when Fason and Guillory sacked Batchelor for a loss of 14, the Cats were unable to make it up.
A short punt gave the Hornets good field position and, on a drive featuring Turner with runs of 8, 10, 18, and 11, they reached the North Little Rock 15. But a second down snafu on the snap cost Bryant 20 yards and a punt ensued a play later.
Burks' kick was downed at the 7. Batchelor hit Fudge for 23 yards on a third-and-10 from there but a holding penalty undermined the Cats' last-ditch effort to get on the board. Brown made a sack and a punt ensued with about a minute left in the half.
A fumble on the return was recovered by North Little Rock, however, but the Cats ran out of time despite a fourth-down run by Lewis that picked up 27 yards. Slater made a touchdown-saving tackle as the half ended.
BRYANT 16, NORTH LITTLE ROCK 8
Score by quarters
No. LITTLE ROCK 0 0 8 0 — 8
BRYANT 8 0 0 8 — 16
SCORING SUMMARY
First quarter
BRYANT — Burks 29 run (Price pass from Burks), 3:46
Third quarter
NORTH LITTLE ROCK — Fudge 5 run (Fudge pass from Batchelor), 3:50
Fourth quarter
BRYANT — Burns 1 run (Lee pass from Burks), 7:05
Team stats
NLR Bryant
First downs 6 10
Rushes-yds 26-106 29-116
Passing 2-7-0 3-4-0
Passing yds 30 19
Punts-avg. 3-31.0 3-26.3
Fumbles-lost 1-1 2-1
Penalties-yds 8-62 4-25
INDIVIDUAL STATS
Rushing: BRYANT, Turner 8-53, Burks 12-35, Alpe 9-28; NORTH LITTLE ROCK, Fudge 8-55, Lewis 3-30, Henson 1-9, Ford 1-8, Batchelor 11-4, Collier 1-2, Burton 1-(-2).
Passing (C-A-I-Y): BRYANT, Burks 3-4-0-19; NORTH LITTLE ROCK, Batchelor 2-7-0-30.
Receiving: BRYANT, Lee 2-12, Miller 1-7; NORTH LITTLE ROCK, Fudge 1-23, Morris 1-7.