By Rob Patrick
During the interim between their last regular-season game on Feb. 6 and their opener in the Central[more] Arkansas Junior High Conference tournament on Feb. 11, the Bryant Hornets freshman team concentrated on improving its defense. And, in the time between their 38-15 win over Benton in that tourney opener on Saturday and the semifinal match-up with Little Rock Catholic on Thursday, it was more of the same.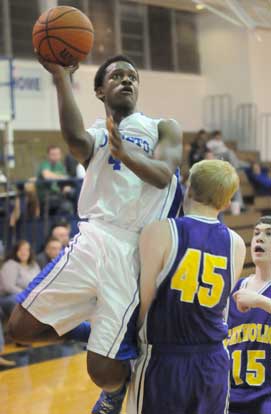 And for the Rockets and their duel perimeter threats D.J. Brown and William Hancock, Bryant head coach Jim Pennington installed a little defensive wrinkle.
The result was a frustrated Rockets team that, after defeating Bryant twice during the regular season, trailed from start to finish Thursday as the Hornets prevailed 41-36 to advance to the tourney championship.
Bryant will take on the North Little Rock Charging Wildcats in the finale on Saturday at 1:30 p.m., at the Bryant Middle School gym. North Little Rock ousted Conway White in the other semifinal on Thursday, 51-39.
It will be a grudge match. Bryant secured the regular-season championship of the league after a 49-43 overtime loss to the Junior Charging Wildcats was reversed because a player who was ineligible for the game (because he had received two technical fouls and an ejection in their previous game) started for North Little Rock. So, instead of Bryant having two conference losses and North Little Rock one, it was the other way around.
On Thursday, the Hornets held Catholic to just 7 points in the first half and 17 through three quarters, building as much as a 15-point lead. The Rockets rallied and more than doubled their score in the fourth quarter but the Hornets held on despite converting just 7 of 16 free throws in the fourth quarter.
"Defensively, for three quarters, we really played well," Pennington acknowledged. "Then, we might've gotten a little tired plus they were taking it off penetration. We've got the lead trying not to foul and they get some buckets and get back in the game."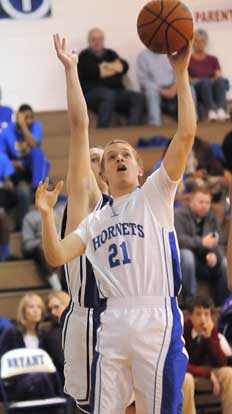 Catholic got as close as 37-34 with 1:09 left to play but didn't score again until only :08.8 remained. J.C. Newborn hit two clutch free throws with :41.8 to go to make it a two-possession game and the Rockets were never that close again down the stretch.
"If we had hit our free throws, it wouldn't have been a problem," Pennington said of the rally. "Of course, they're a good basketball team. They're not going to quit. I'm just proud of our guys for hanging in there and getting it done. Our kids just played so well."
Concerning the defensive wrinkle Pennington employed, he said, "We played a little junk defense on them, a little tandem-and-three that I got from Coach (Brad) Matthews (head coach of the Bryant High School girls team). It just worked like a charm, really frustrated them."
The Hornets' K.J. Hill manned up on Catholic's D.J. Brown while Brandan Warner shadowed the Rockets' William Hancock and the rest of the Bryant defense zoned up and helped out.
Brown, who scored 25 points against the Hornets earlier this season, was coming off a 32-point performance in the Rockets' first-round win over Conway Blue on Saturday. This time, Brown not only didn't score in the first half, he was only able to attempt one shot and two free throws. He scored 9 in the second half but Hill, with Brown defending him for the most part, scorched the nets for 25 including 15 of the Hornets' 20 points in the first half.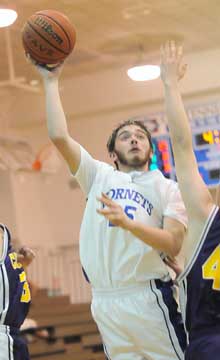 Ryan Hall added 8 points for Bryant. Warner and Newborn had 4 each with Newborn finishing with a game-high 10 rebounds. Hancock led the Rockets with 11. Davis Allen had 7, Cory Smith 5, Kirk Hutchins and Jackson Collier 2 each.
Bryant's opening salvo began with a reverse layup by Hill. Hall got free inside for a bucket off a sweet feed from John Winn to make it 4-0.
Hancock got Catholic on the board with a 3 but Warner answered with a triple at the other end. Newborn fed Hill for a layup and it was 9-3.
Hutchins hit a baseline jumper for the Rockets with 1:03 left in the first quarter. After that, however, the Rockets were unable to score again until Hancock beat the buzzer with a bucket inside at the end of the half.
In the meantime, Hill and Newborn each hit a pair of free throws before Hill attacked the rack for a layup as he was fouled, making it 20-5.
The lead was 22-11 a minute into the second half but when Hall hit a jump hook and, after a Hutchins miss, got a layup off a dish from Warner, the Hornets had matched their biggest lead at 26-11.
Smith canned a pair of free throws then Brown made a steal and layup to cut it back to 11 but the Hornets dashed the momentum for the time being when Newborn and Hill worked a nice give-and-go for a layup. Allen converted a pair of free throws but Hill fed Hall for an answering deuce to make it 30-17 going into the fourth quarter.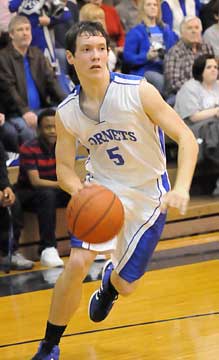 Hill opened the final period with a driving layup but then the Rockets started to whittle on the margin. They got it under 10 initially with 3:13 to go on a pair of free throws by Brown. Bryant rushed to the other end, beating the Catholic press with Hill laying it in off an assist from Newborn.
At the other end, Newborn blocked a shot by Smith and Hill, racing up the court in traffic, was fouled then knocked to the floor by a second player. Along with the personal foul, a technical was called on the play much to the ire of the Catholic coaches and fans.
Hill hit a free throw but, on the subsequent possession, the Hornets turned it over and the comeback resumed. Hancock made a pair of free throws with 2:06 to go then Hill missed the front end of a one-and-one. The Rockets took advantage when Brown converted at the line. He missed his second shot but it went out of bounds off the Hornets. Smith got an open look at a 3 but it rimmed out to Newborn who was fouled with 1:41 left.
After Newborn knocked down both free throws to make it a 10-point game again, Catholic made its final push. Collier hit a layup then, off a Bryant turnover, Allen drained a 3 to cut it to 37-32.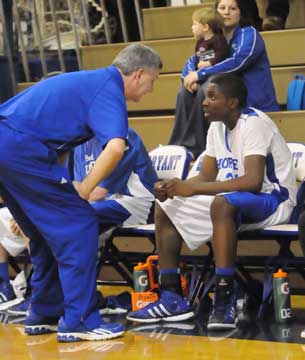 The Hornets took a timeout with 1:19 left and, when play resumed, Hill was fouled. Again, however, his free throw refused to go. With 1:09 left, Hancock stepped to the line and converted twice to make it 37-34.
The Rockets got a chance to cut it further or tie it when Winn's free throws wouldn't fall but Brown misfired and Warner rebounded. He got the ball to Newborn who was fouled with :41.8 showing. After he'd converted twice, Hancock's 3-point try went off the iron and Warner was fouled with :22.3 to go.
Warner converted his second shot then Hill snuck into the backcourt and made a steal, circling around to work on the clock some more. Brown fouled out with :16.8 to go and Hill hit one of his shots to extend the lead before Allen hit a layup to set the final score.
"Now we get to play for our fourth championship this season," Pennington noted.
The Hornets won their own tournament early in the season and captured a tourney title at Lake Hamilton after Christmas along with winning the league's regular-season crown.
JUNIOR HORNETS 41, JUNIOR ROCKETS 36
Score by quarters
LR Catholic 5 2 10 19 — 36
BRYANT 14 6 10 11 — 41
JUNIOR ROCKETS 36
Player fg-fga ft-fta reb fls pts
o-d-t
Allen 2-5 2-2 0-1 1 2 7
Hancock 2-8 6-6 1-1 2 4 11
Brown 3-9 3-7 1-2 3 5 9
Smith 1-7 3-4 1-4 5 2 5
Sanders 0-0 0-0 0-1 1 1 0
Fox 0-3 0-0 0-0 0 0 0
Hutchins 1-3 0-0 0-3 3 1 2
Collier 1-6 0-0 2-0 2 1 2
Team 4-1 5
Total 10-41 14-19 9-13 22 16 36
JUNIOR HORNETS 41
Player fg-fga ft-fta reb fls pts
o-d-t
Hill 10-14 4-11 2-6 8 3 25
Winn 0-2 0-2 0-0 0 0 0
Warner 1-2 1-2 0-4 4 4 4
Newborn 0-3 4-6 2-8 10 3 4
Hall 4-6 0-0 0-4 4 2 8
Withers 0-0 0-0 0-0 0 0 0
Team 0-2 2
Total 15-27 9-21 4-24 28 12 41
Three-point field goals: Bryant 2-4 (Hill 1-2, Warner 1-1, Winn 0-1), LR Catholic 2-14 (Hancock 1-5, Allen 1-2, Smith 0-4, Brown 0-1, Fox 0-1, Collier 0-1). Turnovers: Bryant 8, LR Catholic 4.