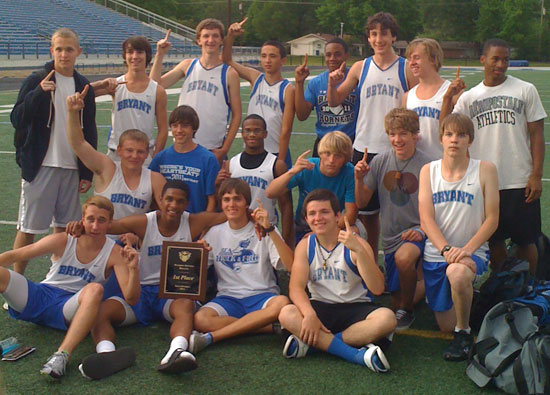 CONWAY — The Bryant Junior Hornets used first place finishes in seven events to cruise to[more] victory in the Conway Junior Wampus Cat Relays Thursday night.
Bryant scored a total of 174 points to finish ahead of North Little Rock (138), Conway White (124), Conway Blue (99), Russellville East (51), and Russellville West (16).
A new school record was set in the 4×100 meter relay by the team of Mar'Kevius Nelson, Brenden Young, Steven Murdock, and Clark Garland in a time of 45.54, which beat their own record of 45.81.
Nelson also placed second in the long jump, fourth in the triple jump, 4th in the high jump, and 8th in the 200 meter dash.
Young also placed first in the 300 meter hurdles in a time of 43.2, second in the 110 meter hurdles in 16.0, and fifth in the shot put.
Mark Winn earned two victories, winning the 1600 meter run in a new personal record time of 4:48, and then winning the 800 meter run in a time of 2:11.
Justin Combs continued his unbeaten streak in the pole vault, placing first with a new personal best of 11' 2".
The 4×800 meter relay team of Jim Dellorto, Nicholas Schmidt, Austin Masters, and Dru Wen placed first with a time of 9:21. Also placing first was the 4×400 meter relay team of Steven Murdock, Nic Townsend, Dalton Davis, and Brenden Young with a time of 3:50.
Also scoring for the Junior Hornets were:
Davis in the pole vault (second in 9' 8"), 300 meter hurdles (fifth in 46.7), and 110 meter hurdles (seventh);
Garland in the 100 meter dash (sixth) and 200 meter dash (third);
Murdock and Townsend in the 400 meter dash (second and seventh, respectively);
Dellorto in the 800 (third in 2:16);
Schmidt in the 800 (fifth in 2:20);
Connor Wilson in the 1600 meter run (third in 4:56);
Wen in the 1600 meter run (fifth in 5:05);
Connor Chapdelaine in the discus (second);
Drew Allen in the discus (second);
and Noah Flores in the shot put (eighth).
"Davis and Combs continue to improve each week in the pole vault," said coach John Orr. "That is a huge advantage to us if they can keep scoring points like that this year.
"The 400 meter relay team breaking their own record was fun to watch," he added. "Those guys are hard to beat if they execute the handoffs.
"Allen and Chapdelaine also came through for us big," the coach mentioned. "Mark Winn continues to dominate in the 800 and 1600, and Jim Dellorto impressed with great times in the 800 meter run and the 4×800 meter relay."