By Rob Patrick
Photos by Rick Nation and Kevin Nagle
Skylar Davis and Anna Lowery hit clutch free throws down the stretch and in overtime as the[more] Bryant Lady Hornets freshman team forged a 43-35 win over the North Little Rock Junior Lady Charging Wildcats Thursday night.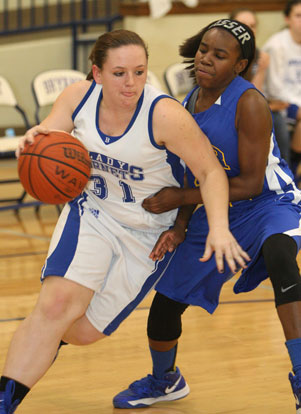 Lowery converted a free throw with :08.1 showing to tie the game and, after North Little Rock's Janelle Boone missed at the buzzer, it went to overtime.
Lowery hit two more free throws to knot it after Boone had scored the first basket of the extra period. After a turnover, Lowery dished to Kailey Nagle for a layup that put the Lady Hornets ahead to stay.
Davis, who led all scorers with 18 points, 16 after halftime, had missed her first five free throws in the game but finished by knocking down nine in a row including six that helped maintain the overtime lead.
The win, which improved the Lady Hornets to 10-12 overall and 3-3 in league play gives them a chance to finish as high as third in the league and probably no worse than fifth going into the conference tournament. They host Mount St. Mary's on Monday, Feb. 4, then travel to Conway to play the Blue team, which is currently holding down third.
"It was a big win for us for seeding purposes for the conference tournament," acknowledged Lady Hornets coach Nathan Castaldi.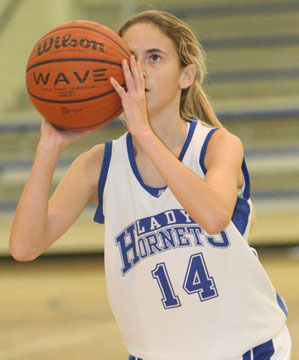 "Big free throw by Anna Lowery with 8 seconds left to tie the game for us," he noted. "Skylar did a good job of coming back from a poor shooting first half to play very well the second half."
The 43 points was a season high for Bryant. Britney Sahlmann added 10 points and a game-high nine rebounds. Lowery finished with 4 points. Nagle, Anna Turpin and Rachel Miller each had 3 points and Carolyn Reeves 2.
"Britney was her normal self," Castaldi commented. "She rebounded well for us and did a good job of scoring inside. She also helped us against their pressure. A couple people played well off the bench for us. In the first half, Carolyn Reeves gave us some good minutes when Britney picked up her third foul. And, in the second half, Rachel Miller came in and gave us a burst offensively."
Castaldi knew if his team could handle the Lady Cats' defensive pressure, his team had a chance to come out with a win. In the first half, that wasn't the case as the Lady Hornets turned the ball over 10 times and trailed 16-10 at the break. But they committed just four turnovers in the second half as they rallied for the win.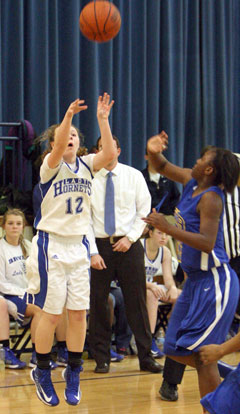 "They are a tough match-up for us because of their athleticism, so we had to play zone," he said. "We don't play much zone and, in the first half, we stood around a lot. In the second half, we were more aggressive, especially our guards, which limited their open looks. The bad thing about zone too is that you are not assigned someone to block out and they hurt on us on the boards the first half. In the second half, they still got some offensive rebounds but we did a better job. We knew offensively if we could handle their pressure we would get good shots and we did."
The Lady Hornets started out well enough. When Davis fed Sahlmann for a basket inside, it snapped a 2-2 tie. Turpin followed with a free throw and, after North Little Rock's Ciara Engram hit a 15-footer, Turpin answered off another dish from Davis to make it 7-4.
But two more baskets by Engram before the quarter was through had the Lady Wildcats up 8-7 at the break.
The second quarter was a rough one for Bryant. North Little Rock pushed the lead to 14-7 and the Lady Hornets were struggling on offense before Reeves pulled up and hit a 10-footer with 1:55 left in the half. Lowery hit a free throw after Turpin stole the ball but Engram scored off the offensive glass to set the halftime score.
Engram, who finished with 10 points, had 8 in the first half and didn't score again until overtime.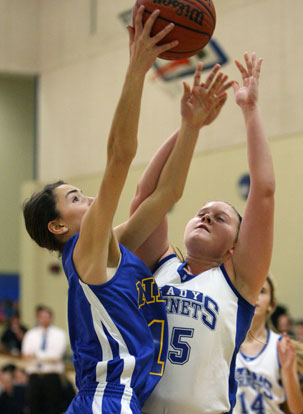 Boone led North Little Rock with 12 points. Nykia McGee had 4, Nuggett Settles 3.
Davis got the Lady Hornets going in the second half by driving for a layup and following up with a 3. When Sahlmann drained a pair of free throws with 2:20 left in the third quarter, Bryant led 17-16.
The lead seesawed after that until Settles hit a 3 in the final seconds to give her team a 23-21 lead going into the final six minutes of regulation.
McGee's free throws had North Little Rock up 25-21 but Miller grabbed offensive rebounds on consecutive possessions. She got a free throw out of the first one then scored on the second despite being fouled.
The margin was 25-24 with 4:25 to play. Boone countered but Davis fed Sahlmann for an answering hoop. Moments later, Davis tied it by snapping her free-throw drought.
Boone put her team ahead and Davis tied again at the line. Sahlmann hit a free throw with :44.6 showing to put Bryant ahead but Boone scored again to set the stage for Lowery's game-tying trip to the charity line.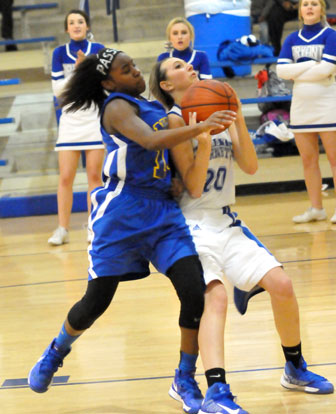 After Nagle's overtime basket gave Bryant the lead for good, Davis knocked down two more free throws with 1:01 to go. Engram responded with a basket but that was the last of the scoring for the Lady Cats with :52 left.
Davis would add four more free throws, Sahlman and Nagle would hit one each as well.
The back-breaker for North Little Rock came with :22.1 to go. Bryant held a 39-35 lead when Sahlmann rebounded Nagle's missed free throw and was fouled. She missed her second shot but out-maneuvered everyone for the rebound. She missed a follow shot but rebounded the miss off that too and got the ball to Davis who was fouled with :20.4 to.
Davis extended the margin to 7 and, after a North Little Rock miss, Nagle put the finishing touches on the win after gathering the rebound.

JUNIOR LADY HORNETS 43, JUNIOR LADY CHARGING WILDCATS 35
Score by quarters
North Little Rock 8 8 7 8 4 — 35
BRYANT 7 3 11 10 12 — 43
LADY CHARGING WILDCATS 35
Settles 1-6 0-0 3, McGee 1-8 2-2 4, Couch 1-6 0-0 2, Sperling 0-4 2-2 2, Boone 4-7 4-5 12, Engram 5-9 0-0 10, Lowe 0-0 2-2 2, Eldridge 0-1 0-0 0. Totals 12-41 10-11 35.
LADY HORNETS 43
Davis 4-6 9-14 18, Lowery 0-2 4-6 4, Nagle 1-3 1-4 3, Sahlmann 3-5 4-6 10, Turpin 1-4 1-2 3, Patton 0-0 0-0 0, Miller 1-3 1-2 3, Moser 0-0 0-0 0, Reeves 1-3 0-0 2, Keith 0-1 0-0 0. Totals 11-27 20-34 45.
Three-point field goals: North Little Rock 1-5 (Settles 1-2, McGee 0-1, Sperling 0-1, Engram 0-1), Bryant 1-3 (Davis 1-3). Rebounds: North Little Rock 25 (Boone 5), Bryant 24 (Sahlmann 9, Davis 4). Turnovers: North Little Rock 13, Bryant 14. Team fouls: North Little Rock 23, Bryant 13. Fouled out: North Little Rock, Settles, Couch, Boone.