By Rob Patrick
Photos by Kevin Nagle and Rick Nation
To their credit, the Bryant Hornets out-rebounded the high-flying North Little Rock Junior[more] Charging Wildcats, 30-25, in a freshman game at the Bryant Middle School gym Thursday night.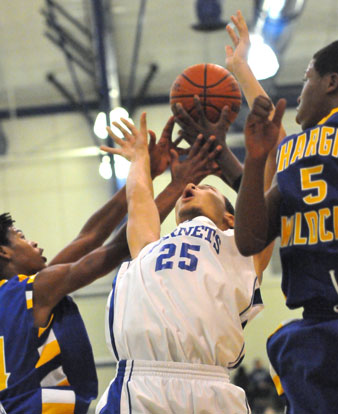 But, when they got those rebounds — 11 of them on the offensive end — their follow shots were almost always contested by the Wildcats' leapers. Shots were blocked. Shots were altered. One shot was even goal-tended.
Coupled with a 1 for 7 night from 3-point range and 20 turnovers, the Hornets never could quite catch up with the Wildcats. They cut a 13-point deficit to 5 with 2:26 left in the game but North Little Rock regrouped with a timeout and closed out the 47-37 win.
The Wildcats, who retained a share of first place in the Central Arkansas Junior High Conference, had nine players contribute to the scoring, led by Josh Shorty who had 11 off the bench. Rokar Williams added 10.
Cameron Murray paced the Hornets with 12 points to go with a game-high eight boards. Kris Croom added 10, Kevin Hunt 5, Simeon Watson and Jordan Walker 4 each and Jaelynn Jones 2.
Bryant, which only led 3-0 when Hunt open the game with a triple, trailed 38-25 early in the fourth quarter. Walker hit a driving layup then Croom made a steal and a layup.
After an empty trip to the free throw line for Walker, Croom got back there with 3:04 to go and converted twice. Williams missed a shot for North Little Rock and Croom drove to the basket to make it 38-33.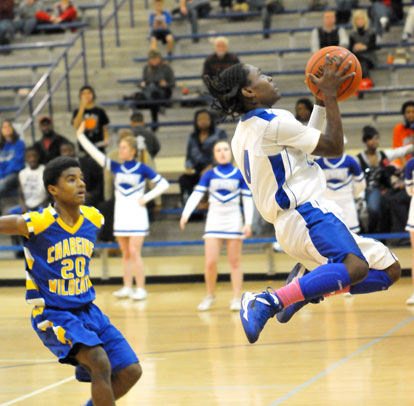 North Little Rock called a timeout with 2:23 to go and came back with a patient possession that resulted in a layup for Dontez Batchelor. A Bryant turnover followed and Shorty scored by hitting the offensive glass, pushing the lead back to 9.
Watson interrupted with a pair of free throws but a 3-pointer with 1:22 to go drove a dagger into the Hornets' comeback hopes.
The first half of the game was close until the late stages. In the first quarter, Jones had scored off a nice feed from Croom to tie the game 5-5. Williams missed a 3 for North Little Rock but Kashon Johnson rebounded and scored to give his team the lead going into the second quarter.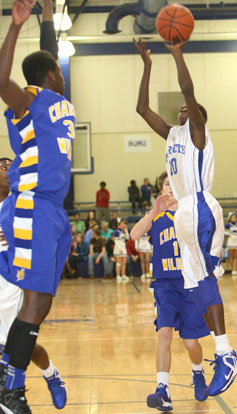 Williams hit a 3 and Shorty added a pair of free throws to make it 12-5 but a driving jumper by Watson got the Hornets going again. Murray hit a jump hook to make it a 3-point game then the teams traded points for a while. Hunt drove for a layup and when Croom put together a tenacious effort on the boards, rebounding his own misses twice, and wound up with a three-point play, it was 19-16 with 1:34 left in the half.
But Cain Gunnett drained a 3 for the Wildcats who surged to a 25-16 lead at the break.
North Little Rock wouldn't let the Hornets get that close again. Murray scored to start the second half and, after a free throw by the Cats' Nick Lewis, worked inside for another bucket. Croom hit a free throw and it was 26-21.
Shorty answered and Murray hit the offensive glass to score in response to make it 28-23 with 3:18 left in the third quarter.
But the Wildcats put together a 10-2 run at that point that produced the 13-point lead before the Hornets rallied.
Now 7-14 overall and 1-5 in the Central Arkansas Junior High Conference, Bryant will play its final home game on Monday, Feb. 4, against the Catholic Junior Rockets of Little Rock. They conclude the regular season at Conway Blue on Thursday, Feb. 7 before the league's post-season tournament commences in Cabot.