By Rob Patrick
Photos by Kevin Nagle
BENTON — With 1:22 left in the third quarter,[more] the Bryant Lady Hornets freshman basketball team found themselves trailing the North Little Rock Junior Lady Charging Wildcats, 25-24. But, from that point on, the Lady Hornets clamped down defensively and allowed North Little Rock just 2 points as they surged to a 40-27 win to advance to the semifinals of the Central Arkansas Junior High Conference tournament at Benton Arena.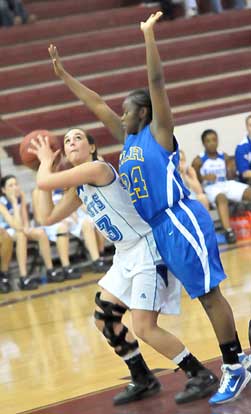 Bryant will take on regular-season champion Conway White on Monday at 6:30 p.m., with the winner reaching the championship game on Thursday against either Lake Hamilton or Benton.
The Lady Hornets include Aubree Allen, Jessica Alliston, Andrea Buford, Ashlee Caton, Caylin Choate, Dezarea Duckworth, Kaitlyn Greer, Keedy Harrison, Taylor Matthews, Dee-Dee Mosby, Melinda Murdock, Amber Newman, Destiny Nichols, Brittany Privett, Erica Smith, Rori Whittaker and Alex Wright.
It was the Lady Hornets' third win of the season over North Little Rock and defense again was a key not only in that 16-2 finish but early. Bryant forced 30 turnovers including 20 in the first half. (Bryant had 13 in the game.) Because of that plus the fact that 16 of the Lady Hornets' 24 rebounds came at the offensive end, they were able to launch 49 field goal attempts to just 20 by North Little Rock.
More chances, more points.
"We didn't play a good third quarter defensively but the fourth quarter we kind of hunkered down and played real good defense," acknowledged Lady Hornets coach Nathan Castaldi. "They do a good job of coming back to the basketball and doubling us and making some of our players who don't usually score beat them. But I thought we did a good job with that tonight of making two or three extra passes, finding the open person and knocking the shot down."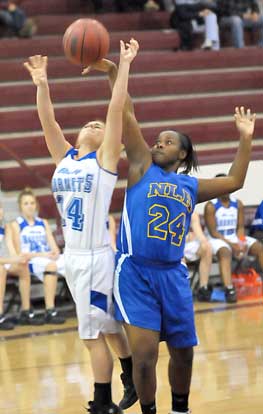 As usual, Allen (14) and Duckworth (10) led the scoring for Bryant but Smith came through with 8. Choate and Whittaker pitched in with 4 apiece.
North Little Rock's Dajha Hardaman finished with 12.
Of the turnover advantage, Castaldi mentioned, "We've really worked on handling the basketball. They don't put a ton of pressure on you but they do pressure the basketball pretty hard so to only have 13, that's a good job offensively."
Markeda Bryles' three-point play provided North Little Rock's only points of the first quarter when they were only able to muster three attempts from the field while suffering 11 turnovers. Bryant was only 3 of 12 from the field, however, so the Lady Hornets' lead was only 6-3 with Duckworth accounting for 4 of those after Smith opened the scoring.
Choate beat the North Little Rock press for a short jumper to start the second quarter. Whittaker made a steal that led to two free throws by Duckworth and a 10-3 lead.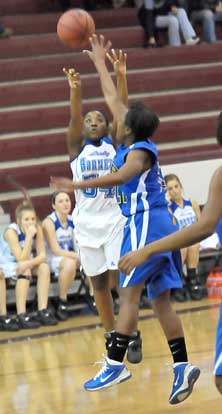 Hardaman hit a 3-pointer to get her team back on track and North Little Rock eventually cut the lead to 12-10. But Allen, who had yet to score, got hot at that point. She knocked down a 10-foot jumper, made a steal and drilled a 12-footer. After a North Little Rock turnover, Smith, from the high post, fed Allen for a basket under the hoop and the Lady Hornets had an 18-10 advantage.
Becca Mosler and Whittaker traded buckets in the final minute before Kiara Webb got North Little Rock within 20-14 at the break.
Threes by Mosler and Faith Miles helped fuel an 11-4 start to the second half for the Lady Cats producing the 25-24 lead. But Hardaman's 12-foot jumper at 1:22, which set that score, proved to be the last field goal until 1:58 was left in the game. That's when she scored the last 2 points for her team.
Bryant's closing blitz began with a steal by Duckworth, who had seven in the game. She got the ball to Whittaker who fed Allen for a go-ahead bucket in the final seconds of the quarter.
During the break, Castaldi called a play for the Lady Hornets to run when they got the ball the first time in the fourth quarter. And, sure enough, they forced a turnover and ran the play to perfection. Whittaker dished to Duckworth breaking to the basket for a layup and a 28-25 edge.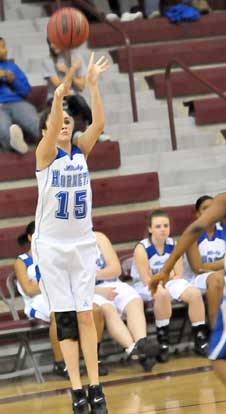 Another turnover and Duckworth returned the favor, kicking out a feed to Whittaker in the corner. She knocked down the jumper to continue the run.
North Little Rock missed a chance to break the 14-0 run with 4:03 left. Bryles was fouled but missed both shots. The second, however, went out of bounds off the Lady Hornets. The Lady Cats inbounded only to have Duckworth swipe a pass and head to the other end, where she scored following her own miss.
Allen cashed in another North Little Rock turnover by hitting the offensive glass for a bucket. Back on defense, Harrison knocked a pass away and Allen controlled.
After a timeout, the Lady Cats got the ball back only to have Allen and Whittaker combine on a theft. With 2:16 to play, Choate scored and was fouled. She missed the free throw but Allen caught the Lady Cats flat-footed, grabbed the carom and scored to make it 38-25.
Hardaman broke North Little Rock's long silence but, in turn, Whittaker got her fifth assist with a dish to Smith for the final basket of the game.
LADY HORNETS 40, LADY CHARGING WILDCATS 27
Score by quarter
North Little Rock 3 11 11 2 — 27
BRYANT 6 14 6 14 — 40
LADY CHARGING WILDCATS 27
Hardaman 5-11 1-2 12, Bryles 1-2 3-5 5, Butte 0-1 0-0 0, Hines 0-0 0-0 0, Webb 1-1 0-0 2, Collins 0-0 0-0 0, MIles 1-2 0-0 3, Gatlin 0-0 0-0 0, Mosler 2-3 0-0 5, Anderson 0-0 0-0 0. Totals 10-20 4-7 27.
LADY HORNETS 40
Nichols 0-3 0-0 0, Duckworth 4-13 2-4 10, Smith 3-9 2-2 8, Whittaker 2-6 0-0 4, Allen 7-11 0-2 14, Choate 2-5 0-4 4, Greer 0-1 0-0 0, Harrison 0-0 0-0 0, Buford 0-1 0-0 0, Alliston 0-0 0-0 0, Murdock 0-0 0-0 0, Newman 0-0 0-0 0. Totals 18-49 4-12 40.
Three-point field goals: Bryant 0-2 (Duckworth 0-1, Choate 0-1), North Little Rock 3-4 (Hardaman 1-2, Miles 1-1, Mosler 1-1). Rebounds: Bryant 24 (Duckworth 7, Whittaker, Allen 4), North Little Rock 24 (Webb 6). Turnovers: Bryant 13, North Little Rock 30. Team fouls: Bryant 12, North Little Rock 13.