By Rob Patrick
Photo by Kevin Nagle
BENTON — The 2010-11 season for the Bryant Hornets freshman team came to a[more] stunningly abrupt end on Saturday when the seventh-seeded Catholic Junior Rockets of Little Rock ousted them from the Central Arkansas Junior High Conference post-season tournament, 47-35.
The Hornets, regular-season co-champs of the league, suffered a second-half scoring drought after taking a 19-14 lead with a 7-0 run to start the third quarter. They went from the 5:17 mark of the third to the 1:08 mark of the fourth quarter without a field goal. Bryant hit five free throws during that nearly 10-minute span. The Junior Rockets took advantage by turning that 5-point deficit into as much as an 11-point lead. It was 33-22 with 1:45 left to play.
The Hornets scrambled to trim the lead to 6 but a series of bad breaks and missed shots undermined their effort.
The team includes Phillip Barnett, Dakota Besancon, Chase Christie, Brandon Cranford, Cedarrian Crosby, Evan Davis, Trevor Ezell, Greyson Giles, T.J. Hall, Austin Hammonds, Hunter Holder, Matt Jernigan, Spencer Kilgore, Slade Lewis, Madre London, Dylan Masters, Davis Nossaman, Gray Orman, Garrett Phillips, C.J. Rainey, Brian Reed, Mitchell Scoggins and Caleb Strain.
"This has been a season of ups and downs and this is definitely a down," commented Hornets coach Steve Wilson. "Catholic came out ready to play and we weren't. I could even see it in the warm-ups. There's only so much you can do."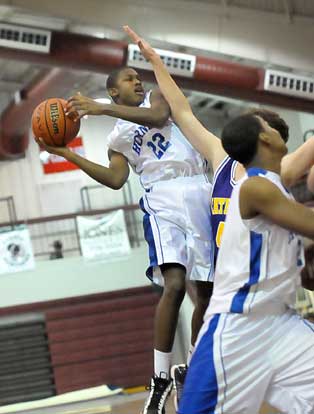 Bryant had defeated Catholic handily in both of its regular-season games. The Hornets won by 17 on the road and 16 at home. And, at times on Saturday, they looked like they were in such a hurry to blow the Rockets out, they forgot to beat them first. They'd make a run but couldn't seem to extend it.
In fact, they started the game with a 6-0 spurt; started the second quarter with a 6-2 push; and opened the third quarter with that 7-0 surge.The Rockets, on the other hand, played pretty steady throughout, keeping close then taking advantage of the Bryant struggles on offense to put together what turned out to be a game-turning 19-2 run.
"It's always hard to beat a team three times whether you blow them out or if you don't," Wilson stated. "We had beaten them with our press and all those times that we'd scored points the last time off steals. This time, they were beating us and getting easy shots.
"It was a physical game," he added, "and we didn't adapt to that enough early on and let them get some boards."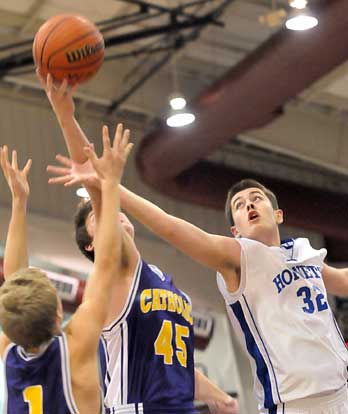 The Hornets wound up out-rebounding the Rockets, 32-27, but, even though they were pressing much of the time and Catholic was not, Bryant wound up with 17 turnovers while forcing just 12.
Bryant's opening salvo featured a pair of baskets by Scoggins, with assists from Christie and Giles. A layup by Giles made it 6-0. Catholic finally got on the board with just over two minutes left in the quarter on a stickback by Scott Diaz.
As he has most of the season, Wilson brought in a fresh five with 1:42 left in the quarter but the Rockets wound up tying it 6-6 going into the second period.
Crosby made a steal to start the second quarter and London wound up at the free throw line where he gave the Hornets an 8-6 lead. Josh Moody tied it for Catholic and the Rockets had a chance to take the lead only to have Orman make a steal. Giles fed Ezell for a layup and, moments later, Christie hit the offensive glass for a bucket to make it 12-8 with 2:43 left in the period.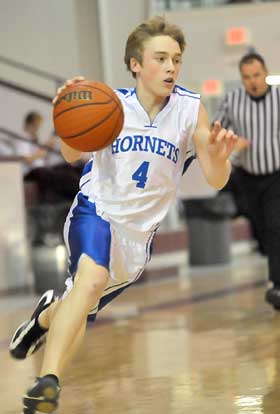 But just as they had been unable to score over the final 3:23 of the first, the Hornets went the last 2:43 without a point and the Rockets, sparked by a 3-pointer from Sam Greenwood, surged to a 14-12 lead at the half.
Bryant showed renewed vigor to start the third quarter. A three-point play by Christie right off the bat reclaimed the lead. Giles made a steal and layup and, after a Catholic turnover, he fed Scoggins for a bucket and a 19-14 lead.
But, over the final 5:17 of the quarter this time, the Hornets managed only a free throw. Catholic, aided by a pair of baskets inside off offensive rebounds by Zach Morris, had a 25-20 lead by the end of the period.
Two free throws by Rainey started the fourth quarter but the Hornets didn't score again until almost four minutes later as the Rockets built their advantage to 33-22. Morris scored in the post to start the run and, as it turned out, that would be the last field goal for Catholic but, with the Hornets playing more aggressively on defense to try to turn the game back their way, the Rockets started a march to the free-throw line.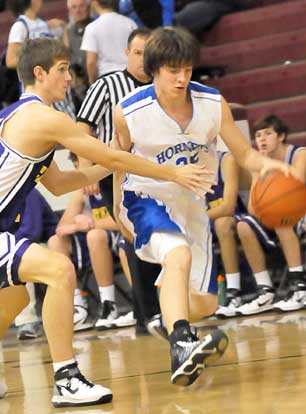 All told, Catholic hit 20 of 26 free throws in just the fourth quarter, 14 of the 26 came in the final minute of the game.
Rainey hit two more free throws wit4h 1:39 left to cut into the 11-point advantage. Greenwood and Christie traded charity tosses then Moody missed a pair, giving the Hornets hope especially after London came right back with a three-point play to trim the margin to 34-28 with 1:08 to play.
The teams traded points for a while. When London hit a jumper in the lane with :34.1 to go, it was 39-33. Wilson called a timeout and when play resumed the Rockets beat the press. Bryant fouled with :26.8 to go but it was ruled intentional much to Wilson's consternation meaning that not only would Moody get to shoot two free throws but the Rockets would retain possession.
And Moody, this time, converted both shots to make it 41-33. On the subsequent possession, Rainey made a steal in a scramble on the floor. Wilson tried to call a timeout as Rainey gained possession but went unheard and when the Hornets' guard, on his back, tried to pass to a teammate he was cited for traveling as he went from his side to his back on the floor.
Greenwood wound up hitting 4 of 6 free throws in the next few seconds then Erich Godsey added a pair as the margin grew to 47-33 before London hit a layup at the buzzer.
Diaz and Greenwood led the Rockets with 10 each. Moody and Morris added 8 apiece.
London finished with 13 points. Christie and Scoggins had 6 each, Rainey and Giles 4 apiece and Ezell 2 for Bryant.
"I think this group's got a bright future ahead of them if they'll hold it together and work hard and try to learn," Wilson concluded.
The Rockets advanced to play Lake Hamilton, an upset winner as the sixth seed, over third-seeded North Little Rock earlier in the day.
JUNIOR ROCKETS 47, HORNETS 35
Score by quarters
LR Catholic 6 8 11 22 — 47
BRYANT 6 6 8 15 — 35
JUNIOR ROCKETS 47
Pence 0-1 2-2 2, Moody 1-7 6-8 8, Ford 0-0 0-0 0, Diaz 3-7 4-4 10, Godsey 1-5 4-4 6, Greenwood 1-2 7-12 10, Morris 4-6 0-0 8, Cronin 1-6 0-0 2, Propes 0-0 0-0 0, Hugen 0-0 0-0 0, Enderlin 0-2 1-2 1. Totals 11-36 24-32 47.
HORNETS 35
Ezell 1-1 0-0 2, Giles 2-9 0-0 4, Christie 2-6 2-3 6, Orman 0-1 0-0 0, Scoggins 3-8 0-0 6, Strain 0-2 0-0 0, Crosby 0-0 0-0 0, London 4-7 5-6 13, Holder 0-3 0-0 0, Reed 0-1 0-0 0, Rainey 0-2 4-5 4. Totals 12-40 11-14 35.
Three-point field goals: Bryant 0-7 (Giles 0-3, Holder 0-2, Christie 0-1, Strain 0-1), LR Catholic 1-6 (Greenwood 1-1, Cronin 0-2, Pence 0-1, Moody 0-1, Godsey 0-1). Rebounds: Bryant 32 (Christie 8, Strain 5), LR Catholic 27 (Mooris 8, Diaz 5). Turnovers: Bryant 17, LR Catholic 12. Team fouls: Bryant 20, LR Catholic 15. Fouled out: Bryant, Christie. Technical foul: Bryant coach Wilson.