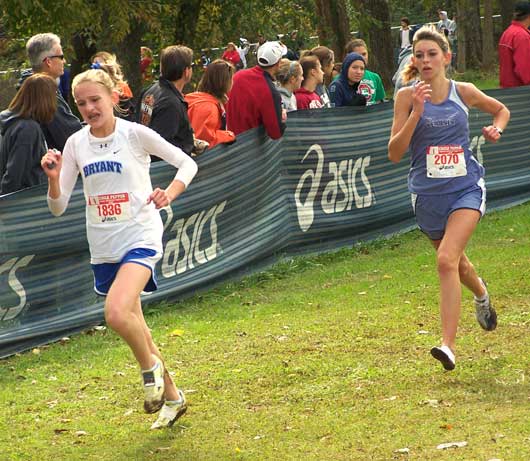 FAYETTEVILLE — The Bryant Lady Hornet cross country team finished 12th out of 40 teams at the Chile Pepper Festival Saturday held at the Agri Park Cross Country Course in Fayetteville. The festival is the region's largest cross country meet, bringing together colleges and high schools from all over the central part of the country.
Carroll, Texas won the girls' high school division with a score of 74 points. Bryant finished with 458 points and was fourth among Arkansas teams. There were 311 runners in the race.
The Lady Hornets were led by ninth-grader Hannah Raney who, despite finishing in 38th place, set a new Bryant school record for 5K cross country. Raney finished with a time of 19:58, becoming the first Lady Hornet to ever break the 20-minute mark, and eclipsing the old school record time of 20:14 set in 2005 by Mary Edwards. Edwards was at the meet competing for Arkansas State University in the college division.[more]
Stacy Emmerling finished second for Bryant at 100th place in a time of 21:13. Sammy Cyz finished 104th (21:21), Kaitlyn Nickels 122nd (21:41), and Ashlyn Lessenberry finished out the scoring in 141st place at 22:08. Other finishers for the Lady Hornets were Lauren Rogers (183rd, 22:44), Jessica Shepard (186th, 22:47) and Skylar Oswalt (187th, 22:48).
"Hannah gave a gutsy performance today," stated Lady Hornets head coach Danny Westbrook. "The fact that her 38th-place finish set a school record can give you a sense of the level of competition in this race. She was a little intimidated at first, but once she settled in and started really racing she passed several people in the later stages of the race. Doing what she is doing this year is pretty amazing, especially for a freshman.
"In such a huge field, it was really difficult to pack run and that hurt us team-wise today," he continued. "As a whole, I thought we lacked some intensity. We will have to re-group quickly and get our minds set for the conference meet. Russellville moved up two of their freshmen, and it is going to be a dogfight for that 7A-Central title."
The 7A-Conference Championship will be held Monday, Oct. 26 at Rolling Hills Golf Course in Cabot.
Junior Girls
The Junior Lady Hornets finished fifth out of 25 teams, marking the first time the junior girls moved up to race the 5K distance. There were 293 runners in the division.
Mikayla Douglas led Bryant finishing 36th in a time of 22:40. Other finishers were Kat Bolton (41st, 22:51), Randie Owens (55th, 23:20), Marley Adams (61st, 23:26), and Kayla Nickels (71st, 23:41).
"All of our junior girls that ran today are eighth graders and I thought they represented our junior high team very well," said Westbrook.