For more photos of this event by Kevin Nagle, go here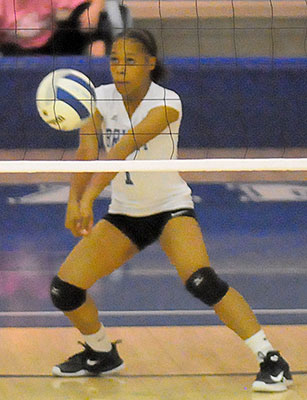 Coming off a win over Russellville that clinched the No. 3 seed for the Central Arkansas Junior High Conference championship tournament, the Bryant Lady Hornets freshman team may have had a little bit of a letdown against the Cabot South Lady Panthers on Monday night. But they found their stride in the second set and pulled out a 23-25, 25-21, 15-7 victory that extended their winning streak to seven going into their final regular-season match on Monday against second-place Conway White.
Cabot South was trying to battle its way into the tournament. Ironically, both South and Cabot North have failed to win a bid to the tourney, which they host on Saturday, Oct. 21.
"Cabot played really well in the first two sets," acknowledged Bryant coach Lawrence Jefferson. "We had 26 hitting errors in the first two sets, difficult to win when you make that many mistakes. Finally, we put it together in the third set for the win.
"We did have good serves tonight with only five service errors," he noted. "Our back row did their job tonight keeping the ball alive."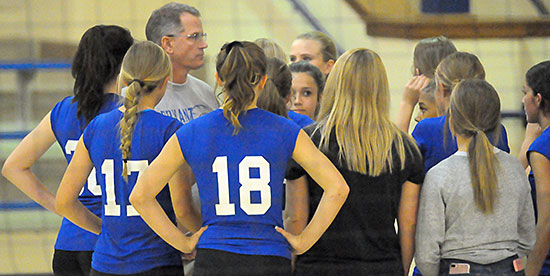 Abbey Inman served for 12 points in the match. Maddie Thomas and Olivia German-Goad served for 11 points each and Abigail Weihe for 10. Inman also had 17 assists and Weihe six.
The kills Bryant managed included seven by Ella Reynolds and six by Shaylee Carver. Natalie Horn, Madelyn Hoskins and Samantha Ferguson added three each; Anna Barnes two.
Defensively, Jaiyah Jackson had 12 digs while Thomas and German-Goad finished with 10 each and Alyssa Hernandez nine.
Monday's game will be a free shot at payback for Bryant against Conway White with no change in the seeding for the tournament affected. Before the Lady Hornets started their win streak, they had lost back-to-back matches to top seed Benton, 18-25, 17-25, and at Cabot White, 23-25, 10-25.