By Rob Patrick
Photos by Kevin Nagle
The Bryant Lady Hornets freshman team figured to be primed for the start of Central Arkansas[more] Junior High Conference play Thursday night. After all, they'd won four games in a row with a tournament championship along the way.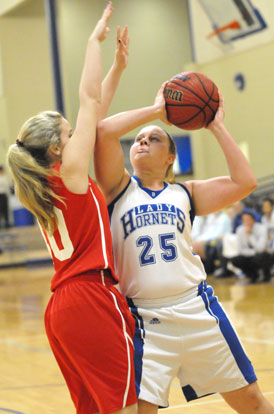 And to start their game against the Cabot North Lady Panthers, they traded baskets. Clair Eiffling scored off a nice pick and roll for the Lady Panthers then Anna Turpin got inside for a short jumper to tie it 2-2.
But after that, nothing went right for the Lady Hornets. Not only did they struggle to score, they struggled to get shots away. No doubt credit goes to the Cabot North defense in part but the Lady Hornets' struggled went beyond that in what turned out to be a frustrating 27-3 loss.
Indeed, after Turpin's early basket, the Lady Hornets couldn't convert a single field goal the rest of the game. In fact, they only managed 15 attempts. They were 1 of 6 at the free-throw line with the one make (by Skylar Davis) coming with 1:31 left in the game.
Eiffling wound up scoring 12 points to lead Cabot North. The Lady Panthers only led 6-2 at the end of the first quarter but it was 15-2 by halftime. The Lady Hornets held Cabot North to just 2 points in the third quarter but could make no headway.
It was 25-2 before Davis' free throw.
It was a forgettable game for the Lady Hornets, just one very bad night. They'll try to get back on track on Monday, Jan. 14, when they visit the rival Benton Lady Panthers.