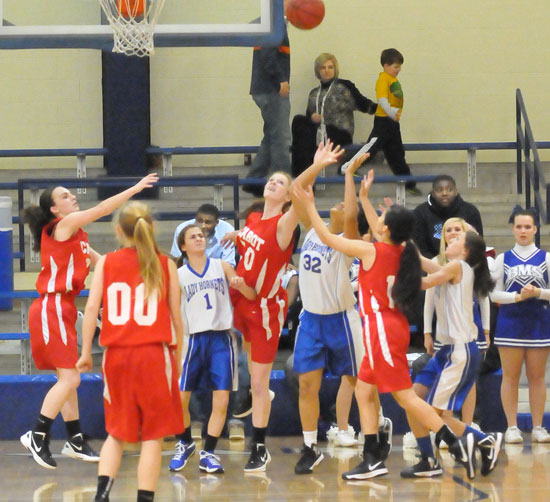 By Rob Patrick
Photos by Kevin Nagle
With 3:28 left in the half, Kennedy Harris hit a free throw to snap a 6-6 tie and give the[more] Bryant White Lady Hornets eighth grade team of Bryant Middle School the lead.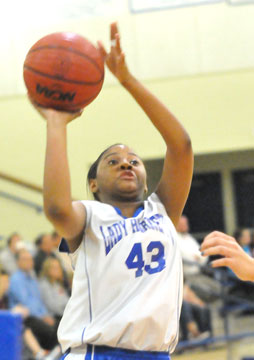 But the Cabot North Lady Panthers eighth grade team went on to score the next 9 points and Bryant White could never recover, absorbing a 27-17 loss at the Bryant Middle School gym on Thursday night.
Cabot North led 12-7 at the half and 15-7 before Bryant scored again. Destiny Martin hit two free throws with 4:33 left in the third quarter to break the scoring drought. The Lady Panthers answered with consecutive buckets to extend the margin to 19-9 then the two teams played evenly the rest of the game.
Martin led Bryant White with 6 points. Harris and Macy Jaramillo each had 3. Hadley Dickinson and Deja Rayford contributed 2 apiece while Abby Ostrem connected on a free throw.
Both teams struggled to score at the start of the game. It wasn't until the 2:15 mark of the first quarter that Harris scored on an inbounds play to break the scoreless tie.
Cabot North went on a 6-0 run before Dickinson scored in the final seconds of the quarter to make it 6-4.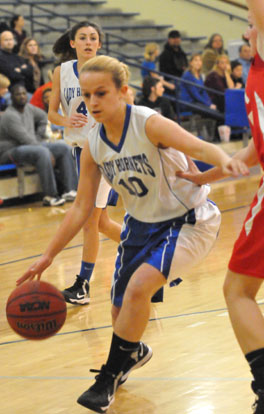 And when Martin drove for a layup for the first bucket of the second stanza, the game was tied 6-6. A flurry of turnovers ensued before Harris got the line to give Bryant a brief lead.
Bryant pulled within 8 twice down the stretch. It was 21-13 with 1:30 left in the third quarter after Martin scored off another drive. But Cabot North scored again before the end of the quarter to extend the margin back to 10.
Ostrem's free throw and a 3-pointer by Jaramillo had Bryant White back within 25-17 with 2:47 left but the Lady Hornets were unable to score again after that as Cabot North pushed the lead back out to 10 at the free-throw line.
Bryant White is schedule to return to action on Monday, Jan. 14, at Benton.