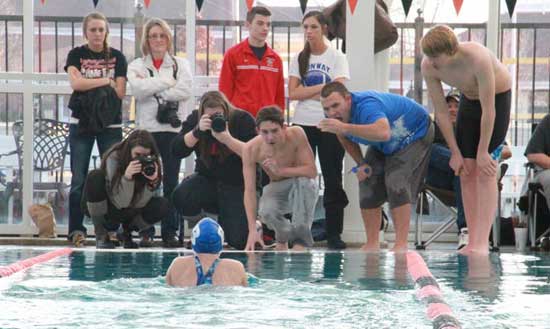 Photos courtesy of DeDe Gillespie
CONWAY — The 49th annual High School Invitational swim meet at Hendrix College drew a[more] field of many of the best swim teams in the state on Saturday. The girls competition included 21 schools topped by Conway which edged Bentonville 452 points to 409. Fayetteville was a distant third with 189 leading a pack of closely scored teams including the Bryant Lady Hornets who finished fifth with 164 points.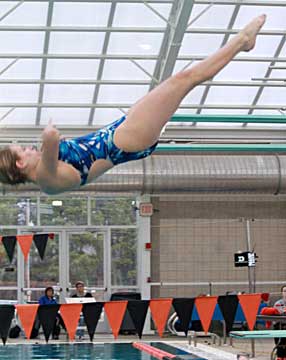 In boys' competition, Bentonville topped the 18-team field with 359 points. Catholic was second with 318 with Little Rock Central third with 298. The Hornets finished 11th with 62 points.
The Bryant teams are set to return to competition on Saturday, Jan. 28, with a meet at UALR.
The top finish turned in by the Lady Hornets, who were short-handed for the meet, was turned in by Alise Heavrin in the one-meter dive. With a score of 154.95, she was second. Courtney Bulthius was eighth (99.85) and Marganne Gillespie ninth (97.70).
The top showing for the Hornets also came in the diving competition where Jordan Combs took fifth with a score of 154.30. Scott Mead was eighth for Bryant with a score of 116.50. Lucas Reitenger added a points for finishing 11th (88.70).
Jinson Kang was third in two events for the Lady Hornets. In the 200 individual medley, she turned in a time of 2:18.87. In the 100 butterfly, her time was 1:04.47 with teammate Devin Hester picking up points for finishing 13th in 1:21.46.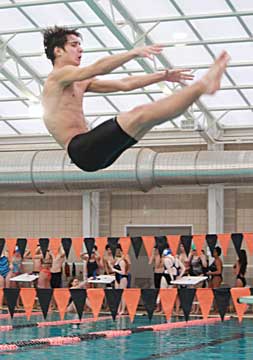 The Bryant girls were seventh in two of the relays. In the 200 medley, Emily Dabbs, Courtney Wells, Jinson Kang and Jordan Martin turned in a 2:16.03. In the 400 free relay, the quartet of Lauren Wood, Hester, Sarah White and Martin finished in 4:50.43.
In the 200 freestyle relay, Dabbs, Wells, Wood and Kang clocked in at 2:00.65 to finish ninth.
Dabbs added an individual ninth-place finish in the 100 free with a time of 1:05.65. White was 14th in 1:09.28 to add to the point total. Dabbs also took 12th in the 50 free at 28.98.
Martin and Gillespie each scored with 16th-place finishes. Martin's came in the 500 free with a time of 7:01.58. Gillespie turned in a 1:31.07 in the 100 breast stroke.
For the Hornets, the team of Casey Ball, Nick Hoffpauir, Dylan Rogers and Jake Tipton combined on a 2:03.14 to take 10th in the 200 medley relay.
Individually, Rogers added a 10th in the 200 IM (2:23.93) and a 15th in the 100 butterfly (1:10.74). Ball was 11th in the 100 back (1:09.19) and Hoffpauir was 15th in the 500 free (6:38.52).