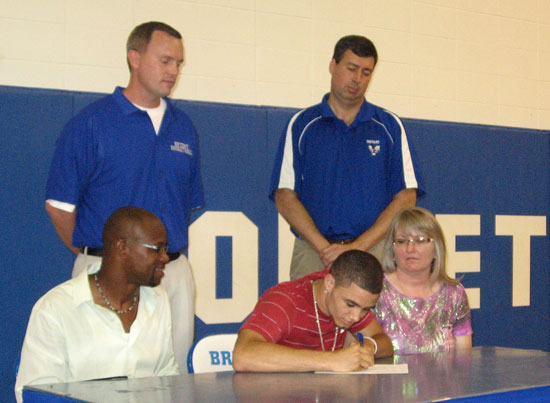 By Rob Patrick
The Bryant Hornets basketball team played in some thrillers during their 2011-12 run to the[more] Class 7A State Tournament semifinals. They won some nail-biters and lost a few gut-wrenchers but you could never tell which was which in the demeanor of senior guard Jordan Griffin.
"He never gets rattled in any situation," noted Hornets head coach Mike Abrahamson, "and whether things are going great or whether things are not going well, he has the same expression on his face, even to the point where I had ask him if he was enjoying some of the wins that we had this year. He does. He does. He's just all business."
"I'm really just kind of laidback when it comes to basketball," Griffin explained. "I'm just trying to stay even. That's what Coach A preached to us. Plus, I've always kind of been like that, just a laidback person. I really don't get too emotional, really don't get too down on myself."
On Monday, Griffin officially signed to take his all-business game to the Pirates of North Central Missouri College in Trenton, Mo., under scholarship. It'll be a family affair.
"My cousin (Eddie Poland) attends North Central Missouri and plays for them so I'm going to go play with him his last year," Griffin related. "And my cousin, Nate, in Benton is going too."
Actually, Jordan and Nate played together in junior high and as sophomores at Benton before Jordan Griffin transferred to Bryant where he helped the Hornets get within a game of the State Tournament his junior year before playing a leadership role in the run to the State final four before losing to the eventual champion Hall Warriors of Little Rock.
He was one of the team's top scorers on the season, including a 21-point performance against Hall.
"He meant so much more than scoring to the team," Abrahamson said. "He always guarded the other team's best player, he led us in minutes played and had his best games against the best competition. He had more assists than turnovers, could drive, could shoot. A couple of games when he was being denied the whole game, he kept playing. He's much more than stats, I know that.
"The way we all came together," Griffin said of his senior season. "We could've easily just folded when we lost three games in a row. It was our practicing and our senior leadership. We just all came together. We were all close. I think that kind of brought us a long way."
Griffin said he chose North Central Missouri over North Arkansas Community College in Harrison and Central Baptist College in Conway.
"I liked (North Central Missouri) a lot better than the other colleges I went to," he said. "I got along with people better up there."
"This is where he wanted to go," Abrahamson acknowledged. "He's very comfortable there, very comfortable with the coach (Steve Richman)."
"He just said, I'm going to come in as a shooter," Griffin said of his new coach. "That's my main focus, expect the shot to go in every time I touch the ball."
He admitted he fully expects to play as a freshman.
"They're getting a great kid," Abrahamson emphasized. "They're getting the same thing as I got, which was a kid that's going to show up every day and do what you ask of him and then he's also going to do more. Jordan is a hard worker. He's going to put in extra time. He's a high character kid. He's a good student and he's very mature. I couldn't be happier for him. I'm going to miss him like crazy."
Griffin added, "Coach A has helped me get here through thick and thin. He's been kind of like my mentor throughout this whole thing. I've always been mentally strong but Coach A has put us through some tests that kind of allowed me to get to this point."