By Rob Patrick
Photos by Kevin Nagle (with special thanks to Michael and Dillon Stroud of Stroud Aviation)
FORT SMITH — In 2010, the Fort Smith Northside Grizzlies came to Bryant and amassed 563 yards of total offense on the[more] way to a 36-21 win over the Hornets. In the rematch Friday night at Northside's freshly turfed Mayo-Thompson Stadium, it was the Hornets that piled up 557 yards of offense and scored 40 points.
The difference was, however, Bryant still lost.
On an incredible night of offense, the Grizzlies eclipsed the Hornets' numbers and their own from a season ago with a whopping 630 yards of total offense. But, though they won, they had to hold on late for a 45-40 victory, escaping after Bryant rallied from a 45-27 deficit in the final 7:31.
After the Hornets pulled within 5 with 4:07 still to play, their onside kick proved unsuccessful and Northside was able to eat up the rest of the time.
In 2010, Bryant's loss was unexpected but it proved to be a turning point in the team's season, forcing them to re-evaluate and bear down, a development that helped them surge to a share of the 7A/6A-Central Conference championship.
In 2011, it may well be a turning point again, this time for an inexperienced team. The way the Hornets mounted their comeback and, in generally, just flat competed against a more physically gifted foe, should actually boost the team's confidence going into next Friday's home opener against Texarkana in a non-conference game then beyond that to the league slate.
"I told the team after the game, of course I was disappointed we lost, but I felt better after this game and the way we performed — much better than I did after the Salt Bowl," stated Hornets head coach Paul Calley. "(The Grizzlies) were a good football team and we played with them. And it's going to do nothing but make us better down the stretch.
"There's a lot more positive things to take from it than there are negative," he added. "I was extremely proud of them. We made a few mistakes but we played about as well as we could offensively. Defensively, we just wore out. We were out-manned, especially up front. And when we did put pressure on the quarterback, we had a hard time tackling him."
Kenrick Burns, a senior starting at the position for the first time this year, was that quarterback and he would've made his older brother proud. Kodi Burns, a former Northside star that helped the Auburn Tigers win an NCAA National Championship last season, led the Grizzlies to a 24-10 win over the Hornets in the second round of the State playoffs in 2004 — one of the best Bryant teams since the unbeaten season of 1999, which, incidentally, Northside ended in the playoffs as well.
Despite having a handful of accurately-thrown passes dropped along the way, Burns completed 36 of 47 for 422 yards and five touchdowns while rushing for another 112 yards on 22 carries, including the sixth TD, guiding the Grizzlies' fastbreak offense.Running back Donnie Jones rushed 14 times for another 96 yards and caught four passes for 35 stripes. But the big-play man for the Grizzlies was star wide receiver Shaquille Jones (Donnie's cousin), who grabbed 14 tosses for 232 yards and two touchdowns.The trio did their best impression of the old Dallas Cowboys' three-headed monster, Troy Aikman, Emmit Smith and Michael Ervin.
"He's a heck of a player," Calley said of Burns, "and their running back is a heck of a player and that receiver — I'm trying to think if there's anybody that I've ever seen that's as good as he is and I can't think of anybody that I've seen just take over a game like that."
But the Hornets too had some eye-popping numbers. Junior quarterback Hayden Lessenberry completed 24 of 30 passes for 335 yards and four touchdowns. Dillon Winfrey caught nine of those completions for 110 yards and two of the TDs while Sawyer Nichols hauled in seven of them for 129 yards and the other two scores.
The Hornets also rushed for 222 yards including 107 on just eight tries by Jalen Bell. Karon Dismuke added 66 yards on nine tries including a 9-yard touchdown run. Ben Clark picked up 62 yards on six totes.
It was nearly like a tennis match the way the two offenses were driving up and down the field. Together, they piled up a whopping 1,187 yards of offense.
"We missed a couple of opportunities offensively," Calley acknowledged. "I thought we'd have to score just about every time we had it to be able to keep up with them. But to be behind by 18 points — we could've quit and we didn't. We kept fighting back and gave ourselves a chance."
Bryant led 21-20 at the half on the strength of one of those "wow" plays. Getting the ball at their own 14 moments after Northside had snapped a 14-14 tie with 1:09 left in the half, the Hornets rooted out to their own 38. A third-down run by Dismuke kept the drive alive then Lessenberry found Hayden Daniel (five catches, 70 yards) for 13 yards to the 38. After a timeout with :16 showing, Nichols ran an out-and-up, Lessenberry made the cornerback bite on a pump-fake and fired deep down the ride sideline. Nichols had to hold up and come back for the ball, snared it in front of a Northside defender, made him miss and sliced up the center of the field for the score with :05 showing. Jake Denker snapped the tie with the extra point to give Bryant its 1-point lead.
In the second half, Northside scored on its first four possession of the second half, capped by a 26-yard field goal by Luis Martinez.
Lessenberry and Nichols hooked up again on a 12-yard touchdown pass on the Hornets' first possession of the third quarter. A low snap sabotaged the extra point attempt but, for the time being, the Hornets were right there again only to have the Griz keep scoring.
They drove 80 yards in 11 plays including a 6-yard run by Burns on a fourth-and-2 from the Bryant 47.
A Burns-to-Chapple pass picked up the last 9 yards as the lead increased to 35-27.The Hornets picked up a first down but stalled at their own 36. On third-and-5 from there, Lessenberry was sacked by Gabe Sopeshire. It was one of five sacks recorded by the Grizzlies.
Denker unloaded a 53-yard punt, but Donny Jones backed up, fielded the ball and raced 82 yards for an apparent touchdown. A penalty, however, negated most of the return.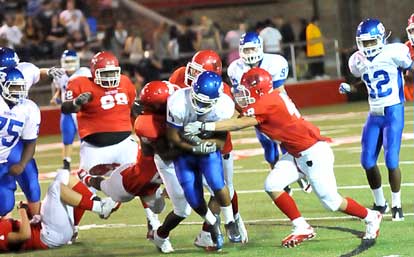 Unfazed, the Grizzlies drove 87 yards and got the score anyway. Bryant made a bid at a goal-line stand. Northside had it first-and-goal at the 2 but it took three plays before Burns barely snuck it in. With Martinez' extra point it was 42-27.
Sparked by a 34-yard gallop by Jalen Bell, the Hornets drove to the 42 before a holding penalty and a sack set them back. On third-and-17 from their own 35, Lessenberry found Winfrey deep but led him too much. The pass fell incomplete and Denker punted the Grizzlies back to their own 13.
With Burns completing a pass for 32 yards to Shaquille Jones. Two plays later, the two combined for a 25-yard play to the 5.
But, on first down, Burns was brought down for a loss by Parker Dunn and Tim Kelly. He then managed to lose a yard. An incomplete pass followed and Martinez booted the field goal.
Bryant's answering score came at the end of a 70-yard march. Lessenberry's 13-yard toss to Winfrey, coupled with a PAT by Denker, and it was 45-34 with 6:13 left to play.
The Hornets went for the onside kick but a Northside player pounced on it.
Four plays later, Bryant got a big break. Clark separated the ball from Burns on a running play. Tim Kelly recovered for the Hornets at the Northside 38.
With 4:45 left, they kicked the offense into gear again. Lessenberry found Winfrey for 15 then threw a dump-off pass to Daniel in the right flat. He wove his way for 36 yards to the 11. Winfrey made a splendid diving catch at the pylon at the 1 and, on the next play, Lessenberry snuck it in.
Trailing by 5, the Hornets went for a two-point conversion and Winfey appeared to have the catch only to have corner Michael Rhae blast him from behind to prevent him from hanging on.
Still, with 4:07 left, Bryant had a chance.
Northside covered another onside kick, however, at the 49 and proceeded to close out the win by picking up a pair of first downs.
"We felt like we had to run the ball just to get first downs and keep our defense off the field," Calley mentioned. "When we got the ball back with like six minutes left, I told the kids, 'We are going to use the short passing and we're going to work the sideline and stop the clock to give us time' and we scored too fast. I wanted to score and kick off to them, to onside kick it with about two minutes left. We ended up scoring really fast and gave them another possession."
Bryant opened the game with an impressive 80-yard touchdown drive. After missing his first throw, Lessenberry completed four in a row including a 28-yard screen and dash to Jalen Bell. With the ball on the 15, Dismuke got the call twice and rumbled into the end zone with a tackle-breaking 9-yard run.
The Hornets defense forced a three-and-out and Bryant went back to work on offense from its own 37. After Lessenberry and Daniel combined on a 9-yard pass (with Daniel making a leaping catch of the swing pass and a nifty run). Clark slashed for 18 yards to the Northside 36 then knifed his way inside the 15, breaking tackles and carrying defenders but, at the other end of the run, the ball came loose and Northside recovered.
It was one of the missed opportunities that Calley mentioned.
Again, however, the defense picked it up and forced a Northside punt. Bryant punted it back moments later and Northside cashed in a personal foul penalty, driving 77 yards in eight plays for another score. Burns' threw to Hodges for the score.
Denker again punted Northside back to its 15 but Donny Jones cut loose on a 24-yard return. Burns wove his way for 26 yards then passed down the left sideline towards Shaquille Jones. Aaron Bell appeared to have the play covered but the much bigger Jones pushed off of the Bryant defender and out-leaped safety Jesse Johnson to make the reception inside the 15. He scored from there, making it 14-7.
Bryant countered with a 76-yard dash in three plays. Jalen Bell busted a 53-yard run and, moments later, on a third-and-18, Lessenberry fired a 31-yard touchdown pass to Bell. Denker tied it with the PAT with 7:25 left in the half.
Northside was rolling again but the ball got away from receiver Ernest Gray inside the Bryant 20. Aaron Bell snatched it out of the air and returned to near midfield.
The Hornets were unable to cash in despite reaching the Northside 33. There, Lessenberry was sacked by the Griz' blitz and with 3:12 left in the half, Northside took over. They drove for a tie-breakng score as Burns went 6 for 6 through the air on the march. On a third-and-2 at the Bryant 7, Burns appeared to be struggled to find a receiver but he tossed the ball into the end zone and Shaquille Jones went up and got it for the touchdown.
But Winfrey dashed in and blocked the extra point with 1:09 left in the half leaving the door open for the Hornets to forge a halftime lead — a door they kicked open in dramatic fashion in the final seconds.

FORT SMITH NORTHSIDE 45, BRYANT 40

Score by quarters

BRYANT 7 14 6 13 — 40
FS Northside 0 20 22 3 — 45
Scoring summary

First quarter

BRYANT — Dismuke 9 run (Denker kick), 8:25
Second quarter

FS NORTHSIDE — Hodge 14 pass from Burns (Martinez kick), 11:46
FS NORTHSIDE — S.Jones 35 pass from Burns (Martinez kick), 8:34
BRYANT — Winfrey 31 pass from Lessenberry (Denker kick), 7:25
FS NORTHSIDE — S.Jones 7 pass from Burns (kick blocked), 1:09
BRYANT — Nichols 62 pass from Lessenberry (Denker kick), 0:05
Third quarter

FS NORTHSIDE — Carter 13 pass from Burns (Hodge pass from Burns), 10:44
BRYANT — Nichols 12 pass from Lessenberry (kick failed), 8:40
FS NORTHSIDE — Chapple 9 pass from Burns (Martinez kick), 6:33
FS NORTHSIDE — Burns 1 run (Martinez kick), 0:32
Fourth quarter

FS NORTHSIDE — Martinez 26 field goal, 7:38
BRYANT — Winfrey 13 pass from Lessenberry (Denker kick), 6:13
BRYANT — Lessenberry 1 run (pass failed), 4:07
Team stats

Bryant Northside

First downs 29 37
Rushes-yds 33-222 36-208
Passing yds 335 422
Passing 24-30-0 36-47-0
Punts-avg. 4-39.3 2-29.5
Fumbles-lost 1-1 2-2
Penalties-yds 5-55 7-56

INDIVIDUAL STATS

Rushing: BRYANT, J.Bell 8-107, Dismuke 9-66, Clark 6-62, Lessenberry 10-(-13); FS NORTHSIDE, Burns 22-112, D.Jones 14-96.
Passing (C-A-I-Y): BRYANT, Lessenberry 24-30-0-335; FS NORTHSIDE, Burns 36-47-0-422.
Receiving: BRYANT, Winfrey 9-110, Nichols 7-129, Daniel 5-70, J.Bell 1-28, Henson 1-7, Dismuke 1-(-6); FS NORTHSIDE, S.Jones 14-232, Chapple 6-42, Carter 5-50, Gray 4-38, D.Jones 4-35, Hodge 3-25.