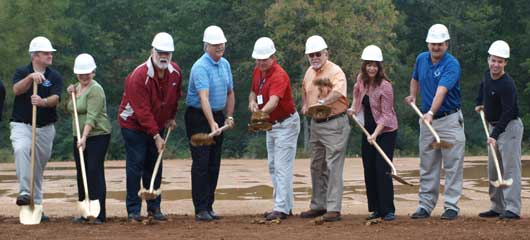 On Thursday, Oct. 8, Bryant Mayor Larry Mitchell, and representatives from ETC Engineers and Architects, Dayco Construction, the Bryant Parks and Recreation Department, Bryant Chamber of Commerce, and Bryant City Council broke ground at the site for the new aquatic center.
The aquatic center will be part of the Bishop Park project located on Boone Road. The park will also include a community center and facilities for the Boys and Girls Club and the Bryant Senior Adult Center. Six softball fields, nine baseball fields and two soccer fields will also be part of the complex.[more]
Featuring a retractable glass roof, the aquatic center will include a 25 meter pool with eight lanes and a smaller therapy pool with a wheelchair accessible ramp and water jets. The center will also contain two party rooms, a concession area and showers.
Barring weather issues, the aquatic center is due to open in the summer of 2010. According the Bryant Parks and Recreation, a grand opening for Bishop Park is tentatively planned for July 4th.