By Rob Patrick
Photo by Kevin Nagle
Mark this on your calendar:[more]
Sept. 3, 2011, at Fayetteville, the Missouri State Bears open the season at Reynolds Razorback Stadium against the Hogs. And, among those taking the field for the visitors from Springfield, Mo., will be Bryant's Josh Hampton.
On Wednesday, Feb. 2, Hampton, a two-time all-State selection for the Bryant Hornets and 2010 VYPE magazine Defensive Player of the Year, signed a letter of intent to continue his education and playing career at Missouri State.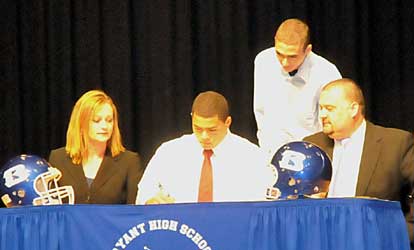 Mostly a defensive end, Hampton also played tight end and fullback for the Hornets in 2010. He hardly ever left the field. Though most years, linebackers lead the Bryant defense in tackles, last year it was Hampton with 104 including 12 for losses, four sacks and two fumble recoveries. He flat refused to be blocked and couldn't be in a one-on-one situation.
Bryant head coach Paul Calley concurred that the 6-2, 255-pounder is one of the program's all-time best.
"Without a doubt," Calley stated. "He could play anywhere. He could play in the offensive line, defensive line. He could play tight end, he could play linebacker if he had to. He's that versatile of an athlete and just football smart.
"When we had him as a sophomore on offense, 10 minutes, two days a week, we taught him the whole offense and we haven't had to coach him since," he added. "You can tell him one time and he knew exactly what to do. And he's always been so physical. That's what makes him so valuable, his ability to move people off the line of scrimmage."
Hampton had offers from Arkansas schools, Henderson State, Ouachita Baptist, Southern Arkansas and Harding. Missouri State came into the picture late.
"I visited all of them except SAU then my last visit was at Missouri State," Hampton said. "I got there and I loved it. It was like a big town with a small town feel. Everybody's super nice in the town and I just loved it there."
Calley told of coaches visiting Bryant from the MSU, wanting to talk to Hampton. Calley invited them to watch video of his star's play and they agreed to watch for a few minutes.
"A few minutes turned into hours," Calley related. "They said, 'Coach, we're going to offer him today.'
"It's kind of me being selfish," Calley mentioned. "I wanted him to stay in Arkansas so I could get to see him play but I think that Missouri State is the place for him. When he visited, he knew right away, that's where he wanted to go. He's going to get the opportunity next season to play Arkansas and Oregon — to play some big schools — and I think he can step in because he's so mature physically and mentally and play for them next year. If nothing else, play special teams. He's just that kind of player."
The Bears' coaches made no bones about their plans.
"They told me that they were in serious need of some defensive linemen," Hampton related, "that their depth is not very good as of last year and that I would come in as a second man at d-end. They pretty much told me that if I want to redshirt then to go somewhere else because that wasn't an option."
Given the choice of where he'd like to play, he added, "I like defensive end the most because I can just go."
Reflecting on his career at Bryant, Hampton said, "It was a great (senior) year. We ended as the winningest class to come through Bryant and won a conference championship. Couldn't have asked for much more."
Among those he thanked were those on the Hornets coaching staff.
"There's no other one like it, I believe," he stated. "They push you every day. They stay on you and it's to make you a man, to make you a better football player. The coaches pushed me and taught me what I needed to know and, academically, I just put the time into the books."
And he'd like to follow in his mentors' footsteps: "I'm wanting to major in either math or kinesiology then teach and coach."
Now, about that season-opener next year, it's little surprise that an Arkansas product playing in Missouri might be looking forward to it.
"Definitely. Yes, sir," Hampton acknowledged, admitting he'd thought about being a Razorback one day. "It was always in my mind, just growing up in Arkansas and watching them on TV since I was a kid. But I'm happy with Missouri State."
And Missouri State is happy with him.