By Rob Patrick
Photo by Kevin Nagle
From a former Henderson[more] State University center to a future Henderson State University center:
Bryant head football coach Paul Calley introduced senior Justin Rauch on Wednesday, Feb. 2, at the signing ceremony in which Rauch officially committed to continue his education and football career at HSU. He'll be following his mentor's footsteps, a source of pride for the Hornets coach.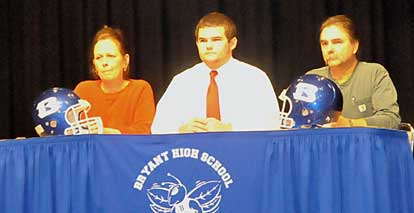 "Justin is probably the best center I've had the opportunity to coach," Calley said when he introduced Rauch. "I've been coaching 18 years.
"We ask a lot of the center, to make protection calls and change things at the line of scrimmage," he related. "And make sure the quarterback gets the ball in an efficient manner. He's done that and more. He helped lead the way the past two years for offenses that exceeded 3,000 yards and this year we tied the school record for points scored in a season."
Rauch had the knack for flattening opposing defenders, leading the team in what coaches call "pancake" blocks. He was named to the VYPE magazine all-Arkansas offensive team.
"Not everybody gets to do this," Rauch acknowledged. "It means a lot. It's a big day.
"The whole time it was between Harding and Henderson," he said of his decision. "I went to their camps this summer and I really liked both of the schools but I decided Henderson would be better for me. It's just closer to home and Harding's a private school. I have a lot of friends going to Henderson and I really like the campus and everything.
"I really like their offense," he added. "They're past centers have all been about the same height as me, just a little big bigger. I like how they pass the ball a lot."
Rauch played this season at a muscular 5-11, 285 pounds. He was not always so brawny.
"He's something else," Calley said. "When we had our banquet, he was one of the guys that wasn't a three-year letterman because, as a sophomore, he was supposed to be a ninth grader. And I never knew that. I just knew he wasn't as physically mature as some of the other guys and I didn't get to use him a whole lot.
"But the off-season between his sophomore and junior years, he went to work. And he ended up — he's one of the best offensive linemen I've ever coached. Consistent. He is going to be missed."
"Coming up as a freshman, I was a little lazy," Rauch allowed. "Coach really broke me from being lazy and made me understand how important it was to work hard and just be the best you can be every day. The coaches taught me everything I would need to know about life and football."
There's a classic photo by Rick Nation of Rauch at work on BryantDaily.com (here: http://bryantdaily.com/post/Hornets-dominate-previously-unbeaten-Panthers.aspx). It shows him rooting out Cabot's star noseman T.J. Bertrand in one of the last mud games at Bryant Stadium in 2009.
"As a junior, I gave him a lot of help with guards on nosemen and didn't let him single block much," Calley mentioned, "but this year I didn't help him at all. He single-blocked the entire game pretty much. And when you can do that, it allows you to do a lot of different things offensively in the run game and in pass protection."
"It was a great season for us because one of our main goals was to win a conference championship and we were able to succeed with that goal," Rauch said, looking back at his senior season. "It was a matter of working hard in the weight room and always going 100 percent and being a family."
Rauch added that he plans to pursue a business management degree at HSU. No doubt he'll be good at it. He's been taking care of business on the offensive line for a while now.