By Martin Couch
Photos by Kevin Nagle
When the Bryant Lady Hornets freshman team needed[more] intensity Rori Whittaker, Dezerea Duckworth and Aubree Allen led the charge in a 37-27 win over the visiting Mount Saint Mary's Mounties on Thursday night.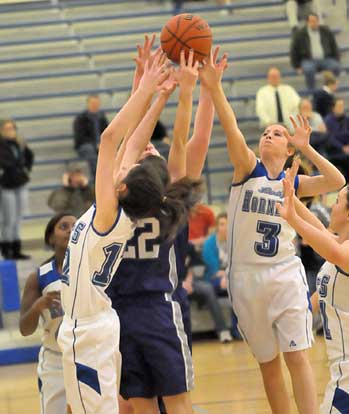 The victory was instrumental in setting up next week's games for Bryant, wrapping up the regular season ahead of the conference's post-season tournament.
"We have Conway Blue on Monday for a chance to tie for third and if we win that we have Lake Hamilton on Tuesday night for a chance to get second," said Lady Hornets coach Nathan Castaldi. "This win really puts us in a position next week to move up in the conference."
A jumper from Whittaker started the Lady Hornets off, but MSM quickly tied it. Allen completed a three-point play and Duckworth added a basket. After another Mountie score, Whittaker hit again to put Bryant up 9-4 by the end of the first quarter.
MSM closed to within 3 points early in the second quarter, but a basket from Allen and another score from Whittaker made it a 13-8 lead for the Lady Hornets. The Lady Mounties closed the gap to 11-10 before Destin Nichols scored inside for a 15-10 halftime lead for Bryant.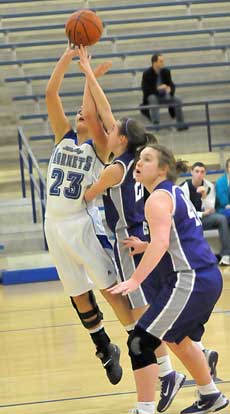 "In the first half, we were in the right spots, but we weren't matching them and they play hard," Castaldi said.
But the second half was all Lady Hornets.
Allen completed a three-point play, Duckworth hit a free throw then added two layups off of steals. Whittaker stole the ball and drove in for an uncontested layup to make it a 25-14 lead for Bryant with 1:50 to go in the third period. Whittaker sank another basket and Duckworth came up with a steal and layup then added a free throw for a commanding 30-16 lead by the end of the quarter.
Missed free throws that would have extended Bryant's lead allowed MSM to cut the lead to 12 before Duckworth scored and Allen put in a basket to keep the Lady Hornets ahead by 13, 34-21. With one minute remaining the Lady Mounties made it a 10-point game, 35-25, but Whittaker was able to hit two free throws in the final seconds to keep Bryant's lead in double digits by the end of the game.
"I thought it was our second half intensity that really picked up," Castaldi said. "We matched their intensity level and the scoreboard showed it. At times, we hit our free throws, and we could have extended it if we'd hit more in the fourth quarter."
The Lady Hornets were 8-of-17 from the free throw line and improved to 13-9 overall with the victory. Whittaker led Bryant with 13 points, Duckworth added 12 and Allen put in 10. Nichols was the only other Lady Hornet with a basket.