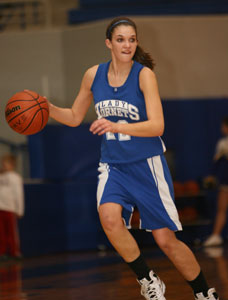 By Rob Patrick
FORT SMITH — Yes, the Bryant Lady Hornets had the higher seed and a much better record but the Springdale Har-Ber Lady Wildcats had something valuable that the Lady Hornets did not:
State tournament experience.
The Lady Wildcats were making their third consecutive trip to State, meaning all four of their seniors and all eight of their juniors had been there and done that.
It was a first for every Lady Hornet.
And, as most coaches will tell you, it's one thing to get there, another to stay there.
Har-Ber, using a zone defense to frustrate Bryant's leading scorer Alana Morris then a box-and-one in the second half to shut down hot-handed Hannah Goshien, brought a bittersweet and premature end to the Lady Hornets' turnabout season, 61-52. The first round game was played Wednesday, March 4, at the University of Arkansas-Fort Smith's Stubblefield Center.[more]
"It's new life for everyone that's here," noted Lady Hornets coach Blake Condley. "It's win or go home. Har-Ber did what they had to and we just didn't. You have to execute in this game or there is no next game."
Otherwise, the Lady Wildcats didn't have anything the Lady Hornets hadn't faced before. They were taller, as were most of Bryant's opponents this season. Normally, the Lady Hornets tried to hold their own on the boards against those teams and make up or surpass any deficit by forcing a bunch more turnovers than they committed.
And they forced 20 turnovers while committing just nine on Wednesday, but it wasn't enough to offset Har-Ber's 47-29 advantage on the boards including 18 rebounds on the offensive end. Add to that the fact that the Lady Hornets shot just 18 percent from the field in the second half and the story is told in the numbers.

Condley agreed his team just never quite got into its game. "A lot of that was lack of rebounding," he acknowledged. "We'd get them to take a shot, miss that shot and give up an offensive rebound. They'd put it back in or go to the free-throw line. Those rebounds are when we can get out and go the other way and try to get to the basket.
"On top of that, we weren't rotating well on the back of our press and we gave up some easy buckets," he added. "It's just hard to do that against a good team and be able to win. Of course, it doesn't help shooting 18 percent in the second half."
The Lady Hornets finish the season 19-7 after two straight losing campaigns. Though it wasn't quite a return to the glory days of Lady Hornets basketball (an incredibly high standard), it was a huge step back in that direction. And, with all but two players returning, the future looks even better.
Of course, the loss marked the end of the careers of seniors Anna Simpson and Taylor Hughes. Condley contemplated their impact, saying, "Like I told them in the locker room, there's no doubt there will be girls that will be up to the task of filling those shoes but they sure set the bar high as far as leaders and the way I want girls to handle themselves as part of this program. I just can't say enough about Taylor and Anna, what they mean to me and what they mean to this program. They've left some big shoes to fill. It's going to take somebody stepping up to be a big-time leader to fill them. I'm just so proud of them. Just watching them from the eighth grade all the way through, how they matured. Not only as basketball players but as young ladies, I just think the world of both of them."
And, if this is the beginning of a great run of Lady Hornets basketball, as it could well be, Simpson and Hughes will always know they were key components in the turnaround.
The Lady Hornets trailed by just 4 with :42 left after Har-Ber's Sabrina Westmoreland missed two free throws and Morris drove for a hoop. But, after that, the Lady Wildcats connected on 7 of 8 from the line to pad the lead. Bryant's only scoring during the last 40 seconds came on two free throws by Haley Montgomery.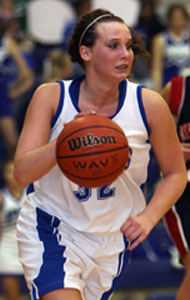 Goshien led the Lady Hornets with 16 points but 14 of those came in the first half. Simpson added 15, Montgomery 10, Morris 6. Westmoreland and point guard Halee Castelman led Har-Ber with 18 each. Rachel Carlock added 11.
Westmoreland hit a 3 to start the game but Goshien answered in kind then made a steal and a layup. An offensive-rebound bucket by Kenzee Calley had Bryant up 7-3. Har-Ber rallied to tie but Simpson drilled a trey over the Lady Wildcats' zone to give Bryant the lead again.
The Lady Wildcats to a 12-10 lead before Montgomery drained a triple but Westmoreland hit a layup and Castleman hit two free throws so when Simpson hit a jumper from the corner to end the first-quarter scoring, Har-Ber held a 16-15 edge.
The game stayed close in the second period with the Lady Hornets adding four more 3's. Goshien popped one with 1:21 left to get Bryant back within a point then followed a missed free throw by Har-Ber's Taylor Murphy with another to put the Lady Hornets ahead again 29-27.
Bryant forced a turnover but was unable to extend the lead and Carlock got a stickback at the buzzer to tie it.
Bryant was 7 of 11 on 3-pointers in the first half, 0 for 8 in the second.
The Lady Hornets tried to be more aggressive offensively in the second half after attempting only two free throws to Har-Ber's 10 in the first half. Still, the Lady Wildcats led 34-31 before Hughes made a steal that led to a layup by Goshien, then another that led to a basket by Simpson, who hit the offensive glass to get the points, giving Bryant a 35-34 lead and causing Lady Wildcats' coach Sandy Wright to call a timeout.
The layup for Goshien was her only bucket of the second half as Har-Ber tracked her man-to-man while boxing up its other four defenders in a zone that cut off the driving lanes.
When play resumed, Murphy missed a 3 and the Lady Hornets responded with a tenacious trip on offense, claiming three offensive rebounds before Simpson drove for a layup and a 37-34 lead with 4:00 left in the period.
The Lady Hornets led 39-38 after a layup by Morris off a steal (for her first points of the game) and she followed with another steal. But Hughes couldn't get a 3 to go and Morris' follow rimmed out. At the other end, Westmoreland knocked down a 3 and Har-Ber was up for good.
Bryant had five chances to answer but couldn't get a shot to fall so when Castleman beat the buzzer off a dribble-drive, the Lady Wildcats led 43-31.
It was 45-39 when Bryant made one more surge. Simpson hit from the corner and, after a Har-Ber miss, Montgomery was fouled taking it at the basket. She converted once but, moments later, she made a steal and earned another trip to the line where she converted twice to cut the lead to 45-44 with 6:22 remaining.
The Lady Hornets had two chances to gain the lead but Simpson's shot wouldn't fall and, after Morris rebounded, a turnover cost them the second opportunity.
Har-Ber pushed the lead to 51-45 and started spreading the floor to eat time with 1:52 left. The lead was 54-48 with :56.9 showing, when Westmoreland went to line at the :49.5 mark, starting the final parade to the free-throw line.
LADY WILDCATS 61, LADY HORNETS 52
Score by quarters
Har-Ber 16 13 14 18 — 61
BRYANT 15 14 10 13 — 52
LADY WILDCATS (11-18) 61
Player fg-fga ft-fta reb fls pts
o-d-t
Castleman 5-12 8-10 5-4 9 1 18
Patterson 2-8 2-2 4-4 8 5 6
Westmoreland 6-11 3-5 3-3 6 3 18
Carlock 4-6 3-5 2-9 11 3 11
Jones 1-4 2-2 0-1 1 2 4
Murphy 0-3 0-1 1-1 2 0 0
Wolf 0-0 0-0 0-0 0 0 0
Gartner 2-3 0-0 0-4 4 1 4
Team 3-3 6
Totals 20-47 18-25 18-29 47 15 61
LADY HORNETS (19-7) 52
Player fg-fga ft-fta reb. fls. pts.
o-d-t
Hughes 0-10 0-0 1-3 4 4 0
Goshien 6-8 0-2 1-1 2 2 16
Calley 1-5 0-0 1-0 1 0 2
Morris 2-12 2-4 2-3 5 2 6
Simpson 6-14 2-2 2-1 3 5 15
Montgomery 1-5 7-8 1-1 2 4 10
Stearns 0-0 0-0 0-0 0 0 0
Johnson 1-4 0-0 1-0 1 5 3
Team 6-5 11
Totals 17-58 11-16 15-14 29 22 52
Three-point field goals: Springdale Har-Ber 3-10 (Westmoreland 3-6, Murphy 0-2, Castleman 0-1, Jones 0-1), Bryant 7-19 (Goshien 4-6, Johnson 1-4, Montgomery 1-4, Simpson 1-1). Turnovers: Springdale Har-Ber 20, Bryant 9.