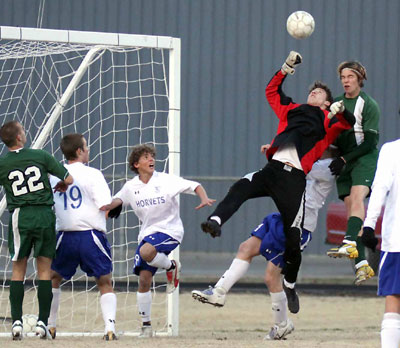 For 70 of the 80 minutes they wrangled, the Bryant Hornets and the Van Buren Pointers went scoreless.
But, in a late flurry, Van Buren got on the board.
"They scored on a long chip into the corner of the goal," recounted Bryant coach Jason Hay. "A few minutes later, Van Buren was attacking and one of our defenders was called for a foul. They got a PK and made it 2-0."
It stayed that way until the Hornets mounted an attack with about four minutes to go. Kyle Nossman got a shot to go, trimming the lead to 2-1.
"After that goal, we came back to life and had a few chances toward the end but could not get one in the goal," Hay said.
Much of the early minutes of the game had been spent with Bryant on offense in front of the Van Buren goal, but the Hornets just couldn't get a shot in.[more]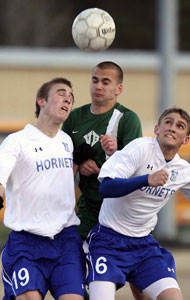 "Van Buren controlled the middle of the game," Hay said. "But it was a pretty even game, I thought, much closer than the score indicates. You want to be in the game until the end and we did that. We just didn't finish.
In the final minute with the Hornets pushing up in hopes of tying the game, a Van Buren player got loose on a one-on-one breakaway, adding a goal to set the final at 3-1.
"We played well for all but about five minutes of the game," Hay related. "Mental breakdowns really cost us in those five minutes."
The loss dropped the Hornets to 5-2 overall, 0-2 in the rugged 7A-Central Conference but Hay saw improvement over the team's play in their previous loss against Little Rock Catholic.
"In order for us to be in the mix for the playoffs down the stretch, we must continue to improve on our mental mistakes," he emphasized.
In a JV game, the two teams tied 2-2. Bryant's goals came from Nossaman, who just recently joined the team after playing basketball, and Ryan Watson.
"We had the lead, 2-0, in the second half but Van Buren came back and tied it up," Hay said. "The JV guys were much improved over last week's game."