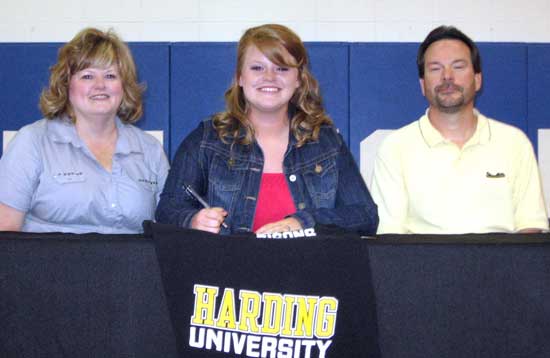 By Rob Patrick
Kaitlyn Miller admits that when she was first moved to goalkeeper on her[more] 10-year-old soccer team, she wasn't wild about the idea.
"I was about 5 when I started playing soccer," she recalled. "I used to be a forward and I used to be able to score all the time. I didn't volunteer (to play keeper) but I was one of the tallest girls on the team so my coach at the time put me in goal
"Being back in the back sometimes in some games you're just standing there," she continued. "It's really boring. I didn't like it at first but he tried me out and I've stayed there ever since. It grew on me."
And she got really good at it. So good, in fact, that today she signed a letter of intent to continue minding the goal (along with her education) under scholarship at Harding University.
A three-year starter for the Bryant Lady Hornets, Miller likes being a keeper just fine now.
"I like how, if the team is in trouble and I'm that last person on the field and if it's just one good save to win the game, I like being that person," she related.
"If you would've asked me her sophomore year if I ever thought she could go play college soccer, my answer would not have been what she's doing today," allowed Lady Hornets coach Julie Long. "She has come a long way. She's worked really, really hard. She's put in the time. Every summer since I've been here, she's put in the time going to keeper training.
"A lot of credit for her development goes to (keeper trainer) Michelle Parr, who's done a tremendous job working with her," Long added. "I'll be honest, I'm going to have a hard time filling the place for her next year."
The daughter of Lee and Annette Miller, Kaitlyn said she and her parents were filling out applications to a variety of schools in the state and she was leaning toward attending Arkansas State University in Jonesboro. When the applications began to be accepted, Harding was one of them.
"I've always wanted to play soccer in college," she said. "So we sent the coach (Dr. Greg Harris) some emails and asked him if he would come and watch me play. He came and watched me at a tournament then he came and watched me at a training. He said he liked what he saw and it just kind of progressed from there."
"I told Coach Harris the same thing, that when she was a sophomore I wouldn't have imagined her playing in college but I told him he needed to come look at her now because she's worth a look," Long related. "It helps that she's got a crew in front of her that's pretty solid as well," she added. "That's why I told Coach Harris, 'You might not want to come and watch a game because she doesn't always get shot on that much. But whenever she does, she's there to make the save.' And he was really excited when he saw her."
Miller and the defenders in front of her have been a big reason the team has gone 44-20 over the last three seasons including this year's 10-2 start. They're 4-0 in the 7A/6A-Central Conference tied for the league lead with Conway. The team is in search of its fifth straight trip to the State tournament. After reaching the semifinals in 2010 and the quarterfinals in 2011, they've got designs on a big finish.
A visit to the Searcy school sealed the deal on college for Miller.
"The people and the coach," Miller said when asked what appealed to her. "The coach is really awesome. He's so nice. The people on the team, my teammates, I met some of them when I went to visit the campus. (Coach Harris) set up where I could eat lunch with them and I met about seven girls. All of them were just so nice."
It also helped that Harding has a good Biology department, Miller said. That's what she wants to study.
Long indicated that Miller may get some playing time as a freshman.
"She's kind of the total package," Long said. "She's really focused on fixing her high balls. That's always been her biggest weakness and she's save a lot of them this spring already. She's really worked at it. It's not been easy for her but she's been determined and she's got it done. What's funny is she probably has the best footwork of anybody on my team and she plays in goal.
"Her biggest strength is her one v. one's and that's something that's so hard to teach a keeper," the Bryant coach continued. "She is so good at it. I hardly ever get nervous whenever I have a (opposing) player that breaks through our defense and tries to do a one v. one against her. She's that solid with it. A lot of it's timing and she's learned it. She's learned when they take that touch, when to go. And when she goes, she doesn't ever hesitate. She goes out and she gets the job done."