Photos by Rick Nation
Though it took a while to find the range, when they did, the Bryant Lady Hornets swamped the[more] Van Buren Lady Pointers, 8-1, at Bryant Stadium Friday night.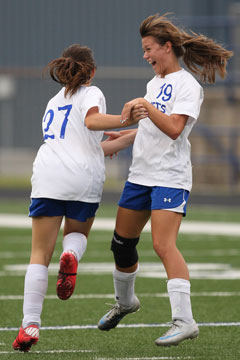 The win improved the Lady Hornets to 14-3 overall and 8-1 in the 7A/6A-Central Conference as they kept pace with first-place Conway. Bryant begins a strenuous stretch in which they host Russellville tonight then visit Mount St. Mary on Monday before taking on Conway in what could be a conference championship showdown on Tuesday. The Lady Wampus Cats have accounted for Bryant's lone league loss, 1-0, on April 6. That's also the Lady Hornets' lone setback in the last 11 matches.
Shelby Gartrell had a hat trick with three goals in the game. Bailey Gartrell and Katie Moore also scored early. Sophomore Jacie McMahan, junior Morgan Hawkins and sophomore Kara Taylor added second-half goals.
"We actually didn't score until about 15 minutes left in the first half," noted Lady Hornets coach Julie Long. "We shot a ton and we were just missing by inches. Once we got one to go then they started to fall."
Moore's goal on a penalty kick broke the ice. Shelby Gartrell's first goal off an assist from Lexie Balisterri came next. Maggie Hart fed Bailey Gartrell for the third goal before Van Buren managed to get one through.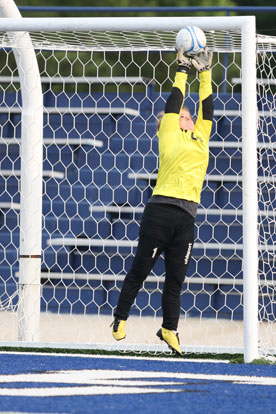 "They had a breakaway and their girl took a shot and it went over (keeper Kaitlyn) Miller's hands, bounced off the crossbar and then one of their players followed it," Long recounted. "The second half, the game was pretty much all at our end."
Balisterri came up with her second assist on Shelby Gartrell's second goal. Her third followed a feed from Moore to make it 5-1.
As Long began to work in reserves, Hawkins picked up an assist on McMahan's goal then scored herself off a feed from Bailey Schlesier. Taylor's goal was unassisted.