Higgs, Henry, Hoerschelmann help Hornets have a day
EDITOR'S NOTE: Because the look back at each day in Bryant athletic history has been so favorably received during the time when there was no sports during the COVID-19 shutdown, BryantDaily.com will continueposting past stories of Bryant athletics either posted on BryantDaily.com (from 2009 to the present) or published in the Bryant Times (from 1998 to 2008).
Photos courtesy of Angela Rhode and Olaf Hoerschelmann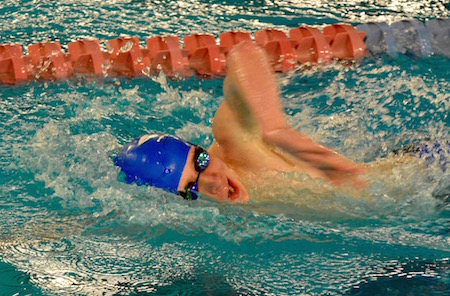 Michael Higgs, Kyle Henry and Tristan Hoerschelmann each had individual victories to lead the Bryant Hornets swimming and diving to top honors at the Bryant January Invitational meet on Thursday, Jan. 12.
The Hornets accumulated 415 points to capture the team title. Little Rock Catholic was second in the 12-team field with 244 points. Rogers (225), Magnolia (209.5) and Little Rock Christian (168) completed the top five.
In addition to their individual wins, Higgs and Henry contributed legs to a winning effort in the 400-yard freestyle relay. They teamed up with Jacob Eubanks and Alex Ball on a 3:41.34 clocking to edge Rogers, which turned in a 3:44.10.
Higgs won the 100-yard butterfly with a time of 55.89. Ball was second in 1:03.69. In addition, Dylan Althen (11th in 1:14.16) and Tristan Hoerschelmann (12th in 1:15.74) scored for Bryant in the event.
Hoerschelmann won the 100-yard breaststroke with a time of 1:16.82. Russellville's Jake Hogue was second in 1:17.29. For Bryant, Zachary Milam was fourth in 1:20.66 with Althen's 1:28.37 good for eighth-place points.
Henry's win came in the 500-yard freestyle. His 5:33.67 was well ahead of Benton's Ryan Mitchem in second with a time of 5:47.38. Jacob Rhode added a fourth-place finish for the Hornets in 6:02.21. Jalen Dinstbier was sixth in 7:05.71).
The Hornets were second in four other events. Individually, Henry posted a 2:03.36 to finish second in the 200 free. Mark Moellers of Little Rock Catholic won the event in 1:02.15. Bryant's John Dellorto picked up seventh-place points with his 2:25.59 clocking. Donte Baker was ninth in 2:34.27 and Chapman Redam was 11th in 2:56.78 for the Hornets.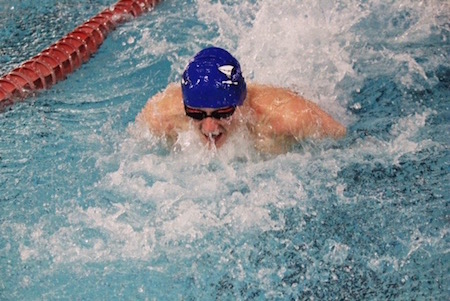 Higgs was second in the 50 free, turning in a 23.56. Catholic's Matthew Noonan won in 22.75. Eubanks took fourth (24.84).
Alex Ball was second in the 100 backstroke, completing the event in 1:03.27, just behind Evan Campbell of Rogers, who turned in a 1:02.15. Dellorto was seventh with a 1:14.98 clocking.
Ball, Hoerschelmann, Higgs and Eubanks teamed up on a 1:53.23 in the 200 medley relay. They were second behind Catholic's 1:50.86.
Caivon Crosby and Mark Calimpong scored in the one-meter dive for the Hornets. Crosby was fourth with a score of 162.70. Calimpong was fifth (124.90).
Eubanks pitched in with a fifth-place finish in the 100 free, turning in a 56.71.
Rhode was sixth in the 200 individual medley. He finished in 2:29.00 with Dinstbier seventh in 2:57.45.
In the 200 freestyle relay, Rhode, Althen, Hoerschelmann and Henry combined on a 1:49.84, which garnered sixth-place points.
The Hornets return to competition on Friday, Jan. 20, at Conway.