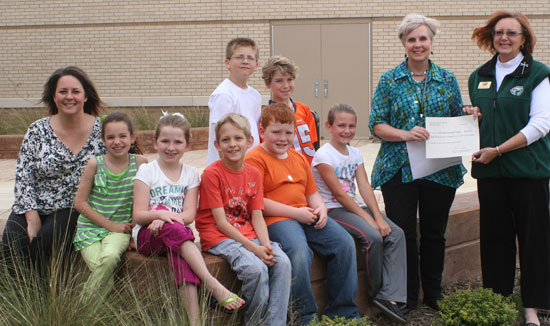 By Devin Sherrill, Bryant School District Communications Director
Hill Farm Elementary School was presented a $4,500 grant from the Arkansas Game and[more] Fish Schoolyard Habitat Program on April 10. Hill Farm was one of only 11 sites statewide to receive the grant.
The Arkansas Game and Fish awards the grants based on wildlife habitat, student participation and use of native species. The program is funded by the state's conservation license plate sales.
Pat Knighton, Project Wild Coordinator, who presented the grant, said, "The most important element of the program is student participation. Students plan, develop and maintain the project, which educates them on wildlife and the outdoors."
Mary Armstrong is the project coordinator for Hill Farm.
"The grant will be used to fund our Oak Tree Observation Restoration project," she said. "The five-year plan includes development of an outdoor classroom under the largest oak tree on the property. We plan to partner with the City of Bryant to build a trail system around the conservation area. We will also use the pond on the school grounds to test for water quality as part of our habitat curriculum."
The first phase of the schoolyard habitat is already underway. Students on the third, fourth and fifth grade Green Team planted 125 trees on the campus. Hill Farm PTO supported the Green Team by purchasing the trees.