Editor's note: This is a regular feature profiling senior athletes at Bryant High School.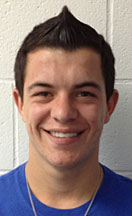 NAME: Tyler Hayden
PARENTS: Alicia and Phillip Hayden
SIBLINGS: I've got two older sisters, Tara and Ashley.
FAVORITE SUBJECT IN SCHOOL: History
FAVORITE SPARE TIME ACTIVITY: Workout
FAVORITE FOOD: Pizza
FAVORITE MUSIC ARTIST OR GROUP: Mac Miller
FAVORITE MOVIE: Rudy[more]
FAVORITE TV SHOW: Mac Miller and the Most Dope Family
WHAT WAS YOUR FAVORITE TOY AS A KID? I'd say my Tonka toys, I guess
WHAT ARE YOUR PLANS AFTER HIGH SCHOOL? To go to college at UALR and major in nursing.
OTHER THAN YOUR PARENTS, WHO'S HAD THE BIGGEST INFLUENCE ON YOUR LIFE? HOW? I guess I'd say my older sister. She already has two kids and the fathers aren't in the picture so she's been working hard and she makes a lot of money now. She's just very successful.
WHAT'S YOUR FAVORITE THING ABOUT TRACK? Sprints
EVENTS? 200 meter dash
WHAT APPROACH DO YOU TAKE TO YOUR EVENTS? Just get loose and stretch real well, get my heart pumping.
WHAT DO YOU THINK OF THE SEASON SO FAR? I think we've done pretty well.
WHAT'S BEEN THE HIGHLIGHT OF THE SEASON SO FAR? I think the highlight was when Spencer Sullivan broke the high school record.
WHAT'S IT GOING TO TAKE FOR THE TEAM TO BE SUCCESSFUL AT THE REST OF THE SEASON? Everybody needs to stay healthy, come off their injuries successfully before our District meet.
TALK ABOUT YOUR EVENT NOW; WHAT DO YOU THINK IS YOUR BIGGEST ASSET? WHAT ARE YOU MOST CONFIDENT IN YOUR ABILITY TO DO? I start off really strong in the 200.
WHAT DO YOU WORK HARDEST IN PRACTICE TO IMPROVE ON? My endurance.
WHEN YOU'RE THROUGH RUNNING TRACK AT BRYANT HIGH SCHOOL, WHAT DO YOU THINK YOU'LL LOOK BACK AND REMEMBER MOST FONDLY ABOUT THE EXPERIENCE? Probably just hanging out with all my friends and working hard out there with all of them.