By Rob Patrick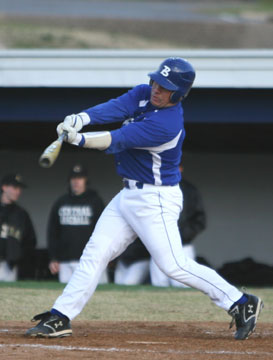 BRYANT, Ark. — This was kind of indicative of the way things went Tuesday night: On two occasions, North Little Rock batters came to the plate with runners on in bunting situations. Both times, they failed to get the bunts down as the count went to 0-2. The next pitch, both Cody Cormier (in the second inning) and Kody Gill (in the fourth) drilled run-scoring singles.
It was North Little Rock's night in Bryant's yard. The Charging Wildcats banged out 16 hits and, riding a 6-run second, retained a share of first place in the 7A-Central Conference with an 11-4 win over the Hornets.
The Wildcats are 5-1 in the league. Little Rock Catholic, which had its game on Tuesday against Little Rock Central postponed due to rain, is 4-1. Bryant drops to 5-2. The Hornets visit Central (2-3) on Thursday.[more]
Bryant ace right-hander Tyler Sawyer struggled through his second rough start in a row but it wasn't far from not being so. He surrendered a one-out double to Brittain Ibbotson in the opening inning then had two strikes on Andrew Hohn before Hohn slapped a single to the opposite field to drive in the run. A double play followed that ended the inning.
The Hornets answered with three in the bottom of the inning. With two down, Kaleb Jobe belted a solo homer to the deepest part of the Bryant High School field to tie the game. Brady Butler followed with a walk, took second on a wild pitch from North Little Rock starter, David Hope, then scored on a double by Sawyer. Brennan Bullock singled to make it 3-1 before lefty Hayden Byrd relieved and got out of the inning.
In the second, Cody Grace drew a one-out walk. Sawyer then worked the count to 1-2 on David Hohn. But he just couldn't get the third strike past him. After fouling off a pair of tough pitches, Hohn singled to center.
Cormier followed with his two failed attempts to sacrifice. On an 0-2 delivery, he lined a single to center to drive in a run, making it 3-2.
Sawyer got strike three past the next batter Johnathan Pounders but a walk on four pitches to A.J. Williamson loaded the bases for Ibbotson who singled in two on a 2-1 pitch. Up 4-3, the Wildcats were a strike away from getting no more in the frame before Hohn smacked a hard grounder to first that took a bad hop on Butler, resulting in another run as Hohn reached. On the next pitch, Gill singled to right-center to cap off the six-run uprising.
Caleb Milam relieved for Bryant and surrendered a single to David Stracener before getting the final out on a fly to center.
That was four two-strike hits in the first two innings as a 3-1 lead turned into a 7-3 deficit.
But visions of another comeback like a couple earlier in the season stayed alive as the Hornets trimmed a run off the lead in the home second. Justin Blankenship reached on a bad-hop single then, on the move, scored all the way from first on a bloop single with two down by Garrett Bock. Jobe singled but Byrd struck out Butler to end the threat.
After that, the Hornets just couldn't come up with the key hit — with two strikes or otherwise. Byrd allowed just two hits — singles by Sawyer in the third and Bullock in the fifth — over the next three innings putting a damper on Bryant's comeback hopes. Andrew Hohn, who had pitched a complete game three-hit shutout against Ashdown on Saturday, relieved in the sixth and closed out the win. He only allowed walks to Hunter Mayall in the sixth and to Bullock in the seventh.
North Little Rock kept hitting and scoring. Milam pitched around a walk in the third but, in the fourth, Ibbotson smacked the third of his four hits in the game then Andrew Hohn did the same. Gill, with another two-strike hit, drove in Ibbotson to make it 8-4.
In the fifth, David Hohn singled for the Wildcats. Cormier bunted him to second and, after Pounders walked, A.J. Williamson flew out to center. Ibbotson hit a tough grounder toward first that Butler made a nice play on, but when he threw to Milam, covering the bag in hopes of getting the third out and getting out of the inning, the pitcher was ruled to have missed the bag after taking the throw, extending the inning for Andrew Hohn, who doubled in two to make it 10-4.
Milam gave up a single to Stracener to open the sixth and gave way to Blake Davidson, making his varsity debut. A sacrifice bunt, a tap back to the mound and, after an error, a fly to left, ended the inning.
But North Little Rock put the finishing touches on the win in the top of the seventh with a walk, a two-out double by Gill and a wild pitch.
"Boy, they swung it well," said Bryant head coach Kirk Bock of the Charging Wildcats. "But, after the first inning, we didn't compete as well offensively.
"Defensively, we just did a poor job," he added. "We had a couple of mistakes that hurt us. The way I've got it on my card is mistakes cost us six runs. Then we have a (wild pitch) late in the game that cost us a run. That's seven runs and it's a 4-4 ball game and we're playing. We've got to play perfect on defense to win and we're just not doing it right now."
Asked if his team's inexperience (only two returning starters) finally showed in a big game, Bock would have none of it.
"There are no excuses," he stated. "We just couldn't get the job done. We didn't play good enough defense. We can call it inexperience but, gosh-dang, they've been playing baseball since they were 5. Baseball is baseball. Just play it. Cover the bags, make a play, don't leave the ball over the middle of the dish."
B Team
Bryant assistant coach Mark Jelks reports that the B team is now 7-1 overall but hasn't played in two weeks. He said their doubleheader sweep of Little Rock Central, 6-2 and 7-0, was "the best I have seen them look all year." The B team will play twice on Friday at White Hall starting at 5 p.m., then host Lake Hamilton for two on Saturday, starting at noon.
JV
In junior varsity action Tuesday, Bryant breezed to a 15-0 win with Austin Queck pitching the shutout.
NORTH LITTLE ROCK 11, BRYANT 4
Charging Wildcats Hornets
ab r h bi ab r h bi
Williamson,2b-rf 4 1 0 0 Mayall, dh 3 0 0 0
Ibbotson, lf 4 4 4 2 Bock, cf 4 0 1 1
A.Hohn, cf-p 5 1 4 4 Jobe, ss-c 4 1 2 1
Gill, dh 5 0 3 3 Butler, 1b 3 1 0 0
Howard, pr 0 0 0 0 Sawyer, p-ss 3 0 2 1
Ca.Cormier, pr 0 0 0 0 Garrett, cr 0 1 0 0
Stracener, 1b 4 0 2 0 Bullock, lf 3 0 2 1
Tackett, pr 0 0 0 0 Brown, 2b 3 0 0 0
Bussard, pr 0 0 0 0 Wade, 3b 2 0 0 0
Schaller, 2b 1 0 0 0 Blankenship, rf 3 1 1 0
Grace, ss 2 1 0 0 Ellis, c 0 0 0 0
D.Hohn, 3b 3 2 2 0 Milam, p 0 0 0 0
Co.Cormier, c 2 0 1 1 Davidson, p 0 0 0 0
Ca.Cormier, cr 0 1 0 0
Pounders, rf-cf 2 1 0 0
Ketchum, ph 1 0 0 0
Hope, p 0 0 0 0
Byrd, p-1b 0 0 0 0
Totals 33 11 16 10 Totals 28 4 8 4
North Little Rock 160 120 1 — 11
BRYANT 310 000 0 — 4
E—Wade 2, Brown. DP—Bryant 1. LOB—North Little Rock 9, Bryant 9. 2B—Ibbotson, Sawyer, A.Hohn, Gill. HR—Jobe. S—Co.Cormier 2, Grace.
ip r er h bb so
North Little Rock
Hope 0.2 3 3 3 1 0
Byrd (W) 4.1 1 1 5 2 2
A.Hohn 2 0 0 0 2 3
Bryant
Sawyer (L, 3-2) 1.2 7 7 7 2 2
Milam 3.1 3 3 8 2 0
Davidson 2 1 1 1 1 0
WP—Hope, Davidson.