MURFREESBORO, Ky. — Dodging rain drops and lightning bolts while playing musical softball diamonds, the Bryant Lady Hornets finished off the Southern Warrior Invitational Tournament with a pair of wins on Friday and a time-limited loss on Saturday.
The Lady Hornets had opened the tournament on Thursday, March 26, by splitting a pair of pool play games.
The abbreviated tournament began with 34 teams from eight states but finished with fewer than that and no champion. All the teams were guaranteed six games at the event and Bryant got in five, more than many.
The Lady Hornets rode a grand slam homer in the top of an extra inning to down the Catholic Aces from Owensboro, Ky., 8-5, on Friday. They followed that up with a 13-1 win over St. Bede Academy of Peru, Ill., behind one-hit pitching from Christen Kirchner and Kayla Sory.
On Saturday, Bryant traveled 60 miles south to Fayetteville, Tenn., to take on the Franklin, Tenn., Raptors, dropping a 2-1 decision after the 70-minute time limit expired.[more]
The storms returned at that point and Bryant head coach Lisa Stanfield opted to head back to Murfreesboro for a good night's rest before making the return trip to Bryant on Sunday.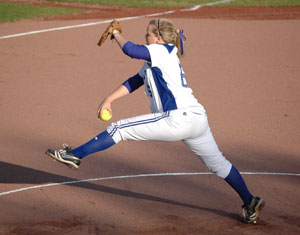 "The competitions was great," Stanfield said of the tournament. "They had great pitching, catching, and hitting. The weather was scary at times but, all in all, worth it to get those quality games in.
"I hope the experience shows us how much we need to step it up as a team," she related. "At some point, we have to realize that softball has never been an individual sport and never will be. It takes all of them playing the role the coaching staff has asked them to play at that moment. And, also, that those roles can and may change at any time."
Friday's game against Owensboro Catholic was tied 3-3 after the 70-minute limit expired so the international tiebreaker was initiated with Bryant's Kim Wilson starting the inning at second. Cassidy Wilson sacrificed her to third but then the Lady Hornets loaded the bases before Taylor, with two out, belted the grand slam that snapped the tie. Another run made it 8-3.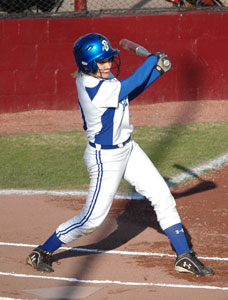 The Aces, in the bottom of the inning, picked up a run with an RBI double. A second run scored on a groundout before pitcher Peyton Jenkins got the final batter to ground out to Taylor at third to end it, 8-5.
Against the Peru, Ill., team, Kirchner and Sory combined to strike out 12 and walk just one on the way to the lopsided win.
On Saturday, Jenkins allowed just two hits, walked three and hit a batter.
"Two untimely errors in the outfield were costly," Stanfield noted. "We also had three mental errors baserunning, hitting and missing signs that, I believe, could have made a difference.
"That's where our immaturity as a team shows," she added. "We make outstanding plays and then can't finish it off because of mental things. I hope that comes with time but one month is not a lot of time to get it together."
Now 8-4 overall this season, the Lady Hornets were set to return to action today (Tuesday, March 31) with a 7A-Central Conference game at home against defending Class 7A champion North Little Rock before visiting Little Rock Central in another league contest on Thursday, April 2. They host arch-rival Benton on Friday.