Photos courtesy of Julie Shelby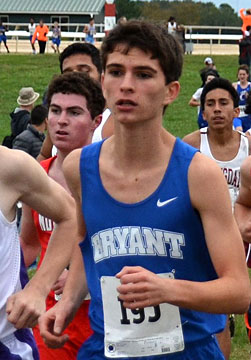 HOT SPRINGS — The Bryant Hornets ran through blustery conditions Saturday to an eighth place finish at the Class 7A Boys State Cross Country Championships at Oaklawn Park.
The Hornets scored 223 points to finish behind team champion Fayetteville (48). Bentonville (67), Har-Ber (79), Rogers (87), Van Buren (155), Catholic (155), Rogers Heritiage (188), Bryant, Cabot (299), and Springdale (312) completed the top 10 teams.
John Carder led the Hornets with a 23rd place finish in a time of 17:10. Chris Barrientos (47th place in 17:52.7), Eric Stewart (58th place in 18:14), Peyton Reber (60th place in 18:17), Travis Cumming (63rd place in 18:21), Charlie Terry (77th place in 18:43), Derek Vos (78th place in 18:47), Cole Watson (85th in 18:59), and Eathan Devine (86th in 19:01) rounded out the Hornet line-up.
"I'm very proud of these young men for persevering through what has been a tough season," stated Hornets head coach Steve Oury. "Charlie Terry is a two-time cross country all-state athlete but has had to deal with a very difficult injury this season. He showed a lot of courage just by attempting to run today and probably should have stopped, but that's not his nature.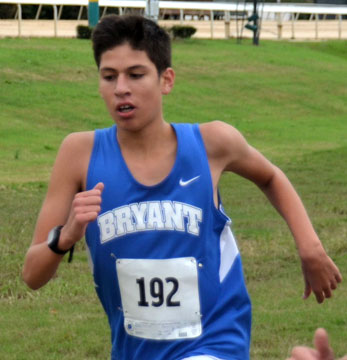 "Cole Watson got sick shortly after conference meet and was not 100 percent, but gave it his best," he added. "John Carder ran a very good race, and Chris Barrientos did a good job. Both of those athletes will be back next year so we will have a solid foundation to build on."
Oury concluded, "Our seniors who ran today, Charlie Terry, Eric Stewart, Peyton Reber, Travis Cumming, Derek Vos, and Cole Watson, are a special group of guys. I know they are sad that this is their last cross country meet, but I'm looking forward to having one last track season with them."