Photos courtesy of Julie Shelby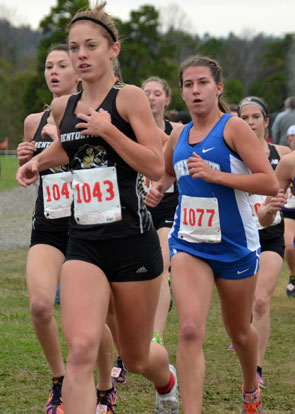 HOT SPRINGS — At the Arkansas Class 7A State Cross Country Championship, they only give out top 10 medals, and those top 10 finishers are named All State. Bryant Lady Hornet senior Hannah Shelby, who was running her last 7A State meet Saturday at Oaklawn Park, desperately wanted one of those medals.
Halfway through the race, she was running in 11th place but with less than a mile to go, Shelby surged into 10th place and hung on to secure the final medal and the All State status that came with it. Her time was 19:35.
"Hannah showed so much courage today," stated Bryant head coach Danny Westbrook. "At the end of the race, she was giving all she had to hang on to that 10th spot. I am so proud of her. What a gutsy performance."
Shelby's performance also qualified her for the Arkansas All Star team, which will face Oklahoma's top runners next week in Rogers.
In the team competition, Bentonville took the championship with 45 points. Fayetteville was runner-up with 62 points. Bryant finished ninth with 220 points. There were 14 teams and 117 individual runners in the race.
Freshman Bailey Brazil was Bryant's second finisher at 49th place in 21:49. She was followed by Bree Hood (52nd, 21:550), Haley Hood (63rd, 22:44), Lauren Hart (68th, 22:54), Reagan Smith (72nd, 23:06), Melissa Barrientos (90th, 23:58), Avery Lorio (100th, 24:47), and Esmeralda Limon (103rd, 25:03).
"I was proud of the effort from our girls today," said Westbrook. "The conditions were pretty blustery plus we had a few girls dealing with injuries. They all showed a lot of heart and gave it their best in this last race of the season."