Photos courtesy of Cynthia Austin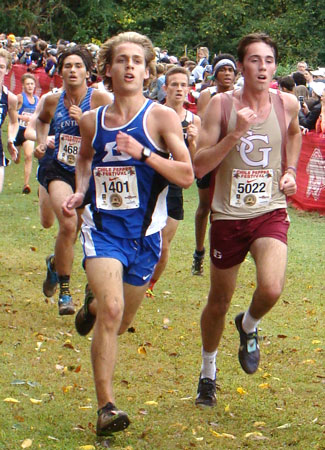 FAYETTEVILLE — The Bryant Hornets competed Saturday in the Chile Pepper Cross Country Festival at the University of Arkansas cross country course, placing 37th out of 83 teams. A total of 651 runners completed the 5k (3.1 mile) race. The Hornets placed seventh among all Arkansas teams. The Chile Pepper is one of the largest cross country meets in the region, drawing teams from several different states.
Chris Barrientos was the first Hornet across the line, placing 49th in a time of 16:31. The rest of the Bryant finishers were Bresner Austin (149th in 17:12), Hagan Austin (192nd in 17:28), Christian Brack (378th in 18:35), Ammon Henderson (400th in 18:44), Blake Shields (409th in 18:48), Nick Fowler (429th in 18:57), and Ethan Ives (485th in 19:26).
"We had some strong performances," said Bryant coach Steve Oury. "Barrientos ran a solid race. He lost a shoe about a mile in to the race so obviously that was a heck of an effort.
"The Austin brothers both set personal records, with Hagan Austin taking about a minute off of his best time," he continued. "It was nice to have some cooler weather, even if we had to deal with some mud on the course.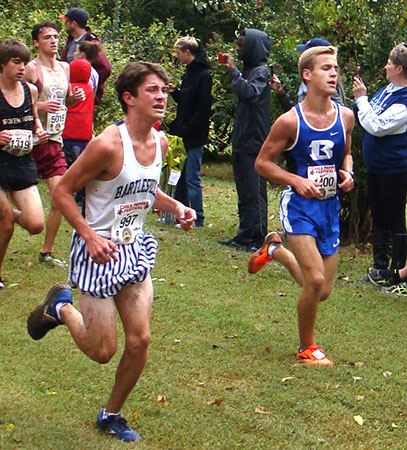 "I think we are headed in the right direction," the coach asserted. "We will let the eight senior boys who ran today rest next week while the rest of the team competes at Russellville."
Junior Boys
The Bryant Junior Hornets competed in muddy conditions at the Chile Pepper Cross Country Festival Saturday in Fayetteville, earning a fifth place finish out of 46 teams.
Chris Herrera led the way for Bryant with a 20th place finish in a time of 18:29. The rest of the Junior Hornets were Drew MacIntire (40th in 19:14), George Terry (43rd in 19:18), Jaxon Holt (49th in 19:27), Alex Skelley (68th in 19:40), Christian Hernandez (107th in 20:17),  Aidan Russell (117th in 20:24), Joaquin Alvarado (131st in 20:36), and Grant Moore (143rd in 20:42).
"The boys did a nice job of stepping up in distance and running a 5k," Oury said. "Chris Herrera did a great job in earning a top 20 finish.
"By the time the race started, the course conditions had deteriorated, so mud became more of a factor," the coach noted. "Placing fitth in a meet of this size was very good. Next week we will be back to running the 2-mile distance in Russellville."