Ask any Bryant Hornets coach or returning player about last year's game against the Pine Bluff Zebras and they'll all say the same thing: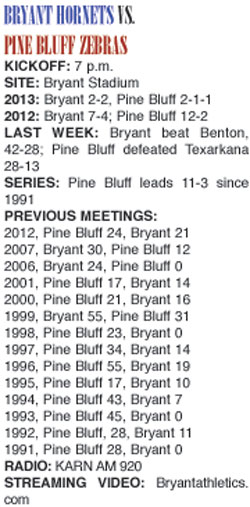 "We should've won that game."
The Hornets held a 14-0 lead going into the fourth quarter and fell victim to a Pine Bluff comeback that ended with a field goal by Aaron McGhee at the final horn, which game the Zebras a 24-20 win.
It was a gut-punch to a Bryant team that, as the only 7A squad in an otherwise Class 6A conference, felt it should win a conference championship. But the Zebras went unbeaten in the league, with no win as narrow as the one over Bryant. They advanced to the finals of the 6A State playoffs before losing a wild 51-44 game to Greenwood.
The guys who were a part of that disappointing loss no doubt would love to get a little payback this year. And, though it's not the same Pine Bluff team — only a couple of starters return — the game stands as a proving ground for a battered and bruised Bryant team.
The injured list for the Hornets so far this year is a page long. A few are back this week. Others are sidelined for the first time. A couple are out for a second time already.
Both teams won last week to open conference play; Bryant downing rival Benton, 42-28, and Pine Bluff dismissing longtime rival Texarkana, 28-13.
"Anytime you win, obviously, you're excited," said Hornets defensive coordinator Steve Griffith. "We forced five turnovers, so we're excited about that. We had some kids really step up and play well.
"But every time you go back through a game you see things that you know you can do a better job of," he added. "One of the things we challenged the kids to work on this week is to be more disciplined in your assignments. 'Do my job, trust my teammates to do their job,' and if we'll all get on the same page doing that, we'll be able to play consistent defense throughout an entire ballgame."
So far this season, the Hornets have struggled against power running attacks (Conway and Catholic) and they face another in the Zebras with an already thin corps on the defensive line thinned further by injury.
"They are young but extremely talented," Griffith said of Pine Bluff. "They have got several young men that are sophomores that I know Coach (Bobby) Bolding has touted as D-I (college) prospects and you can see it. They're big and they're physical like they have been every year for 25 years.
"We are going to have to play very hard," he stated. "We're going to have to play downhill, be in attack mode and we're going to have to be disciplined. They don't necessarily run the option but they run what's called a power-read where they're giving a sweep look yet they still have the option of bringing the quarterback as part of a hard, downhill running game. So you have to know your assignments, play your assignments and be disciplined in that. Hopefully, we can make that improvement specifically from last week."
The Hornets were able to rack up 432 yards of offense last week, nearly balanced (214 rushing, 218 passing) but they face a sterner test with the Zebras.
"Last week was just a completely different opponent," said Bryant offensive coordinator Lance Parker. "We were up against somebody with nothing to lose and doing all sorts of stuff just to try to create a bad play. It was kind of tough on our guys, tough to call plays too, when they're doing so many unorthodox things. It was frustrating because we wanted to spread them out and be balanced but they kind of made it impossible to do so we had to overload them and stay on blocks and try to move the chains and keep the ball away from their offense.
"I thought we did a good job," he continued. "We had some drives stall out but we were protecting the lead in some parts of the game. I thought our guys did a good job of protecting the ball, moving the ball and making sure their offense had to go 80 yards."
Regarding Pine Bluff, Parker said, "This week, we've got a very athletic, young team we're playing. They're very talented. They're going to play both sides of the ball so they could get worn out playing every snap. They're good players though and we've got a tall order inside. They're really big and athletic. Their backers are athletic.
"Pretty much, we're going to have to be in the spots we've been coached to be at and make sure we're going through our reads at quarterback," he concluded. "I think we can move the ball if we execute the way we've been executing and doing what we're supposed to be doing. If we don't go crazy with busted assignments and if we protect the ball, I think we'll be all right."