Hornets breeze again, head into conference unchallenged
EDITOR'S NOTE: Because the look back at each day in Bryant athletic history has been so favorably received during the time when there was no sports during the COVID-19 shutdown, BryantDaily.com will continueposting past stories of Bryant athletics either posted on BryantDaily.com (from 2009 to the present) or published in the Bryant Times (from 1998 to 2008).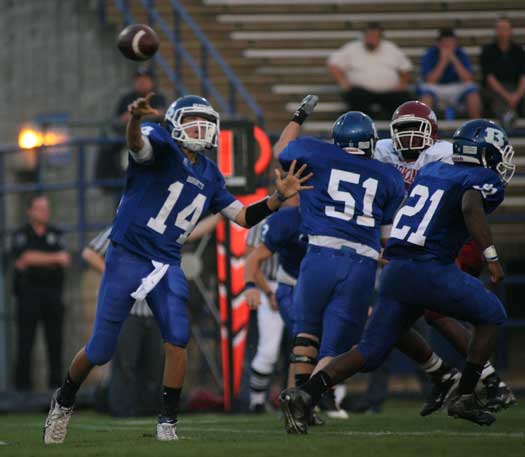 By Rob Patrick
Less than an hour after his football team had recorded its third lopsided victory in as many games this season, Bryant Hornets head football coach was worried.
Yes, his team had pounded the Texarkana Razorbacks, 43-14, but the Hogs had been without their star quarterback Kierra Harris because of strep throat. Their leading rusher and passer was replaced by a sophomore, Elgie Richards, who was making his high school debut. It left Texarkana pretty limited on offense and, though the defense was intact, the Hornets took advantage of a short field on offense and scored twice on interception returns.
Of course, the Hornets know all about trying to get by without your starting quarterback. They went through three, all lost to injuries, during the 2008 season but still found a way to post eight wins. [more]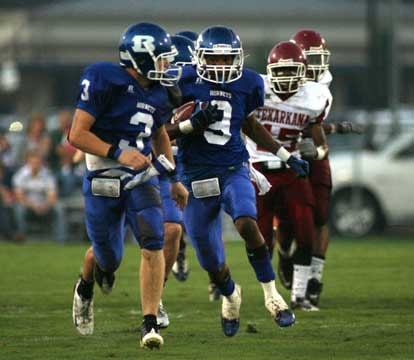 With the win, the Hornets have beaten three teams by a combined score of 130-24 but those three teams are now a composite 0-9. Meanwhile, Bryant's opening foe in the 7A-Central Conference, Little Rock Catholic, improved to 3-0 by beating a top 10 team in Fort Smith Northside, 32-30, on Friday. That gave them a sweep of the Fort Smith teams, a rare feat in any season. Those two combined are 4-2 this season. Benton, the other Rockets victim, is 0-3.
"We needed a challenge," Calley stated. "We needed to see how good we really are before we go into conference play. We hadn't done that yet. I hate that the field was as wet as it was. I hate that Texarkana's quarterback didn't get to play. I know he makes a huge difference in their offense and we needed to see that to get us ready for Catholic because they've got one that's just as good.
"I told our guys, 'We have not faced adversity yet,'" he continued. "Last year, we were able to get ahead early and held on (at Texarkana). In 2007, we were behind every game and you didn't feel comfortable but you knew how that '07 group was going to handle it. Last year's team, we were so young, we were scared to death to get behind. Now, I feel like we can score points but we still, on either side of the ball, don't really know how good we are. And that's kind of scary because I know how good Catholic is."
Bryant opened the game, just after the pre-game rain halted, with a convincing 77-yard march in nine plays. Texarkana's active defense stacked seven or eight men in the box (within five yards of the line of scrimmage and five yards either side of the football) in an effort to stop the Hornets' running back Chris Rycraw.
No doubt, they won't be the last Bryant opponent to do that.
The encouraging thing was that Rycraw was effective and not just when he ran the ball. The Hornets used play-action, faking to him, to burn the Razorbacks.
Senior quarterback Jimi Easterling completed 12 of 16 passes, including his first six in a row, for 138 yards and three touchdowns and, on a couple of occasions, Texarkana was forced into pass interference to prevent big pass plays after they had been drawn in by Easterling's fakes to Rycraw.
Rycraw, after compiling 375 yards on 21 carries in the Hornets' previous two games was limited to 58 yards on 21 totes against Texarkana before leaving the game with leg cramps early in the second half when the Hornets held a commanding 24-6 lead.
After Easterling capped the opening drive with a 25-yard strike to Brandon Parish for the touchdown, Texarkana, on it's first play from scrimmage, got a 68-yard touchdown run from fullback Rob Rose.
Texarkana's Skyler Luther missed the extra point but five minutes into the game, it looked like it might be a real shootout.
"I didn't see it," Calley revealed. "I was making adjustments with the offensive line and I hear the crowd and then we were back on offense again. But, defensively, we played hard."
Indeed, Texarkana didn't get another whiff of the end zone until the fourth quarter when a window-dressing touchdown against the a Bryant defense that included a number of subs filtered in by that point.
Yet, that's the one moment in which the Hornets did face some adversity. It was shattered, however, when Sammill Watson broke the ensuing kickoff with an determined 62-yard return to the Texarkana 20.
With the box full of Hogs, Rycraw managed a pair of 1-yard runs but, on third down, Easterling, after faking a handoff to Rycraw, found Parish again for an 18-yard TD connection.
"I was very pleased, considering the conditions, how well we threw the ball, how well we handled the ball," Calley remarked. "We bobbled it a couple of times but, overall, I expected a much sloppier game for us on offense.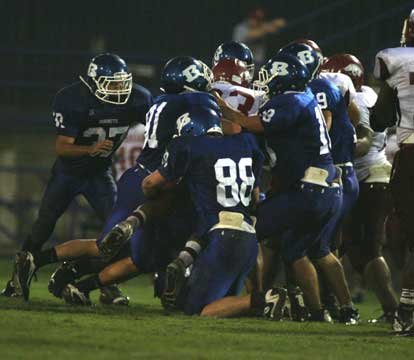 "And our field got worse," he continued. "It was as bad as I've seen it. I was pleased with the points we scored. I thought our opening drive was impressive. But, as the field conditions began to deteriorate, I felt like our ability to move them deteriorated also. We still found holes but they loaded the box up on us. We knew they would. They're very good against the run but it opened up play-action passes."
Richards attempted his first pass one play into the next Texarkana possession. The Razorbacks tried to set up a screen pass but the quarterback's throw was picked off by linebacker Brennan Bullock and returned 30 yards for another touchdown.
Rycraw ran in the 2-point conversion and the Hornets were in command, 21-6.
The teams exchanged punts after that until, on a fourth-and-14 at their own 48, the Hornets set up to punt only to have the snap roll back to punter Tanner Tolbert. He scooped it up and took off around the left side. His speed helped him get to the corner and pick up 15 yards for a new set of downs.
With Easterling completing a pair of play-action passes to tight end (and defensive lineman) Josh Hampton and Rycraw chipping away for 3 to 5 yards, Bryant drove to the Texarkana 5.
But Rycraw was stacked up for no gain on third down and Jace Denker came on to drill a 22-yard field goal, making it 24-6 with 4:01 left in the half.
"It kind of ate at me that we didn't get the ball in the end zone there to go up 28-6," Calley mentioned. "It felt like we were right there on the verge of hitting that crease and we were just a step slow because of the field. We couldn't get to it. And then we got ready to go into our bash set with all the linemen in (including a pair in the backfield with Rycraw), I felt like we had the numbers. I should've gotten into it before they stopped us."
Still, the 24 points the Hornets had scored already was more than any previous Bryant team had ever accumulated in 22 meetings between the two teams including the 1999 team that went undefeated. They beat the Hogs 17-14 on the way to their conference championship.
The '99 team was honored at halftime on the 10th anniversary of that program-turning campaign.
"I was really glad those guys could come," Calley mentioned. "It was great to see them. I think about 40 of them were here before we were done."
The second half started with another Texarkana turnover. Bullock fought off a block and pounded tailback Tyrone Davis, jarring the ball loose. Hunter Mayall recovered and the Hornets had it just 25 yards away from paydirt.
Rycraw slashed for a first down on three carries but, a pair of plays later, the Hornets faced a third-and-9 at the 13. Easterling rolled to his right, tucked the ball and sprinted for 10 yards to the 3.
A play later, he snuck it in from the 1 and Bryant led 30-6.
The Hornets' next TD was set up by another fumble recovery by Mayall. He returned it to the 36 in what looked like a rugby scrum. Three plays later, Easterling laced a pass between two defenders, completing it to speedy sophomore Dillon Winfrey on a skinny post. The 24-yard touchdown pass with Denker's extra point made it 37-6 with 5:19 left in the third quarter.
Bryant started filtering in reserves and Texarkana began to move the ball a little better. The Hogs reached the Bryant 37 but, on a third-and-3, tackle Ronnie Maxwell dropped Richards for a loss. When a fourth-down pass fell incomplete, Bryant took over.
James Jones and Jacob Powell started to alternate at running back. Easterling's final pass of the night, a 19-yard completion to Parish, got the Hornets into Texarkana territory again but the drive stalled and a short punt gave Texarkana the ball at its won 30.
Behind the running of Corey Mitchell, Texarkana drove for its second touchdown, needing 11 plays against the Hornet reserves. Mitchell scored from the 3 then added the extra point to make it 37-14.
The final Bryant touchdown came on another interception. This time, Brady Butler made the pick at the Texarkana 38 and raced down the right sideline to the end zone with 4:41 left to play.
Defensively, linebacker Trey Sowell led the Hornets with 12 tackles. He also broke up a pass. Bullock wound up getting in on nine stops to go with his interception and the caused fumble. Mayall was in on six tackles to go with his two fumble recoveries. End Blake Heil and safety Stanley Oxner were each in on seven stops, end Ryan Cox six.
BRYANT 43, TEXARKANA 14
Score by quarters
Texarkana 6 0 0 8 — 14
BRYANT 21 3 13 6 — 43
Scoring summary
First quarter
BRYANT – Parish 25 pass from Easterling (Denker kick), 7:47
TEXARKANA — Rose 68 run (kick failed), 7:26
BRYANT — Parish 18 pass from Easterling (kick failed), 5:56
BRYANT — Bullock 30 interception return (Rycraw run), 4:50
Second quarter
BRYANT – Denker 22 field goal, 4:01
Third quarter
BRYANT – Easterling 1 run (kick failed), 9:14
BRYANT – Winfrey 24 pass from Easterling (Denker kick), 5:19
Fourth quarter
TEXARKANA – Mitchell 3 run (Mitchell run), 8:00
BRYANT – Butler 38 interception return (Denker kick), 4:41
Team stats
Texarkana Bryant
First downs 8 19
Rushes-yds 35-192 39-138
Passing 4-11-2 12-16-0
Passing-yds 21 138
Punts-avg. 4-33.0 3-20.3
Fumbles-lost 3-2 1-0
Penalties-yds 6-47 3-16
INDIVIDUAL STATS
Rushing: BRYANT, Rycraw 21-59, Jones 8-38, Tolbert 1-15, Powell 5-14, Easterling 2-11, Pritchett 1-1, Freshour 1-0; TEXARKANA, Rose 12-115, Mitchell 11-60, Davis 10-25, Richards 2-(-8).
Passing (C-A-I-Y): BRYANT, Easterling 12-16-0-138; TEXARKANA, Richards 4-11-2-21.
Receiving: BRYANT, Parish 3-62, Winfrey 3-44, Hampton 2-23, Rycraw 2-3, Arnold 1-5, Harris 1-1; TEXARKANA, Cowling 1-14, Rose, 1-4, Stewart 1-2, Spears 1-1.