File photo by Rick Nation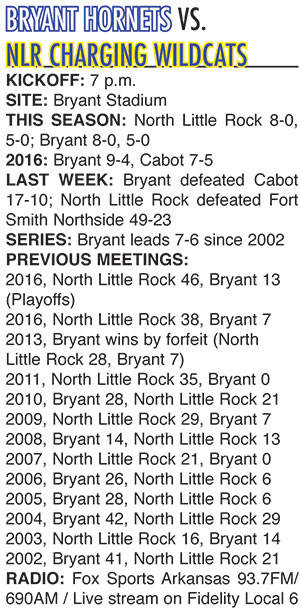 Editor's note: Tonight's Bryant-Cabot game will be broadcast at 93.7 FM and 690 AM Fox Sports Arkansas with pre-game at 6:30 p.m., and live streamed by Fidelity Local 6 here
A case can be made that the North Little Rock Charging Wildcats and the Bryant Hornets football teams are both better than they were last year. The question is, how much better?
In 2016, the Wildcats were good enough to run unbeaten through the 7A-Central Conference then all the way to the Class 7A State championship game before being whipped by the Fayetteville Bulldogs.
Bryant went 2-2 over its first four games and since has won 15 of its last 17 games, reaching the semifinals of the playoffs for the first time in the program's history. But those two losses were both to North Little Rock and both lopsided, 38-7 in conference play and 46-13 in that semifinal, and both in North Little Rock.
Tonight, they meet at Bryant Stadium as the No. 1 (Bryant) and No. 2-ranked teams in the state, both unbeaten through eight weeks of the season. A share of the conference championship is on the line and a chance for a No. 1 seed for the playoffs.
According to Hootens.com, it's the first regular-season matchup of Class 7A's top-ranked team to take place in central Arkansas in 25 years. (In part, because most years over the last 25, the top teams have been from the 7A-West.)
North Little Rock appears to be on pace to wind up back where they finished last year with, perhaps, a better chance to win it all just because they've been there once. They're comparable at every facet of their team and, perhaps, better at quarterback with senior David Chapple, a threat throwing it and running it.
"These guys are really good at what they do," said Bryant head coach Buck James. "They're fast. They try to intimidate you. They're powerful. They're well-coached. They're very well disciplined and they have a lot of great athletes. They're sound on both offense and defense. They've got great kicking game. They've got an explosive quarterback and they've got receivers that can run.
"They've got so many weapons," he noted, "so many tools that they can use. We've just got to do what we're good at doing, play sound, physical football, be in the right place and make plays. Tackle — you know, last year, we had a lot of one-on-one tackles that we could not make. We're going to have to make one-on-one tackles in the open field to be able to survive."
Sounds a lot like the Hornets.
"Very similar football teams in a lot of ways," James acknowledged. "I like to say our kids are disciplined although we don't always play at the disciplined pace that we'd like to but our kids find a way to get it done. They're sound on both offense and defense. We're able to run the football. We're able to throw the football. Our defense does a good job against the run and does a good job against the pass. In a lot of ways, we're similar. They're just a little faster than we are and they have a little bit more experience. Other than that, I think our football team matches up well with them."
The Hornets' improvement proves out in the numbers. At this point in 2016, Bryant had produced 217 points and 2,482 yards of offense (1,165 rushing, 1,317 passing) while giving up 183 points and 2,050 yards of offense (952 rushing, 1,098 passing). This year, the offense has amassed 305 points on 3,660 yards of offense (1,603 rushing, 2,057 passing) while surrendering 164 points and 1,965 yards of offense (830 rushing, 1,135 passing).
Bryant's most noticeable win was a 38-37 victory in overtime against the defending State champion, Fayetteville. North Little Rock's most impressive win so far was a 24-14 victory over Conway, which is a top 10 team the Bryant plays next week.
In that regard, the contest is being touted as the Game of the Year but that's only so far. For instance, win or lose tonight, Bryant's game at Conway in the regular-season finale will be huge in regard to seeding for the playoffs where, of course, every game is the Game of the Year for every team.
"If you win them," James said he told his team, "they keep getting bigger."
Both teams will be trying to dictate what the other team can do with their defenses. They'll both be trying to shut down the running game and force the offenses to throw out of necessity instead of in sync with the game plan. Line play, as so often is the case, will be key. The Hornets' fledgling o-linemen struggled to protect the quarterback last season. A year later and almost entirely intact from last season, they figure to be better this year. That's apparent in the Hornets' rushing numbers and the fact that junior LaTavion Scott is just 6 yards shy of 1,000 on the season.
North Little Rock has the athletes in the secondary to play man-to-man so the Hornets' receivers will have to work to get open and sophomore quarterback Jake Meaders will need to continue his strong play (44 of 65 for 565 yards in two starts-plus with two touchdowns and no interceptions).
Defensively, the Hornets have been as stingy as anyone against the run, allowing an average of just 107 yards rushing per game that includes 269 yards allowed on the ground in the Salt Bowl against Benton to open the season. Few run it better than North Little Rock; Cabot, maybe, but the Panthers hardly have the speed or the passing ability as the Wildcats.
Bryant's secondary, perhaps as talented as the Hornets have fielded in several years, will be tested by that speed and North Little Rock's desire to throw deep.
It figures to be important for the Hornets to get off to a good start in the game, particularly in light of last season's results against the Wildcats. Obviously, they're out to prove they're every bit as good as North Little Rock but a bad start, even in light of their success this season, might undermine that notion.
James, however, is convinced his team is ready pointing to the win at Cabot and the way his team came from behind early in the season to win at Fayetteville.
"When you can win on the road in this conference and you can be undefeated in week 8, I think it says a lot for our football team, our coaches and what they've put into this season," he asserted. "This will be our biggest test to date, for sure. It ought to be one heck of a football game."