By Rob Patrick
Photos by Rick Nation
The Bryant Hornets football team wrapped up this week's practice with a[more] full workout on Friday night morning after Thursday's session was abbreviated by the weather.
The first Hornet Football Fan Fare will be held Saturday from 8 a.m. to noon at Bryant High School Stadium. The team will have their official pictures taken and fans are invited to meet the players, get autographs, get pictures made and shot for Hornet gear. Head coach Paul Calley and his staff will also talk about the season.
With the start of school on Monday, the Hornets will begin to prepare for their preseason benefit scrimmage against Pine Bluff, which will be held at Bryant Stadium on Monday, Aug. 22. After evaluating that performance and correcting mistakes, preparations for the season-opener against Benton in the Salt Bowl will commence.
"Practice has gone well," said Calley. "We kind of backed off the time a little bit (Thursday) night due to the weather. We'd planned on going outside and going two-and-a-half hours but it's hard to get everybody indoors at once so we went offense/defense for an hour apiece running against scout team to get ready for this morning."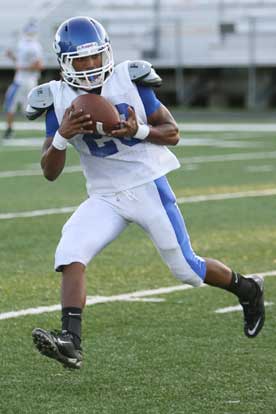 The coach praised the defense for its work on Friday.
"The defense is really coming on," he said. "We're having a hard time pass protecting right now. They're giving us a lot of looks up front and, of course, we're trying to force the issue by doing some things we probably wouldn't do if we were seeing that (in a game). But we've made advancements on both sides of the ball. I've been pleased with the effort."
The team is still plagued by nagging injuries.
"We lose somebody every day," Calley asserted. "We've got hamstring issues on about four people. (Devon) Sears is still out, (Austin) Powell is still out. With the hamstrings, that's the depth at our receiving corps that's really hurting us right now. We had a plethora of receivers and now we're starting to lose them one by one."