For more photos of this event by Rick Nation, go here; by Kevin Nagle, go here
LITTLE ROCK — The first indication that the 20th Salt Bowl might turn into a rout wasn't when the Bryant Hornets' defense stuffed the Benton Panthers and forced a punt on the first series of the game. And it wasn't even when Austin Ledbetter's first pass of the season went 22 yards to Tre'vun Herron.
On the next play, you see, the snap sailed over Ledbetter's head and, though he was able to recover, the Hornets lost 16 yards.
That's when there was the first glimpse of the possibility of a lopsided outcome. On a second-and-26, against a fired-up Panthers' defense, Ledbetter found Herron again for 51 yards. Herron fumbled the ball at the end of the play and worked his way out of the grasp of Benton's defender and secured it at the Benton 19.
Three runs by Ahmad Adams found the end zone and, with Brock Funk's extra point kick, it was 7-0 less than four minutes into the game.
The Panthers were only able to return the ensuing kick back to the 16 and, on the first play there, Hornets' defensive end Rodricho Martin sacked the Benton quarterback at the 6.
After another punt, the Hornets had worked their way to the Benton 38 when they suffered a pair of false-start penalties. Facing a third-and-15, Ledbetter found Adams on a swing pass for 18 yards.
Adams eventually scored again, and Funk made it 14-0. And Benton hadn't picked up a first down yet.
It was obviously no contest from the outset.
Bryant went on to a 35-7 halftime lead then scored on the first possession of the second half to make it a mercy-rule contest. Benton scored against Bryant's third-team defense with 4:04 left to finish it 42-14.
"I felt like the game was in hand at 14-0," agreed Bryant head coach Buck James. "It almost seemed like that was enough."
Adams scored three touchdowns and rushed for 85 yards on 13 totes. Ledbetter passed for three scores, hitting 15 of 23 attempts for 326 yards. He was 14 of 21 for 307 yards at the half.
"There's not many linebackers or defensive backs that are going to want to tackle that guy (Adams) all night long," James said. "He's 235 pounds, runs a 4.6 40, strong as a horse. He's a guy that can wear down defenses and give our passing game big-time opportunities. I know this, if I had my son back in the secondary and he had to try to tackle Ahmad all night long, that wouldn't be a good feeling."
Of his junior quarterback, the coach said, "Ledbetter's special. He showed us last year he could be really special. He played in the State championship game, played there at the end (in the semifinals) against Northside. He has a lot of tools. You know, we had a lot of drops tonight which would've made his numbers look really good. He's able to make all the throws. He's able to stay alive in the pocket.
"We've just got to catch the ball a little bit better," he mentioned. "If we do that, we've got a chance to really have a double-headed monster, being able to run the football and throw it."
The win was Bryant's 14th in a row in the rivalry.
"I can't be more proud of what our kids did and how they did it," he added. "I feel like we imposed our will on them. That's what we've talked about, really, for the last four months. We practiced at a high level. And that's what we've got to do. We've got to mentally and physically control the game.
"The countless hours these guys have put in," the coach reflected. "When I tell you it's tough, it's tough. And these guys have worked their tails off to get to this level and play at this level.
"We were faster," he asserted. "We weren't bigger, but we were stronger, and we were quicker to what we did. And we were able to execute.
"Hard work pays off," he continued. "There's no way they (Benton) did what we did. There's just not."
Benton picked up its initial first down on a 36-yard run by D'Anthony Harper with about two minutes left in the first quarter. The Panthers reached Bryant territory but went nowhere from there. Austin Bailey blew up a screen from Benton quarterback Garrett Brown to Harper then TeMaurion Wilson foiled a reverse to Gavin Wells for a loss.
The Bryant defensive line rushed Brown into an overthrow on fourth-and-12 and the Hornets took over at their own 46.
Benton's defense (and a penalty) put them in a third-and-13 jam but Ledbetter and Herron hooked up again for 33 yards on the final play of the first quarter.
Adams and the offensive line did the rest of the work from the 24. He scored from the 1 less than two minutes into the second period. Funk kicked it to 21-0.
One of the unproven elements of the Bryant team going into the season was the offensive line. Tanner Wilson is the only returning starter. The other starters were Reese Dawson, Ty Johnson, move-in Devin Pitts and Will Diggins. Several others played, including sophomores Brooks Edmonson and Jason Shifflet, and James was impressed with how they performed.
"We started four new offensive linemen, three new defensive linemen," he mentioned. "So, we had six guys on either side of the ball that didn't start last year. I thought that they answered the bell.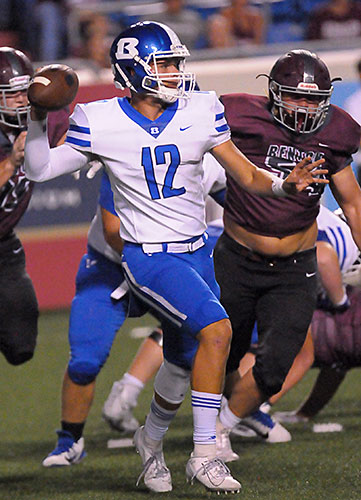 "I thought our offensive line did a heck of a job," the coach added. "I would like us to run block a little bit better, especially between the tackles. I thought they did a great job of getting out on the edge. And I thought they did a great job pass-blocking."
Aided by a pair of major penalties, Benton drove for its first score. One of the penalties, a roughing the passer call, came on a third-and-10 incompletion back at the Benton 28 without which the Panthers would've surely punted.
Beyond that, Brown completed one pass of 11 yards to Wells. The rest of the workload was carried by Harper, who cashed in from the 4. Bryan Araujo's extra point made it 21-7.
"The d-line, we just got out of our gaps and out of our responsibilities," James commented. "I thought our linebackers sort of over-pursued a few times."
It didn't take long for the Hornets to answer as they made it four scoring possessions in a row. Ledbetter found Hayden Schrader behind the Benton defense for a 65-yard touchdown pass.
Showing a little desperation, the Panthers picked up a first down then stalled out at their own 45. Linebacker Daylon Land snuffed out a quarterback keeper on a third-and-3. Then the middle of the Bryant line stopped Harper short on fourth down.
The Hornets picked up a first down but a pair of incomplete passes into the end zone forced them to turn the ball over on downs.
With 1:29 left in the half, Benton went three-and-out. Safety Austin Schroeder broke up a pass along the way and, after a punt, the Hornets had 1:10 left to play with.
And play they did. Jake Meaders caught a 26-yard pass then turned a short throw into a 27-yard gain. After Schrader caught a short pass over the middle, Ledbetter found Meaders from 7 yards out and, with Funk's PAT, the halftime score was set.
The Hornets had the first possession of the second half and, after a 31-yard kickoff return by Herron, drove 57 yards in seven plays, mostly runs by Adams, Ledbetter had an 18-yard keeper early in the drive. He then found Meaders in the right flat. The senior receiver made a dash for the end zone and stretched the ball out to get it inside the right pylon at the goal line for the 6.
With Funk's sixth extra point, the mercy-rule was in effect with 9:43 left in the third quarter.
Bryant started filtering in reserves at that point. With the help of a pair of pass interference penalties, the Panthers drove to the Bryant 16.
A pair of big hits by Jordan Hunter on swing passes each cost Benton a yard, setting up a fourth-and-10. Brown's pass into the end zone was broken up by Darrick Rose.
With more and more reserves getting into the game (and none for Benton), the Hornets' offense stalled. Benton ended the next two series with interceptions by Austin Drewry. After the first pick, the Panthers drove for a final score, a 16-yard pass from Brown to Wells.
"We let people get wide open in the secondary, especially as we subbed," James related. "Those are things we've got to fix. Those guys are going to have to play.
"We went three deep tonight on the defensive line and two deep at linebacker when the game counted," he said. "That's showing some depth. We went two deep on the offensive line, played three sophomores. They've got a lot of potential.
"But we've got a long ways to go," the coach asserted. "Is it enough? Is it enough for our next opponent? Is it enough for the 7A-Central (Conference)? That's what we've got to ask ourselves. We've got to keep pushing. We've got to quit having so many mental mistakes. We had missed opportunities. We dropped some balls. And we missed some blocks. We've got to do a better job tackling. If we do that, we've got a chance to be a pretty good football team."
"I like where our football team is," he concluded. "We've got a week and a half off then we play a really tough schedule. We've Bentonville West and Fayetteville coming up then the 7A-Central, which speaks for itself."