Hornets club Bears in season-opener; White sets new mark for rushing
EDITOR'S NOTE: Because the look back at each day in Bryant athletic history has been so favorably received during the time when there was no sports during the COVID-19 shutdown, BryantDaily.com will continueposting past stories of Bryant athletics either posted on BryantDaily.com (from 2009 to the present) or published in the Bryant Times (from 1998 to 2008).
By ROB PATRICK
BRYANT TIMES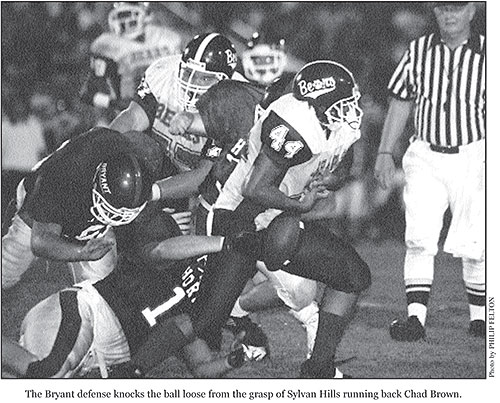 Matt White has had some great games in his first two seasons for the Bryant Hornets football team — twice being named all-state is a testament to that. And though he's come through time and again on bigger, more important occasions, he may never have been any better than when the Hornets opened the 2001 season on Friday against the Sylvan Hills Bears.
In little more than a half of football, White rushed for 206 yards on 17 carries — over 12 yards a tote — and scored three touchdowns as the Hornets blasted the Bears 45-6 on a damp night at Bryant Stadium.
In the process, White, as best as head coach Daryl Patton can figure, became the program's leading career rusher with just over 1,700 yards. (Stats were not available prior to the late '80's.) The touchdowns also set a new career standard at BHS with 24 — and he has, at least, nine more games to add to his totals.
He was quick to the hole, shifty as he wove his way through the Sylvan Hills defense, and strong, refusing to let one tackler bring him down and finishing his gallops with a surge.
In short, White looked confident — not only of himself but in his offensive line: tackles Kurt Sterling and Brooks Sullivan, guards Hunter Gregory and Justin Stephens and center Nick London. White was full-speed in no time, as if he knew there was going to be a big hole for him to run through. And there usually was.
"They played really well," said Bryant offensive line coach Paul Calley. "Our tackles can do a little better but I can't complain with the effort I got out of them and they're going to get better as the years goes on. Our center and our guards, they were exceptional."
"Matt has had several big games for us in his career," Patton said. "He's meant a lot to the program on and off the field. The game that sticks out in my mind just because of the importance of it is the Pine Bluff game his sophomore year. But, I think, Friday night might've been his best overall game. He didn't play the second half and if we'd have kept him in I think he would've pushed the 300 yards mark. He probably would've set a lot of records but the thing with Matt is he doesn't care about that. He knew the game was in hand and he was saying we should get some other guys in there. That says a lot about the type of person Matt is."
Patton was also pleased with the offensive line's work. "You know last year, we played musical chairs," he said. "Coach Calley, you know he tried everything he could last year to get some of those guys fired up. We just had some linemen last year — they were good kids — the seniors were just not real physical and the other kids were young and they were going to have to take some lumps, have growing pains.
"So, Matt and Luke Brown had it tough last year," Patton continued. "A lot of it they had to do on their own. This year we've got everybody coming back. We've got experience on the line. They were blowing people off the football and Matt has great confidence in those guys. He was hitting the holes as fast as I've ever seen him."
White and that offensive line changed the early momentum that Sylvan Hills had gained with a defensive touchdown, taking a 6-0 lead.
The Bears had gone three-plays and out against Bryant's rugged defense but on Bryant's second offensive play, junior quarterback Lance Parker, making his first varsity start, was sacked. The football squirted loose and the Bears' linebacker Montrell Robinson scooped it up and rumbled 24 yards for the game's first score.
To Parker's credit, the miscue failed to faze. He went on to complete 10 of 19 passes for 206 yards and two touchdowns.
The turnaround came on the next possession. White reeled off runs of 17, 21 and 18 yards on consecutive plays to move the Hornets from their own 35 to the Bears 9. He squirted for 5 then scored from the 4 to tie the game at 6 and start the 45-point avalanche that buried the Bears.
Sylvan Hills managed just 19 yards rushing and 33 yards in total offense in the first half. The Bears had just one first down and it didn't come until midway through the second quarter. By then, Bryant held a 28-6 advantage.
"As far as my playing career and coaching, I don't remember, a first game, playing as well in all three phases," Patton said of his team's performance. "Granted, we did make mistakes. There's still a lot of things we have to work on but I was awfully proud of the kids as far as effort. We didn't have a lot of mental mistakes which, I think, says a lot about our coaching staff. We had them prepared. I was really pleased. If we can improve in some of the areas we did make mistakes in, we've got a chance to be a very, very good ballclub."
The second drive covered 57 yards in four plays despite a 15-yard penalty that set the Hornets back. Parker passed 8 yards to Brandon St. Pierre and White dashed for 12 yards to set up a third-and-five at the Bears' 35. Parker then found senior wideout Jonathan Jameson down the left side for a big gain that became even bigger when St.Pierre contributed a big downfield block and Jameson made a nice inside cut around him on his way to the end zone.
Parker ran in a two-point conversion on a keeper to make it 14-6 with 4:07 left in the first quarter.
Sylvan Hills netted five yards in three plays and punted again. (The Bears had to punt a whopping 10 times.) In turn, a 19 yard jaunt by White set up a beautiful pass play from Parker to St.Pierre for another TD. St.Pierre had broken free behind the Sylvan Hills secondary, Parker laid his pass out nicely and St.Pierre, in full stride, made a fingertip catch down the right sideline.
Sylvan Hills' next possession only last two plays. A fumble by Chase Campbell was recovered for Bryant by junior defensive end Eric Scott at the Bears' 41. A flanker reverse to Zack Cardinal broke for 20 yards and, a play later, White barreled for 16 to the 5. A play later, White plunged into the end zone from the 1. Matt Sullivan added the extra point and Bryant led 28-6 early in the second quarter.
The Hornets threatened to add to that lead late in the half, driving to the Sylvan Hills 8, mostly on the strength of White's 36-yard run. Parker, with time running out in the half, had a pass tipped and then intercepted by Brandon Hudson.
But, when the second half began, Bryant cranked it up again. After a 52-yard kickoff return by White, it took just four plays to score. White accounted for 29 yards on three carries including the final 13 for the TD with 10:22 left in the period.
That finished the night for White.
Still, the Hornets added to the advantage on their next possession, driving 74 yards in seven plays. Parker was again resilient. After finishing the first half with an interception, he went 5-for-5 in the second half. He completed four on the drive. The highlights were a 29-yard pass from Parker to Jameson and a 25-yarder to St.Pierre. Fullback Steven Lee eventually scored from the 1. With just under six minutes left in the third, Bryant led 42-6.
The Hornets began subbing at that point. Still, Sylvan Hills' offense never penetrated the Bryant 40.
Early in the fourth quarter, sophomore quarterback Scott Peeler led the Hornets on a drive from their own 48 to the Sylvan Hills 14. A 23-yard run by Bo Lee and an 11-yard bolt by Lee set up Sullivan's 31-yard field goal which set the final score.
Sylvan Hills finished with just 58 yards rushing, 131 yards of total offense. Bryant amassed 484 yards including 279 on the ground.
Bryant takes on Little Rock Catholic next at War Memorial Stadium.