Photos courtesy of Julie Shelby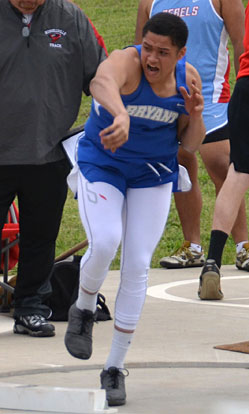 RUSSELLVILLE — Competing in a huge field at the Cyclone Relays, the Bryant Hornets, behind a stellar finish by the 4×400-meter relay team in the final event, edged rival Cabot for second place on Friday.
Conway once again used its depth to take team honors with 105 points but Bryant was once again second as was the case on Monday at the Wal-Mart Invitational meet at Cabot. Bryant finished with 62 points to Cabot's 61 on Friday as the points were spread out of the 26-teams at the meet. Russellville was fourth with 42.5 points and North Little Rock was fifth with 37.5.
Those five teams are all Class 7A squads that Bryant will be trying to defend its State title against later in the spring. The field also included 7A schools from Springdale, Van Buren, Fort Smith Southside, Little Rock Catholic, and Fort Smith Northside.
The Hornets' 4×400 relay team of Landon Abernathy, Matthew Bagby, Pierce Finney and Malik Dockery turned in a 3:27.54 clocking to earn 10 points for first place. Cabot was second at 3:32.21, garnering eight points, which left Bryant a point ahead in the team standings. Conway's quartet wasn't far behind in third (3:34.21).
While winning the event, a traditional Hornet strength, the Hornets also qualified for the State meet with their time.
It was the only first-place finish for the Hornets but Finney turned in a strong second in the 400 at 51.74 with teammate Malik Dockery eighth in 53.33. Cabot's Britton Alley won the event by less than a second, 51.23 with Little Rock Hall's KeShaun Johnson third with a time of 52.27.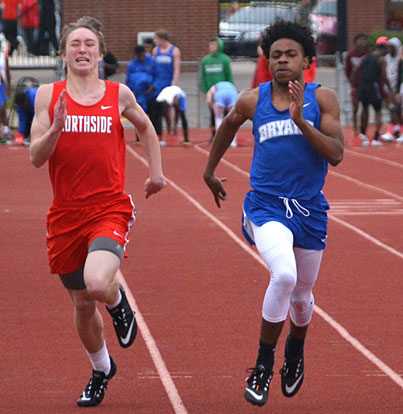 The Hornets also picked up second-place points in the 4×100 as Abernathy, Bagby, Andrew White and Brandon Murray finished in 44.62, just off the pace of North Little Rock's 44.22. Alma and Cabot finished at 44.66 with Conway fifth in 44.72.
"I'm very pleased with our performance," stated Bryant coach Steve Oury. "We had some key performers who were not there for various reasons and we had some athletes really step up. It was really nice to see the 4×400 team qualify for state and get a victory.
"Pierce Finney had a very good meet, earning points in the triple jump, a runner-up finish in the 400, and a strong anchor leg in the 4 x 400," he added.
Finney was fifth in the triple jump at 41'7.5".
"Matthew Bagby had a breakthrough in the 200 meter dash, as did Cole Watson in the 3200," Oury noted. "John Carder ran his best race of the season in the 3200 as well."
Bagby ran a 23.49 in the 200 to take fourth. In the 3200, Carder's 10:17.16 was good for third and Cole Watson ran a 10:29.83 to take fifth. Conway's Toler Freyaldenhoven won handily by breaking 10 minutes (9:23.92).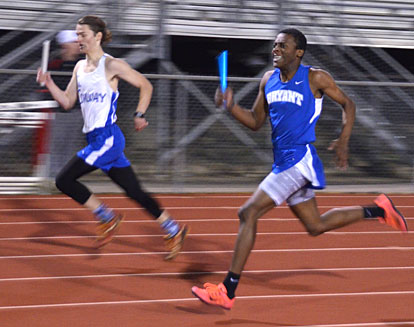 "Also, I'm really happy with how Madre Dixon and Dany Murillo are performing in the throws," Oury said. "They keep getting better each week."
Like Finney in the triple jump, Bagby in the 200 plus Carder and Watson in the 3200, Dixon set a personal record with his shot put of 46'10". That was good for fifth place. He was also fifth in the discus with a throw of 127'5".
Murillo was sixth in the discus at 126'5" and seventh in the shot at 45'9.75".
To round out the Bryant scoring, Joey Colvert, Travis Cumming, Ethan Devine and Justice Pryor ran a 9:08.95 to finish seventh in the 4×800 relay while Abernathy took eighth in the 300 hurdles with a time of 43.40.
Bryant will once again battle Conway and several of the other 7A squads again on Thursday, April 7, at the Wampus Cat Relays.