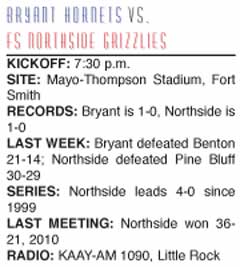 By Rob Patrick
A team that passes the football a lot doesn't have to emulate Daryl Lamonica, the old "mad bomber" of the Oakland Raiders or even the legendary "Air Coryell" with Dan Fouts and the San Diego Chargers. It doesn't have to be Kurt Warner and the St. Louis Rams' "Greatest Show on Turf", "Gunslinger" Brett Favre and the Green Bay Packers or any of the current crop of let-fly boys.
You can play ball control as a passing team. All it takes is a variety of capable receivers, a dart-thrower at quarterback and the willingness to spread out the defense and pick it apart a few yards at a time. It's an approach that makes a passing game a substitute for a running game when the opponent has you out-muscled up front. It can keep the pass rush in check and, every once in a while, bring the[more] secondary in tight to give you a chance to beat them over the top.
That's what the Bryant Hornets figure to try tonight when they take on the Fort Smith Northside Grizzlies at Mayo-Thompson Stadium. It's probably what they need to do too considering the break-neck pace at which the Grizzlies' offense operates.
Last year, Northside came to Bryant and piled up 563 yards of total offense in a 36-21 win. The Hornets accumulated 320 yards themselves but a couple of turnovers and missed opportunities prevented them from keeping pace with the Griz.
The defense, a more experienced physical group than this year's, had its hands full and, though Northside's star quarterback Tanner Knight isn't back, the Bears still have a strong group of skill players including star wide receiver Shaquille Jones, who caught 10 passes for 97 yards in the 2010 game and running back Donny Jones who rushed only six times but picked up 75 yards. The new quarterback is Kenrick Burns, the younger brother of former Northside (and Auburn) star Kodi Burns. Burns caught a 30-yard touchdown pass from Knight against the Hornets last season.
Northside is again huge on the offensive line boasting a trio of 300-pounders including returning starters Charles Johnson and Martin Hernandez.
Bryant's offense hopes to give its refurbished defense a chance to catch its breath with some long, time-consuming drives this time around. They were in a similar mode last season with a bigger offensive line, a power running game and play-action passing. And they were within 26-21 going into the final minute of the first half.
This year, it's more of a finesse running game for the Hornets with capable ball carriers like Jalen Bell, Karon Dismuke and Ben Clark behind a retooled offensive line that's not as physically imposing but quicker. The passing game is triggered by junior Hayden Lessenberry, with a strong corps of receivers including Dillon Winfrey, Sawyer Nichols, Charles Henson and Hayden Daniel.
It will help if the Hornets can cash in their opportunities. While they moved the ball pretty well against the Benton Panthers in their season-opening 21-14 win, they stalled in the red zone two or three times and came up empty.
"Bryant, of course, is very well coached," said Northside head coach Darrell Henry. "Their scheme is very good. Their skill people are very good, both outside receivers and, I guess, they've got three running backs they can roll in there. And all three are about the same. They're all fast. They've got good moves, elusive and pretty physical.
"Their offensive line is a good offensive line," he added. "They come off the ball well. Of course, Bryant is always aggressive, always physical. They didn't look like they were as big as they were last year but they looked like the same old Bryant team. They're going to come off there and mash you in the mouth.
"I thought defensively, their scheme looked good but they didn't look as big physically," he mentioned.
"They're still the same old Bryant," he reiterated. "They're a very good football team with good skill people. And if we can't control them, we'll be in for a long night."
Last year, the Grizzlies came into the game with Bryant off a 51-34 loss at home to Pine Bluff. In fact, that may have been a factor in the Hornets' performance the next week. They might've been a little over-confident particularly after getting the best of Pine Bluff in a pre-season scrimmage.
And, it's telling how tough the 7A-West Conference is that the win over the Hornets was one of only two they managed all last season. But then, the 21 points they allowed to Bryant was the least they surrendered in any game all season. In fact, Pine Bluff was the first of seven opponents who scored more than 50 points against the Grizzlies in 2010. Bentonville piled up 69 points against them.
This year, Northside forged a 30-29 win at Pine Bluff with a pair of scores in the last minutes of the game sparked by Burns.
"He was real calm and made plays, made some things happen that weren't there which you've got to have happen when you go to a place like Pine Bluff," Henry said. "He kind of willed his way into the end zone a couple of times and you love to see that. He's a tough, physical kid and tough mentally and he did the things we asked him to do.
Henry thinks his defense is much improved.
"I feel real good about the way they performed and the way they competed," he related. "Last year, the offenses just moved the line of scrimmage so much on us, every ballgame. Our linebackers were always caught with everything moving back.
"This year, we're still not very big but our goal was to at least hold the line of scrimmage so we could move around and fly to the football," he concluded. "They really did a good job of that against Pine Bluff. They really bowed up against a real good offensive line."