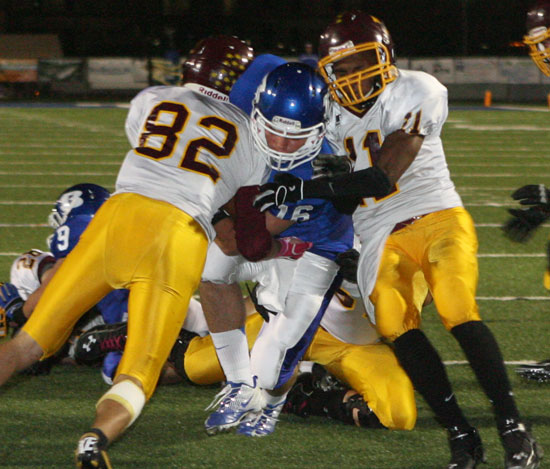 Photo by Rick Nation
By Rob Patrick
After four straight lopsided wins over teams that were overmatched, outmanned or both, the[more] Bryant Hornets need this game.

In the three-time defending Class 6A State champion El Dorado Wildcats, the Hornets face their toughest opponent since they traveled to Pine Bluff in the fifth week of the season. That's the thing, the Hornets need more of a test than they've had just to see where they are, especially in light of the fact that they jump into the Class 7A State playoffs next week against teams that are all more challenging that any of the previous four they've faced during the regular season.
With all due respect to those four teams, whom the Hornets outscored to the tune of 191-48, the Hornets welcome a challenge. And they figure to get it on Senior Night at El Dorado's Memorial Stadium.
Though the Wildcats also lost to Pine Bluff, 21-6, they come into tonight's action tied with the Hornets for second place in the South Conference. (Pine Bluff clinched the league title Thursday night with a 48-6 romp over Benton.)
And, in recent years, El Dorado has not shied away from playing top Class 7A teams. Last year, they defeated Springdale Har-Ber. Three years ago, they beat North Little Rock. They tackled Fort Smith Southside earlier this season but lost.
"We're facing a much more physical interior defense," said Bryant offensive coordinator Lance Parker. "I think we've faced some good secondaries. Their secondary is good, similar to Pine Bluff so we're going to have our hands full on offense."
The mainstay of the El Dorado defense is Division I prospect Bijhon Jackson, a 6-2, 312-pound junior in the middle of the teams front four who has already been offered by the University of Arkansas. Senior lineman Treveon Hall and linebacker Patrick Seweje were both preseason all-State picks.
"Hopefully, we're playing a little better than we were when we played Pine Bluff," Parker said. "Hopefully, we'll match up a little better, will be able to run the ball and stay balanced."
At Pine Bluff, the Hornets lost senior running back Jalen Bell early on which crippled the running game. With Bell out until last week against Lake Hamilton, Bryant developed some more options in the running game, diversifying the attack as well as the personnel to now augment Bell's work.
"They're going to be tough," Parker said of the Wildcats. "It's not going to be a 50-point game. We're going to have to sustain some drives and we're going to have to earn every yard we get."
El Dorado's offense presents challenges too.
"They are a very, very good offensive football team," stated Hornets defensive coordinator Steve Griffith. "Definitely since Pine Bluff, this is the best team we've seen. They're very comparable to Pine Bluff and Conway (the two teams that have beaten the Hornets) in their personnel. They've got big strong offensive linemen. They're well coached. They've got a good quarterback, a very, very heady quarterback. Physically, he's not that imposing but he's very smart. He puts the ball where it needs to be."
The quarterback is returning starter Lucas Reed, who led the team to the State title last year, passing for over 2,300 yards and 22 touchdowns. He's the son of head coach Scott Reed.
"They've got quality running backs, good quality receivers with size," Griffith noted. "They present a huge challenge.
"We're looking at it as a great chance to get us ready to go into the playoffs," he added. "And we're looking at it as a chance to show some pride, to step up against a quality offense and make a statement defensively. I felt like we had a shot to do that against Pine Bluff and against Conway and we didn't quite get it done. So this is a chance, going into the playoffs, to make that defensive statement we've been trying to make against a quality team."
The Hornets have given up 168 points this season but 76 of that has come during the fourth quarter. A lot of that has been surrendered by reserves but, most notably, 24 of it came in the 24-21 loss at Pine Bluff. No one, including the Zebras, has yet scored on the Bryant D in the third quarter, a testament to the adjustments the team and the coaches made at the half — a Bryant tradition.
"What we have to do is physically play extremely hard and mentally we've got to make sure that we're in the right position for our run fits, make sure we get the proper positioning in all the various secondary calls," Griffith explained. "Then, be football players — be aggressive in our tackling, be aggressive when the ball's in the air and make smart plays."
Offensively, the Hornets have scored 195 of their 317 points this season in the first half. They've produced just short of 1,000 yards rushing as a team with no one picking up more than sophomore K.J. Hill's 248 yards. Ten different backs have contributed positive yardage this season.
Quarterback Hayden Lessenberry has passed for 1,661 yards and 17 touchdowns this season, completing 63 percent of his throws (124 of 198) with just five interceptions — that while finishing up early in several games which has allowed sophomore back-up Brandan Warner added 158 yards and three TDs to the total on 15 of 21 tosses.
Hill is the top receiver with 522 yards on 32 catches. He also leads the team in scoring with eight touchdown receptions and three rushing scores. Brushawn Hunter has caught 26 passes for 461 yards and four scores and Davonte Howard has 23 catches for 297 yards and three TDs.
"I think we know exactly what to do and I think we're playing faster. I think we're thinking faster and I think that's showing with our production," said Parker, who's in his first year as offensive coordinator at his alma mater. "Everybody knows what to do. That's just part of it. When you start doing something new, it takes a little while. They're comfortable with it now and it's just a matter of polishing it each week.
"We're throwing and catching the ball well," he continued. "We do well when things break down with our scramble drill and we're executing the short throws that set up the long throws. We're protecting well and when we run it when we have to, we're doing a pretty good job. It always helps when you throw it and they have to honor it, it helps your running game."
El Dorado is set as the second seeded team from the South for this year's 6A playoffs. The Wildcats will host the loser of tonight's game between Little Rock Parkview and Little Rock Hall in the first round.
Bryant will host a game but is battling Springdale Har-Ber for the No. 3 seed. The Hornets will host Cabot, Fort Smith Northside or Little Rock Central depending on whether they're third or fourth. After Cabot won and Central lost on Thursday, and with Northside battling Southside tonight, Cabot will likely be a 5 seed (and play Bryant if the Hornets are fourth) and Central will probably be a 6 seed (and play Bryant in a rematch from week two, if the Hornets are third).